---
Double click on word for definition.
New York State Animal
American Beaver
Castor canadensis
Adopted:
August 11, 1975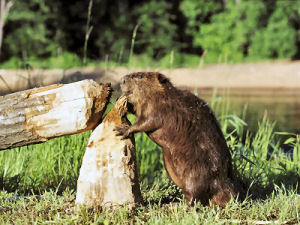 American Beaver: Contractor
Photographs, prints, and posters
Over much protest from Oregon, the beaver became the official state animal of New York when Governor Hugh Carey signed the legislation on August 11, 1975.
From the Oregon governor, state officials and citizens alike, the condemnation of New York, and its move to adopt the beaver as its state animal, was virtually unanimous.
"I don't think we should share the beaver," Gov. Bob Straub said upon hearing of the New York move to adopt the animal. "We were there first. They should find their own animal and keep off our territory." Straub said the beaver, which lives in and around rivers and streams, is much more suited to Oregon than New York because of the heavy rainfall in Oregon. [ 1 ]
"They have a lot of muskrats in the mountains of New York. They should adopt the muskrat for their state animal."
("Evening Observer" 11)
State Treasurer Jim Redden called the move "probably the most outrageous thing that the eastern money influences have ever inflicted on we poor country folk." [ 1 ]
House Republican leader Roger Martin agreed the New Yorkers "certainly aren't very original." [ 1 ]
"Everybody knows the beaver was the reason the West was won. If anything a lot of people left New York in the early 1800s to trap beaver out here," he said. [ 1 ]
Oregon State Senate President Jason Boe claimed "I have been pelted with letters from the citizens of Oregon who are raising their tails in protest." [ 2 ]
Oregon had claimed the beaver as its state animal six years prior in 1969.
New York Law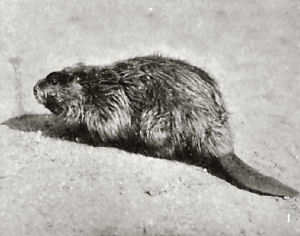 Oregon state animal: Beaver
Courtesy: Oregon State Legislature
Photographs, Posters and Prints
The following information was excerpted from the New York State Consolidated Laws, State, Article 6, Section 79.
STL - State
Article 6 - ARMS AND GREAT SEAL OF STATE
Section 79
§ 79. State animal. The American beaver (Castor canadensis) shall be the official animal of the state of New York.
Additional Information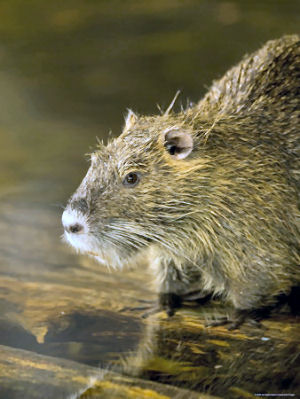 New York State Animal: American Beaver
Photographs, prints, and posters
New York State Animal - Beaver: New York State Library.
Beaver: New York State Department of Environmental Conservation.
American Beaver: Smithsonian Institution: National Zoological Park.
The Work Habits of the North American Beaver: Young Naturalist Awards - American Museum of Natural History.
After 200 Years, a Beaver Is Back in New York City: New York Times article by Anahad O'Connor, February 23, 2007.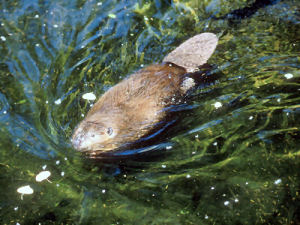 American Beaver: Swimmer
Photographs, prints, and posters
American Beaver (Castor canadensis): National Wildlife Foundation's eNature.com field guide.
Castor canadensis (American Beaver): Information about brown bears from the Smithsonian National Museum of Natural History.
Castor canadensis (American Beaver) Information and pictures from the University of Michigan Museum of Zoology's Animal Diversity Web.
Castor canadensis Kuhl, 1820: Integrated Taxonomic Information System (ITIS) Here you will find authoritative taxonomic information on plants, animals, fungi, and microbes of North America and the world.
Castor canadensis (American Beaver): CalPhoto photographs. The Biodiversity Sciences Technology group (BSCIT), a part of the Berkeley Natural History Museums at the University of California, Berkeley.
State Animals: Complete list of official state animals.
More symbols & emblems: Complete list of official New York state symbols.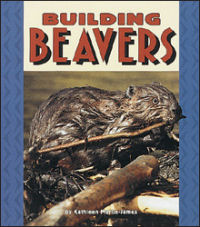 Building Beavers
by Kathleen Martin-James
Building Beavers, by Kathleen Martin-James. 32 pages. Lerner Publications (November 1999) Reading level: Ages 4-8. Introduce children to the physical characteristics, behaviors, and habitats of the American beaver - convey the animals' traits as well as their daily routines. Book includes two to three lines of text per page with a clear, full-color photograph. Italicized words are found in the glossaries. Range maps and labels, full-color illustrations of the American beaver make this book a good introduction for young naturalists and animal lovers.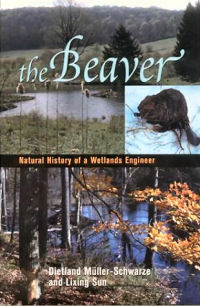 The Beaver
Dietland Müller-Schwarze, Lixing Sun
Beavers, by Leonard Lee Rue III. 72 pages. Voyageur Press (May 17, 2002) Beavers presents an engaging look at the life of beavers around the world in the very readable style for which author Dr. Leonard Lee Rue is well-known. Focusing mainly on the North American beaver, Dr. Rue introduces readers to the beaver's way of life, one season at a time. Coverage includes the beaver's building projects (dams, lodges, burrows, channels, canals, and more), how they give birth and raise their young, and the relationship between beavers and humans.
The Beaver: Natural History of a Wetlands Engineer , by Dietland Müller-Schwarze, Lixing Sun. 190 pages. Cornell University Press (June 2003) In an up-to-date, exhaustively illustrated, and comprehensive book on beaver biology and management, Dietland Mümller-Schwarze and Lixing Sun gather a wealth of scientific knowledge about both the North American and Eurasian beaver species. The Beaver is designed to satisfy the curiosity and answer the questions of anyone with an interest in these animals, from students who enjoy watching beaver ponds at nature centers to homeowners who hope to protect their landscaping. Photographs taken by the authors document every aspect of beaver behavior and biology, the variety of their constructions, and the habitats that depend on their presence.