Georgia State Bird
| | | |
| --- | --- | --- |
| Brown Thrasher | Toxostoma rufum | Adopted:1970 |
Adoption of the Georgia State Bird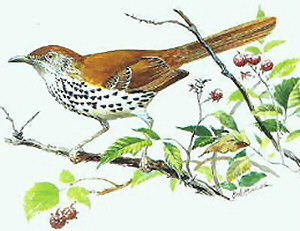 Brown Thrasher (Toxostoma rufum)
In 1928, the school children of Georgia selected the brown thrasher (Toxostoma rufum) as the state bird. According to Nature Magazine (April, 1932),
"The Campaign was inaugurated by the Fifth District of the State Federation of Women's Clubs and was sponsored by the Atlanta Bird Club and kindred groups."
Proposals were made to the Legislature and bills to adopt the brown thrasher as the state bird were introduced, but no action was taken.
On April 6, 1935, the brown thrasher was declared the state bird of Georgia by proclamation of Governor Eugene Talmadge.
Thirty-five years later, at the urging of the Garden Clubs of Georgia, the Georgia General Assembly passed Joint Resolution No. 128, that designated the brown thrasher the official Georgia State Bird and the Bobwhite Quail the official Georgia State Game Bird. The resolution was approved on March 20, 1970.
The Georgia Code
The following information is excerpted from the Georgia Code, Title 50, Chapter 3, Section 50-3-50.
TITLE 50 - STATE GOVERNMENT.
CHAPTER 3.
SECTION 50-3-50.

50-3-50. The brown thrasher is designated as the official Georgia state bird.
Additional Information
Official Georgia State Bird: Brown Thrasher
Photograph by Tom Bentley, Used with Permission
Brown Thrasher: Georgia Wildlife Web: The Georgia Museum of Natural History and Georgia Department of Natural Resources.
Brown Thrasher: Cornell Lab of Ornithology.
State Bird List: List of all of the state birds.
Birds of Georgia Field Guide: by Stan Tekiela.
Bird Feeders and Accessories: Backyard Birding > Bird Feeders & Accessories from Amazon.com.
State Birds & Flowers 1000-pc Puzzle: Created at the request of The National Wildlife Federation this design is a beautiful and informative puzzle featuring every state bird perched on the appropriate state flower.
State Names, Seals, Flags, and Symbols: A Historical Guide, Third Edition - Benjamin F. Shearer and Barbara S. Shearer, Greenwood Press, 2002
State Names, Flags, Seals, Songs, Birds, Flowers and Other Symbols: A Study based on historical documents giving the origin and significance of the state names, nicknames, mottoes, seals, flowers, birds, songs, and descriptive comments on the capitol buildings and on some of the leading state histories, Revised Edition - George Earlie Shankle, Ph.D., The H.W. Wilson Company, 1938 (Reprint Services Corp. 1971)
---
Source: The Georgia Code, (http://www.legis.state.ga.us/cgi-bin/gl_codes_detail.pl?code=1-1-1), April 7, 2005
Source: State Names, Seals, Flags, and Symbols: A Historical Guide, Third Edition - Benjamin F. Shearer and Barbara S. Shearer, Greenwood Press, 2002
Source: State Names, Flags, Seals, Songs, Birds, Flowers and Other Symbols: Revised Edition (Reprint)- George Earlie Shankle, Ph.D., The H.W. Wilson Company, 1938