Alabama State Barbecue Championship
| | | |
| --- | --- | --- |
| Demopolis Christmas on the River Barbecue Cook-off | | Adopted:1991 |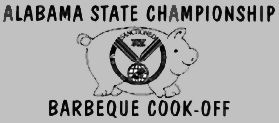 Demopolis Christmas on the River Barbecue Cook-off
Alabama State Barbecue Championship
Credit: Alabama Dept of Archives & History
Adoption of the Alabama State Barbecue Championship
The "Christmas on the River Cook-off" started in Demopolis in 1989 as part of "Christmas on the River" festivities. The Cook-off is an event involving teams from nine states, 75 judges and 8,000 barbecue fanatics. There are three competitions - ribs, shoulders and whole hog. The winner is eligible to participate in the World Championship "Memphis in May Barbeque Cooking Contest." In addition to the barbecue contest, arts, crafts, parades and dancing go on for a whole week.
When the first parade was held in 1972, the water pageant with fireworks was called "Christmas on the River." Now festivities begin on the Sunday before the first Saturday in December. Each year more events are added.
Other events include the crowning of St. Nicholas, Lighting of the Tree celebration, a community-wide church service, a live nativity scene, candlelight tour of ante-bellum homes, music, crafts and a children's parade.
Two year-round house museums have special evening tours featuring 19th century decorations of fresh fruit and greenery. Bluff Hall and Gaineswood host the "Christmas in the Canebrake" party on the night before the river parade.
Traditionally the Canebrake Players begin the annual celebration with a matinee, one of several performances during the week. The First Baptist Church choir forms a "Living Christmas Tree" at the civic center for two evenings. Another tradition is an open house on Friday at the historic Roberston Banking Co.
The grand finale is a parade of decorated floats on boats and fireworks.
The White Bluff where Napoleonic exiles landed in 1817 is the grandstand where thousands stand along a mile of river bank to view the glittering pageant on the water stage.
The Alabama Barbecue Championship became the official state barbecue championship by Act no. 91-739.
Alabama Law
The following information was excerpted from the The Code of Alabama 1975, Title 1, Chapter 2.
The Code of Alabama 1975
TITLE 1.
Chapter 2 STATE SYMBOLS AND HONORS.
Section 1-2-29 State barbecue championship.
Section 1-2-29
State barbecue championship.
The Demopolis Christmas on the River Barbecue Cook-off is hereby designated as the official Alabama State Barbecue Championship.
(Acts 1991, 1st Ex. Sess., No. 91-739, p. 116; Acts 1991, 1st Ex. Sess., No. 91-748, p. 126.)
---
Source: California State Legislature, Alabama Legislative Information System Online, , September 27, 2008.
Source: Alabama Department of Archives & History, Official Alabama Barbeque Championship, , September 27, 2008.
Source: State Names, Seals, Flags and Symbols: A Historical Guide Third Edition, Revised and Expanded by Benjamin F. Shearer and Barbara S. Shearer. Greenwood Press; 3 Sub edition (October 30, 2001).
---
Additional Information
National Barbecue Association: Official web site of the National Barbecue Association, Austin, Texas.
What Is Barbecue?: From AmazingRibs.Com - A thorough definition of barbecue and an etymology of the word - they aren't kidding !
Bill Wright's BBQ FAQS: What's barbecue and more from Bill Wright.
BBQ History [PDF]: A very brief history of the four types of barbeque found in the USA, By Lake E. High, Jr. President, South Carolina Barbeque Association.
Amazon.com
: Outdoor cooking from Amazon.com.
The Barbecue! Bible 10th Anniversary Edition, by Steven Raichlen, 576 pages, Workman Publishing Company; New edition (May 28, 2008). Now the biggest and the best recipe collection for the grill is getting better: Announcing the full-color edition of The Barbecue! Bible, the 900,000-copy bestseller and winner of the IACP/Julia Child Cookbook Award.
Raichlen on Ribs, Ribs, Outrageous Ribs, by Steven Raichlen, 298 pages, Workman Publishing Company (May 15, 2006). It's a marriage made in BBQ heaven: America's foremost grilling guru takes on ribs. Baby backs and spare ribs, short ribs and long ribs, pork ribs, beef ribs, lamb ribs, and more--a passionate, single-subject celebration of meaty, smoky, sweet 'n' spicy, crowd-pleasing, fall-off-the-bone-tender ribs.
BBQ USA: 425 Fiery Recipes from All Across America, by Steven Raichlen, 784 pages, Workman Publishing Company (April 22, 2003). "Steven Raichlen's BBQ USA is his best book yet. It is the quintessential guide to the easy and unexpected ulture of barbecue." --Bobby Flay, author of Bobby Flay Cooks American and Boy Meets Grill.
How to Grill: The Complete Illustrated Book of Barbecue Techniques, by Steven Raichlen, 498 pages,Workman Publishing Company (May 1, 2001). "This summer, there will be only one new addition to my cookbook shelves: Steven Raichlen's 480-page How to Grill." -- Fine Cooking
Barbecue! Bible : Sauces, Rubs, and Marinades, Bastes, Butters, and Glazes, by Steven Raichlen, 320 pages, Workman Publishing Company (May 2000). "Steven Raichlen is the world's leading authority on international barbecue. The recipes in this book are finger-licking good...try them all!" --Rich Davis, Creator of K.C. Masterpiece Barbecue Sauce.
Mastering Barbecue: Tons of Recipes Great Tips Neat Techniques and Indispensible Know-How, by Michael H. Stines, 192 pages, Ten Speed Press (March 15, 2005). Compiling more than a decade's worth of recipes and expertise from veteran grill masters, professional chefs, and barbecue enthusiasts from around the country, barbecue guru Michael Stines packs a whole lot more than just marinades into this comprehensive handbook.
The Great American Barbecue & Grilling Manual, by Steven Raichlen, 416 pages, Abacus Publishing Company; 1st edition (May 1, 2000). "I read this book twice before putting it down. It is great!" -- Jim Baker, World Championship Barbecue Cook-off team, 1999, and Managing Partner of Owen Brennan's restaurant, Memphis
Peace, Love, & Barbecue: Recipes, Secrets, Tall Tales, and Outright Lies from the Legends of Barbecue, by Steven Raichlen, 312 pages, Rodale Books (April 28, 2005). PEACE, LOVE, and BARBECUE is an extraordinary behind-the-scenes journey into the world of barbecue with Grand World Champion pitmaster Mike Mills as your guide. Join Mike and his barbecue buddies--a veritable Who's Who of Barbecue--as they spin a few tales, spill their secrets, and reluctantly part with their prize-winning recipes.