---
Double click any word in document for definition.
Texas State Bluebonnet City
Ennis
Adopted:
June 19, 1997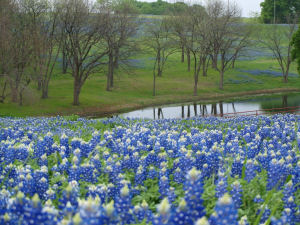 Bluebonnet City: Ennis
Photographs, prints, posters
Ennis became the Bluebonnet City of Texas when Governor George W. Bush signed House Concurrent Resolution No. 116 on June 19, 1997.
In addition to naming Eniss the Bluebonnet City, House Concurrent Resolution No. 116 also named Ennis the official bluebonnet trail and designated the Chappell Hill Bluebonnet Festival the official bluebonnet festival of Texas.
Ennis is about 30 miles south of Dallas.
H.C.R. No. 116

HOUSE CONCURRENT RESOLUTION

WHEREAS, In April 1997, thousands of residents and visitors alike will gather in Chappell Hill for one of our state's most popular and colorful yearly events, the 33rd Annual Chappell Hill Bluebonnet Festival; and

WHEREAS, A much anticipated celebration of spring, the festival honors the spectacular bluebonnets that grace the community of Chappell Hill each April with their seasonal display of eye-catching blooms; and

WHEREAS, This popular event is sponsored by the Chappell Hill Historical Society, and it began in 1964 as the Bluebonnet Antique Show; the festival became known by its present name in 1983, and it currently offers fun-filled activities for the entire family, including a hayride through the community's historic district and abundant opportunities to shop for distinctive wares and furniture from arts, crafts, and antique vendors; and

WHEREAS, The Chappell Hill Bluebonnet Festival will provide a time for many citizens to set aside the cares of daily life and enjoy the flowering beauty of our Texas spring; this well-loved event continues to be a splendid addition to our state's array of recreational opportunities and is truly deserving of legislative praise and support; and

WHEREAS, In 1951 the Ennis Garden Club established its first Bluebonnet Trail of Texas, mapping certain locales in the City of Ennis and the area surrounding the city, thus sharing its bounty of this unique Texas wildflower; these mapped trails have grown to encompass more than 40 miles where the thousands of visitors may be enthralled for two consecutive weekends in April each year by the spectacular fields of bluebonnets that grow so bountifully in the area; the City of Ennis has gained renown for having the official Bluebonnet Trail of Texas; an added attraction to those visiting during the weekends of the Bluebonnet Trail is an antique show and sale that attracts vendors from five neighboring states and benefits the Ennis Heritage Society; now, therefore, be it

RESOLVED, That Ennis be declared the official Bluebonnet Trail of Texas and that Ennis be designated the Bluebonnet City of Texas because of the 46 years it has been associated with the official wildflower of Texas and the faithful efforts of the Ennis Garden Club in preserving our state wildflower for all to enjoy; and, be it further

RESOLVED, That the 75th Legislature of the State of Texas hereby designate the Chappell Hill Bluebonnet Festival as the official Bluebonnet Festival of Texas and commend all those associated with the event for their hard work in ensuring its success.
Texas Law
Ennis was named the Bluebonnet City of Texas by House Concurrent Resolution and is, therefore, not listed in the Texas Statutes.
Only a small number of Texas' myriad symbols have been actually adopted by an act of the legislature and written into the Texas Statutes.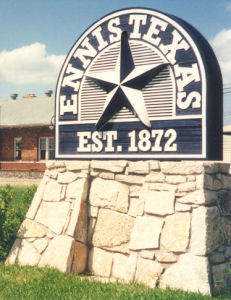 Welcome to Ennis!
Photographs, prints, posters
Additional Information
ENNIS, TX: Texas State Historical Association: Handbook of Texas Online.
City of Ennis: Official website.
Ennis, Texas Convention and Visitors Bureau: Official website.
Ennis Chamber of Commerce: Official website.
More symbols & emblems: Complete list of official Texas state symbols from NETSTATE.COM.

Ennis
Ennis, by Laurie J. Wilson, Peggy Holland Rankin, Ellis County Czech Heritage Society. 128 pages. Publisher: Arcadia Publishing (February 16, 2009) In 1871, the Houston and Texas Central Railroad reached what would soon become Ennis, Texas. A year later, the city was officially established and named for Cornelius Ennis, a Houston and Texas Central Railroad tycoon. It became home to many, including a number of Civil War veterans. Czech immigrants also made Ennis their home, adding their rich cultural heritage to this growing city. In its "Wild West" days, there were as many as 13 saloons in the city, and it became a popular train stop for as many as 10 passenger trains a day. A thriving cotton industry brought thousands to the downtown district on Trade Days. Family, tradition, and a strong sense of community have always been the foundation from which Ennis has prospered. This remains evident with yearly events such as the Bluebonnet Trails and Festival, the National Polka Festival, and the Christmas Parade of Lights.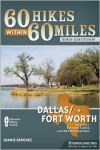 60 Hikes
Within 60 Miles
Joanie Sanchez
60 Hikes Within 60 Miles: Dallas, Fort Worth, by Joanie Sanchez. 293 pages. Publisher: Menasha Ridge Press (September 28, 2007) This is the essential guide you'll need for hiking in the Dallas / Fort Worth Metroplex. Hikes include treks through open prairies, rolling hillsides, lakeside beaches, and other treasures all found just a daytrip or less from the Dallas / Fort Worth Metroplex.
Choose a trek alongside ancient dinosaur tracks at Dinosaur Valley State Park, or follow fresh prints of live coyote and white-tailed deer at Lake Mineral Wells. Explore remnants of Texas' disappearing blackland prairie, or wander amongst the dense hardwood forests of the riparian wetlands. Expertly drawn trail maps and trail profiles complement the detailed trail descriptions and useful at-a-glance information. This detailed guide by experienced local Joanie Sanchez presents the best, most scenic day-hikes in the Dallas/Fort Worth area.
Covering everything from open prairies to rolling hills to lakeside beaches, the book shows hikers where to follow ancient dinosaur tracks, enjoy a secluded pecan grove, and experience Texas's vanishing blackland prairie. Like all the guides in this series, this one is based on cutting-edge GPS data, with up-to-date maps and hike profiles.