Additional Information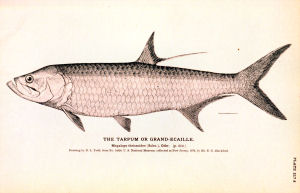 Alabama State Salt Water Fish: Tarpon
Official Alabama Saltwater Fish: Fighting tarpon from the Alabama Department of Archives & History.
Megalops atlanticus (tarpon): University of Michigan Museum of Zoology: Animal Diversity Web.
Megalops atlanticus (Tarpon): MarineBio.org provide an online library of scientifically accurate information on the most endangered and the most common marine species.
Megalops atlanticus Valenciennes in Cuvier and Valenciennes, 1847: The Integrated Taxonomic Information System (ITIS) Here you will find authoritative taxonomic information on plants, animals, fungi, and microbes of North America and the world.
State Fish: Complete list of official state Fish.
More symbols & emblems: Complete list of official Alabama state symbols.
The Book Of The Tarpon, by A. W. Dimock. 332 pages. Delany Press (December 17, 2008) Legendary 1911 masterwork embodies all of the expeditionary drama & excitement you would expect pursuing a primitive fish in primitive waters using primitive equipment. Vintage Florida & the Everglades teeming with leaping, crashing, somersaulting fish.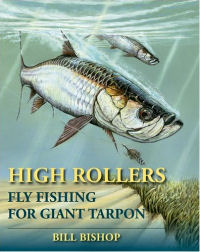 High Rollers: Fly Fishing for Giant Tarpon
by Bill Bishop
High Rollers: Fly Fishing for Giant Tarpon, by Bill Bishop. 152 pages. Headwater Books (January 31, 2009) Artist and ardent angler Bill Bishop tackles all aspects of tarpon fishing--from building leaders to bringing them in quickly. Each chapter explores the core aspects of tarpon fishing in detail, including step-by-step instructions for tying IGFA leaders, the nuances of finding, casting to, hooking, and fighting giant tarpon, and insights and tips for running the boat, seeing fish, and reading the fish's behavior. In addition to the technical aspects, Bishop's stories and humor take a look at the personal side of fishing, reminding us that despite the sometimes-serious undertaking of battling a 150-pound tarpon, fishing is still supposed to be fun.
The Tarpon Book: A Complete Angler's Guide, by Frank Sargeant. 160 pages. Larsen's Outdoor Publishing (June 1, 1991) Written in an informative, entertaining style, Sargeant's book gives a detailed account of how to hook and land the silvery monsters. His practical, common-sense advice is a result of more than 30 years as a writer and guide on the Gulf Coast. Numerous experts share their most productive techniques.Tackle for natural and artificial bait fishing is explored in depth, as is the "ultimate high" in fishing, taking tarpon on flyrod gear.
Megalops: An Angler's Affair with Tarpon, by Tosh Brown. 65 pages. Meadow Run Pr; Slipcase edition (January 1, 2001) This is his insightful and humorous account of more than a decade chasing the Silver King with a fly rod, adding some heartfelt commentary and discussion, as well as a storied history of the tarpon fishery along his native Texas coast.
Tarpon on Fly, by Donald Larmouth, Rob Fordyce. 96 pages. Frank Amato Publications (March 19, 2002). Tarpon On Fly draws from two primary sources-the observations and knowledge that come with Rob's nearly 20 years' experience as a professional tarpon fishing guide, and the journals and the curiosity of lifelong fly fisherman Donald who came late to tarpon fishing but has savored every hour of it. The knowledge and experience of these two men has led to the definitive book on fly-fishing for the Silver King.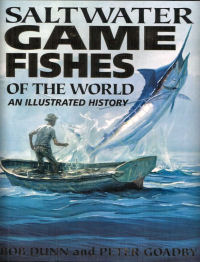 Saltwater Game Fishes of the World
by Bob Dunn & Peter Goadby
Saltwater Game Fishes of the World: An Illustrated History, by Bob Dunn, Peter Goadby. 304 pages. Australian Fishing Network (October 2000) This is a book for all those who love the great oceanic and inshore fishes of the sea. It is a book, not only for anglers, but for marine scientists, nature lovers and seafarers.
Ken Schultz's Field Guide to Saltwater Fish, by Ken Schultz. 288 pages. Wiley (December 29, 2003) Before you head out to the open seas, listen up: Your tackle box is not complete without Ken Schultz's Field Guide to Saltwater Fish! Written by one of the foremost experts in sportfishing, this colorful reference provides anglers and fish enthusiasts of all levels an easy-to-use, indispensable guide to help you identify and learn about the most common species found off the North American coastlines-from albacore to yellowtail.
Fly Fishing in Saltwater, by Lefty Kreh. 336 pages. The Lyons Press; 1st edition (September 1, 2003) Kreh is the guru and this is the holy book. Fly Fishing in Salt Water first surfaced in the late '60s when the idea of fishing the seas with a fly for bluefish, stripers, bonito, and bigger game like tarpon and tuna was not only novel, it was sneered at. Fly-fishing in saltwater is still a relatively new frontier, but time has proven Kreh a visionary and the virtual father of the sport, and this how-to remains an essential part of a saltwater fly-angler's tackle.
Ken Schultz's Fishing Encyclopedia, by Ken Schultz. 1760 pages. Wiley; 1 edition (November 1, 1999) Ken Schultz's Fishing Encyclopedia is the new standard for knowledge on fishing and everything related to it. With complete, insightful information for both freshwater and saltwater anglers at all levels of experience, it is the only authoritative, and up-to-date fishing encyclopedia available. More than 2,000 detailed entries and over 1,400 color illustrations and photos cover every aspect of fishing today, including fish species, equipment, places, techniques, and a wide array of other information.
Complete line of fishing equipment
including rods, reels, rod and reel combinations, fly fishing gear, bait and spin casting rods and reels, ice fishing equipment, lures and flies, and other accessories. All major brands.
Custom Search