Louisiana State Fish: Spotted seatrout
Photography: John J. Mosesso/NBII.Gov
Louisiana Law
The following information was excerpted from the Louisiana Revised Statutes, Title 2, Section RS 49:170.7.
Title 49 - State administration
SECTION RS 49:170.7.
§170.7. State saltwater fish
There shall be an official state saltwater fish. The official state saltwater fish shall be the spotted sea trout, or speckled trout (Cynoscion nebulosus). Its use on the official documents of the state and with the insignia of the state is hereby authorized.
Acts 2001, No. 165, §1.
Additional Information
Spotted Seatrout: Louisiana State University Agricultural Center, Sea Grant Louisiana.
Cynoscion nebulosus: Smithsonian Marine Station at Fort Pierce, Florida.
Cynoscion nebulosus (Cuvier in Cuvier and Valenciennes, 1830): Integrated Taxonomic Information System (ITIS) Here you will find authoritative taxonomic information on plants, animals, fungi, and microbes of North America and the world.
Fishing in Louisiana: Louisiana Department of Wildlife & Fisheries.
Stalkers in the Sea Grass: Spotted Sea Trout: Bay & Gulf special report from the St. Petersburg Times (Florida).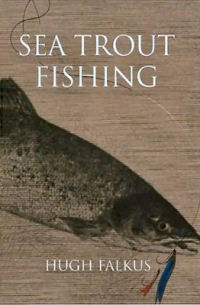 Sea Trout Fishing
by Hugh Falkus
State Fish: Complete list of official state Fish.
More symbols & emblems: Complete list of official Louisiana state symbols.
Sea Trout Fishing, by Hugh Falkus. 448 pages. Cassell (April 1, 2002) Low or high water, underwater or surface lure, night or day fishing-renowned writer, naturalist, and filmmaker Hugh Falkus offers up his vast knowledge of sea trout behavior to maximize your catch. Although rods, tackle, and tactics are all thoroughly explored, this illustrated guide goes beyond simple how-to explanations. Topics such as choosing the right lure and finding strategic fishing positions based on wind and water dynamics are covered with a view to enhance the pleasure of angling.
Secrets for Catching Seatrout, by Michael P. Holliday. 126 pages. Frank Amato Publications (June 10, 2008) Secrets for Catching Seatrout includes: tackle tips; feeding habits and where to find seatrout; Mike's Top 10 lure types; live-bait techniques; standard rigs; lure color; how trout react to sound; how the seasons affect big trout; fly-fishing; trout biology and conservation; trophy trout in Texas waters; Texas big-trout guide information; and more.
Saltwater Game Fishes of the World: An Illustrated History, by Bob Dunn, Peter Goadby. 304 pages. Australian Fishing Network (October 2000) This is a book for all those who love the great oceanic and inshore fishes of the sea. It is a book, not only for anglers, but for marine scientists, nature lovers and seafarers.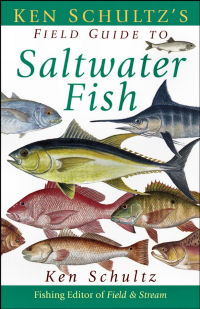 Field Guide to Saltwater Fish
by Ken Schultz
Ken Schultz's Field Guide to Saltwater Fish, by Ken Schultz. 288 pages. Wiley (December 29, 2003) Before you head out to the open seas, listen up: Your tackle box is not complete without Ken Schultz's Field Guide to Saltwater Fish! Written by one of the foremost experts in sportfishing, this colorful reference provides anglers and fish enthusiasts of all levels an easy-to-use, indispensable guide to help you identify and learn about the most common species found off the North American coastlines-from albacore to yellowtail.
Fly Fishing in Saltwater, by Lefty Kreh. 336 pages. The Lyons Press; 1st edition (September 1, 2003) Kreh is the guru and this is the holy book. Fly Fishing in Salt Water first surfaced in the late '60s when the idea of fishing the seas with a fly for bluefish, stripers, bonito, and bigger game like tarpon and tuna was not only novel, it was sneered at. Fly-fishing in saltwater is still a relatively new frontier, but time has proven Kreh a visionary and the virtual father of the sport, and this how-to remains an essential part of a saltwater fly-angler's tackle.
Ken Schultz's Fishing Encyclopedia, by Ken Schultz. 1760 pages. Wiley; 1 edition (November 1, 1999) Ken Schultz's Fishing Encyclopedia is the new standard for knowledge on fishing and everything related to it. With complete, insightful information for both freshwater and saltwater anglers at all levels of experience, it is the only authoritative, and up-to-date fishing encyclopedia available. More than 2,000 detailed entries and over 1,400 color illustrations and photos cover every aspect of fishing today, including fish species, equipment, places, techniques, and a wide array of other information.
Complete line of fishing equipment
including rods, reels, rod and reel combinations, fly fishing gear, bait and spin casting rods and reels, ice fishing equipment, lures and flies, and other accessories. All major brands.
Custom Search