---
Louisiana State Freshwater Fish
White Perch
Pomoxis annularis
Adopted:
June 15, 1993

Louisiana State Freshwater Fish: White Perch
Credit: U.S. Fish & Wildlife Service
The official state freshwater fish of Louisiana presents us with a lesson in living organism identification. The law regarding the official freshwater fish of Louisiana offers us a clear example of the value of scientific names, technically referred to as binomial nomenclature.
The law regarding the fish states "The official freshwater fish shall be the white perch..." It then goes on to assign a species name, Poxomis annularis and a curiously placed phrase, to the official fish. More about "sac-au-lait" later.
The law identifies the official freshwater fish with a common name, white perch, and a scientific name, Pomoxis annularis. This is where confusion might set in, for the white perch is referred to by scientists as Morone americana and a common name for Poxomis annularis is white crappie! Exactly which fish were legislators intending to make official?
It appears that the legislators got the common name wrong or they got the scientific name wrong. In fact, neither seems to be the case. The scientific name specified by law, Pomoxis annularis, can be used to clarify their intentions.
Pomoxis annularis is the scientific name for the official state freshwater fish. Jerald Horst, writing about white crappies in Sack of Milk, states that white crappies are called white perch in northern Louisiana. Mystery solved. White perch and white crappie are both common names for the same fish, Pomoxis Annularis.
Additional Information
Sack of Milk: by Jerald Horst. Louisiana State University Agricultural Center: Louisiana Sea Grant.
Crappie: Ray's Game Fishing Guide > Sunfish Family, Centrarchidae > Crappie.
White Perch - Rafinesque, 1818: NatureServe Explorer: An Online Encyclopedia of Life.
White Perch Rafinesque, 1818 : Integrated Taxonomic Information System (ITIS) Here you will find authoritative taxonomic information on plants, animals, fungi, and microbes of North America and the world.
Fishing in Louisiana: Louisiana Department of Wildlife & Fisheries.
Louisiana Bayou Sac-a-lait: by Larry Larsen.Crappie are abundant in the waterways that criss-cross the flooded swamp.
State Fish: Complete list of official State Fish.
More symbols & emblems: Complete list of official Louisiana state symbols.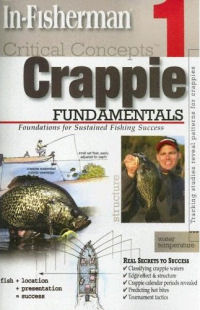 Crappie Fundamentals
by In-Fisherman
Critical Concepts: Crappie: Fundamentals, by In-Fisherman staff. 116 pages. In-Fisherman (April 2005) Designed to help the beginning and expert angler alike understand the process for crappie angling success that needs to be followed each time out.
Critical Concepts: Crappie: Location, edited by Doug Strange. 201 pages. In-Fisherman (2008) We take you step by step through the process of finding fish in lakes, rivers, and reservoirs, season by season.
Crappie Wisdom: An In-Fisherman Handbook of Strategies, by Al Linder. 254 pages. In-Fisherman (January 1994) A complete guide to fishing crappies.
Crappie Tactics: How, When and Where to Catch More Fish, by Larry Larsen. 160 pages. Larsen's Outdoor Publishing (November 1, 1993) Whether it is called speckled perch, sac-a-lait, papermouth or by any other type of moniker, crappie provide thrills to millions of anglers. This book is dedicated to crappie fishermen and women of all ages and skill levels. How, when and where to catch more fish are the questions answered in this easy-to-read book. There are numerous tips and tricks and more than 40 line drawings and photos to carefully illustrate and detail highly productive tactics. The author's proven techniques are applicable to all waters around the country.
Ken Schultz's Field Guide to Freshwater Fish, by Ken Schultz. 272 pages. Wiley; illustrated edition edition (December 29, 2003) From one of the most respected names in the world of sportfishing comes the definitive, full-color guide to 140 of the most common freshwater fish species found in North American rivers, lakes, and streams. Featuring information on identification, habitat, size, and diet, Ken Schultz's Guide to Freshwater Fish is a must for anglers and sportfishing enthusiasts everywhere.
A Field Guide to Freshwater Fishes: North America North of Mexico, by Lawrence M. Page, Brooks M. Burr. 448 pages. Houghton Mifflin Harcourt (January 1, 1991) Comprehensive field guide to freshwater fishes - covers all 790 species known in the United States and Canada. More than 700 illustrations, most in color, show identifying marks. Also includes 377 distribution maps and additional drawings of key details.
What Fish Don't Want You to Know: An Insider's Guide to Freshwater Fishing, by Frank P. Baron. 176 pages. International Marine/Ragged Mountain Press; 1 edition (August 27, 2003) Anyone can toss a line into the water and get lucky once in a while, but if you want to catch more and bigger fish and have more fun doing it, you need to learn What Fish Don't Want You to Know. Whether you're new to fishing or an accomplished angler, this comprehensive and entertaining guide will improve your chances every time you cast a line into fresh water.
Ken Schultz's Fishing Encyclopedia, by Ken Schultz. 1760 pages. Wiley; 1 edition (November 1, 1999) Ken Schultz's Fishing Encyclopedia is the new standard for knowledge on fishing and everything related to it. With complete, insightful information for both freshwater and saltwater anglers at all levels of experience, it is the only authoritative, and up-to-date fishing encyclopedia available. More than 2,000 detailed entries and over 1,400 color illustrations and photos cover every aspect of fishing today, including fish species, equipment, places, techniques, and a wide array of other information.
Complete line of fishing equipment
including rods, reels, rod and reel combinations, fly fishing gear, bait and spin casting rods and reels, ice fishing equipment, lures and flies, and other accessories. All major brands.
Custom Search