---
Tennessee State Sport Fish
Small-mouth Bass
Micropterus dolomieu
Adopted:
May 28, 2005
Before there was the smallmouth bass, there was the largemouth bass. Yes, on July 1, 1988, the largemouth bass was adopted as the official state sport fish of the State of Tennessee. It was the fifth state to claim the largemouth bass as its official representative.
A large fish, a strong fighter, with good flavor, the largemouth was beloved in the state.
The largemouth bass was, and is, also the official fish the following states:
By 2003, change was in the air.
In late 2003 the Tennessee Wildlife Resources Agency (TWRA) created a Tennessee Smallmouth Bass Management Plan "to identify the Tennessee Wildlife Resources Agency (TWRA)'s goals, objectives, and strategies for the management of smallmouth bass and its fisheries in the state of Tennessee."
On February 3, 2005, State Senator Doug Jackson introduced Senate Bill No. 1507 (SB1507) to the Tennessee State Senate. SB1507 proposed that the largemouth bass be replaced by the smallmouth bass as Tennessee's official state sport fish.
Bill sponsor Sen. Doug Jackson (D-Dickson) said the bill came at the urging of the Tennessee Wildlife Resources Agency (TWRA). It was proposed because the world's largest and second largest smallmouth bass were caught in Tennessee.

While a smallmouth bass can easily weighs 3-4 pounds, the state and world record is a whopping 11 pounds, 15 ounces. It was caught at the Dale Hollow Reservoir in 1955.
("Nashville City Paper")
World records make news and so it was that the smallmouth bass bumped the largemouth bass from the Tennessee sport fish throne, ending a 17 year reign. The smallmouth bass became the official state sport fish when Governor Phil Bredesen signed SB1507 on May 28, 2005.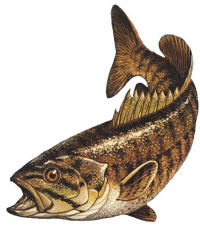 Tenn. State Sport Fish: Small-mouth Bass
Courtesy: NOAA
Additional Information
Micropterus dolomieu: University of Michigan Museum of Zoology: Animal Diversity Web.
Micropterus dolomieu - Lacepède, 1802: Froese, R. and D. Pauly. Editors. 2009.FishBase. World Wide Web electronic publication. www.fishbase.org, version (01/2009)
Micropterus dolomieui Smallmouth Bass: Flora, fauna, earth, and sky...The natural history of the northwoods.
Bass, Smallmouth: Fish Identification System: A collaborative effort by the University of Wisconsin Center for Limnology, the Wisconsin Department of Natural Resources, and Wisconsin Sea Grant.
Micropterus dolomieu - Lacepède, 1802: NatureServe Explorer: An Encyclopedia of Life.
Micropterus dolomieui Lacepède, 1802: Integrated Taxonomic Information System (ITIS) Here you will find authoritative taxonomic information on plants, animals, fungi, and microbes of North America and the world.
State Fish: Complete list of official state fish.
More symbols & emblems: Complete list of official Tennessee state symbols.
Smallmouth Bass Fishing Guide: A Smallmouth Bass Fishing Guide with information on tackle, lures, flyfishing, guides, rivers and lakes.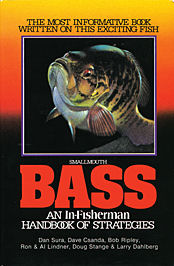 Smallmouth Bass
by Al Lindner
Smallmouth Bass: An In-Fisherman Handbook of Strategies, by Al Lindner. In-Fisherman (January 1994) Information on fish habitats, location, and sure-fire fishing methods. A complete guide to fishing smallmouths in all bodies of water, all across the country.
Fly-Fishing for Smallmouth, by Bob Clouser, Jay Nichols. 226 pages. Stackpole Books (January 2007) In Fly-Fishing for Smallmouth, Bob Clouser shares the extensive knowledge he has developed over a quarter-century of guiding for smallmouth bass on the Susquehanna River. Beyond his native waters, the lessons Bob offers in this book can be directly applied to smallmouth fisheries across the country, from creeks to large rivers. An experienced teacher, Bob anticipates the questions and challenges faced by anglers when they first encounter a smallmouth stream.
Fly Fishing for Smallmouth Bass, by Harry Murray. 190 pages. The Lyons Press; 1st edition (July 1, 1996) Harry Murray discusses all aspects of fly fishing for smallmouth in this important book, from topwater flies, bugs, poppers, and tactics, to new brands of streamer, nymph, and "strymph" fishing that he and others have developed over the years. He explores the bass in its environment - its food and feeding patterns. He also shows how best to read the water; how best to fly fish for smallmouth from boats; better casting techniques for the big flies used; how to tie effective smallmouth patterns; and how to choose the right tackle.
The Compleat Tennessee Angler: Everything You Need to Know About Fishing in the Volunteer State, by Vernon Summerlin, Doug Markham. 389 pages. Thomas Nelson (March 1, 1999) The Compleat Tennessee Angler is the only book available that discusses how to catch fish year-round from twenty-eight public lakes based on the advice of first-rate Tennessee fishermen. It is an unprecedented how-to and where-to book.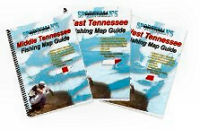 Tennessee Fishing Map Guides Set
Sportsman's Connection
Tennessee Fishing Map Guides Set, Sportsman's Connection. Three new 240 page books, covering all the best reservoirs, lakes and streams in Tennessee. Detailed contour lake maps, stocking and sampling data, and excellent fishing tips, locations and strategies written by local outdoors writers for each reservoir and numerous streams.
East Tennessee Fishing Map Guide, Sportsman's Connection. NUMB pages. East Tennessee is the home of some truly unique fishing waters, including several TVA reservoirs nestled in the mountains and some of the state's best trout streams. With GPS grids larger lakes.
Middle Tennessee Fishing Map Guide, Sportsman's Connection (January 2004) 239 pages. Features editorial by Doug Markham, Max Moss, Jeff Samsel, Larry Self and Vernon Summerlin, as well as smaller pieces by Jay Clementi, Ernie Paquette and Mitch Tinney. With GPS grids larger lakes. "The 239-Middle Tennessee includes maps of the lakes, fishing information about different species and information ranging from locations of boat ramps to area restaurants and accomodations.
West Tennessee Fishing Map Guide, Sportsman's Connection. Between the monster catfish of the Mississippi and the crappies of Lake Kentucky, you shouldn't run out of fishing oppurtunities in the western third of the volunteer state. Of course, if that's not enough we've also included the stream fishery and over 50 other lakes. With GPS grids larger lakes.
A Field Guide to Freshwater Fishes, by Lawrence M. Page, Brooks M. Burr. 440 pages. Houghton Mifflin Harcourt (January 1, 1991) The first comprehensive field guide to freshwater fishes - covers all 790 species known in the United States and Canada. More than 700 illustrations, most in color, show identifying marks. Also includes 377 distribution maps and additional drawings of key details.
Ken Schultz's Field Guide to Freshwater Fish, by Ken Schultz. 272 pages. Wiley; illustrated edition edition (December 29, 2003) From one of the most respected names in the world of sportfishing comes the definitive, full-color guide to 140 of the most common freshwater fish species found in North American rivers, lakes, and streams. Featuring information on identification, habitat, size, and diet, Ken Schultz's Guide to Freshwater Fish is a must for anglers and sportfishing enthusiasts everywhere.
Complete line of fishing equipment
including rods, reels, rod and reel combinations, fly fishing gear, bait and spin casting rods and reels, ice fishing equipment, lures and flies, and other accessories. All major brands.
Custom Search