Additional Information
Official State Fossil: Alabama State Department of Archives and History: Official Symbols and Emblems of Alabama.
Basilosaurus cetoides: Alabama Humanities Foundation: Encyclopedia of Alabama.
Basilosaurus cetoides - Alabama's State Fossil: Alabama Museum of Natural History
Extinct Monsters: Basilosaurus: Smithsonian National Museum of Natural History.
Explore Our Collections: Basilosaurus: ExtinctMonsters.Net.
State fossils: Complete list of official state fossils from NETSTATE.COM
More symbols & emblems: Complete list of official Alabama state symbols from NETSTATE.COM.


State Geosymbols
Alan McPherson
State Geosymbols: Geological Symbols of the United States, by Alan McPherson. 196 pages. Publisher: AuthorHouse Publishing (October 5, 2011
From the tourmaline of Maine to the black coral of Hawaii, our state's official geological symbols or geosymbols are as uniquely diverse as the terrain and character of the 50 states themselves. In this reference book over 150 state geosymbols are presented with informative text that highlights their adoptive legislation, geologic and social history. Color photo montages add visual interest to the pages.


Stately Fossils
Stephen Brusatte
Stately Fossils: A Comprehensive Look at the State Fossils and Other Official Fossils, by Stephen Brusatte. 234 pages. Publisher: Fossil News (September 2002) The only book in print on the subject of state fossils, Stately Fossils offers an in-depth treatment of the natural and cultural history behind the official fossils of every state... and more! The book contains 80 photos and over 300 references to further information.
Stately Fossils is written clearly and informatively...it's a genuine slice of Americana! -- Allen Debus, Dinosaur World, March 2003.
This book should be on everyone's gift list...it is a handy reference, very well written and researched. -- Trilobite Tales, December 2003.


Fossils Tell
of Long Ago
Aliki Brandenberg
Fossils Tell of Long Ago: Let's-Read-and-Find-Out Science Stage 2., by Aliki Brandenberg. 32 pages. Publisher: Harper Collins Publisher (March 1, 1990) Reading level: Kindergarten-Grade 3.
In clear, precise language, Aliki explains how dinosaur tracks are cast in mud, how insects trapped in sticky tree sap harden into amber, and how fossils of tropical plants are found in very cold places. The children populating these pages are boys and girls of every color, on foot or in wheelchair, all of them active observers with scientific curiosities; they are apparently making these discoveries in a museum, marveling and enjoying the bits of history cast in stone. The book closes with a suggestion for creating a one-minute fossil by making a clay imprint of a hand, letting it dry, and burying it for someone to find a million years from now.


Fossil
Paul Taylor
DK Eyewitness Books: Fossil, by Paul Taylor. 72 pages. Publisher: DK Publishing (August 2, 2004) Reading level: Ages 8+.
Here is an original and exciting new look at fossils - the remains of long-vanished animals and plants. Stunning real-life photographs of the spectacular remains of ancient lives offer a unique "eyewitness" view of what fossils are, how they were formed, and how they lived millions of years ago. See pearls that are 50 million years old, a dinosaur's toe, a troublesome "snake" that was turned to stone, a fossilized human being, and a snail made of precious stones. Learn how fossils are formed, how trilobites have been preserved for 590 million years, where to look for a belemnite, and how fossils helped the pharaohs of ancient Egypt. Discover which are the most precious fossils in the world, where ammonites lived, how big mammoths were, what a devil's toenail looks like, and much, much more.

The Fossil Factory
The Fossil Factory: A Kid's Guide to Digging Up Dinosaurs, Exploring Evolution, and Finding Fossils, by Niles, Gregory, and Douglas Eldredge. 112 pages. Publisher: Roberts Rinehart; Revised edition (July 23, 2002) Reading level: Ages 4-8
A fun and fact-filled activity book about discovering and collecting, about the history of the Earth, and the record of life we find on its surface, children will revel in this guide to over 50 sites where they can find something Paleozoic. Also included are a dozen amazing science activities and a complete guide to fossil hunting.


Fossils
The History of Life
Richard Fortey
Fossils: The History of Life, by Richard Fortey. 256 pages. Publisher: Sterling (June 2, 2009)
This updated edition of the highly successful volume, created in conjunction with London's Natural History Museum, has all the strengths of the original…and more. Completely redesigned and revised, it now features two fascinating new sections that reflect the contemporary state of the field: "How to Recognize Fossils" and "Molecular Paleontology." Readers will find this a straightforward, fascinating, and highly attractive introduction to fossils, their study, and their use in reconstructing the history of the earth.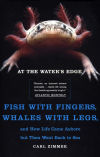 At the Water's Edge
Carl Zimmer
At the Water's Edge: Fish with Fingers, Whales with Legs, and How Life Came Ashore but Then Went Back to Sea , by Carl Zimmer. 304 pages. Publisher: Free Press (September 8, 1999)
At the Water's Edge will change the way you think about your place in the world. The awesome journey of life's transformation from the first microbes 4 billion years ago to Homo sapiens today is an epic that we are only now beginning to grasp. Magnificent and bizarre, it is the story of how we got here, what we left behind, and what we brought with us.
Drawing on the latest fossil discoveries and breakthrough scientific analysis, Carl Zimmer reveals how macroevolution works. Escorting us along the trail of discovery up to the current dramatic research in paleontology, ecology, genetics, and embryology, Zimmer shows how scientists today are unveiling the secrets of life that biologists struggled with two centuries ago.