South Carolina Wild Game Bird
| | | |
| --- | --- | --- |
| Wild Turkey | Meleagris gallopavo | Adopted:1976 |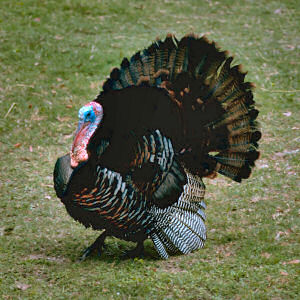 South Carolina State Game Bird: Wild Turkey
Adoption of the South Carolina Wild Game Bird
The wild turkey (Meleagris gallopavo - designated by Act No. 508, 1976) is South Carolina's official State Wild Game Bird.
Other states have adopted the wild turkey as their official game bird:
About the South Carolina State Bird
The wild turkey is a bird of the deep woods and hardwood forests. It is a prized game bird and is considered a table delicacy. Wild turkeys are hunted only during the spring season and are found throughout the State, primarily on game management lands.
The South Carolina Code of Laws
The following information is excerpted from the South Carolina Code of Laws, Title 1, Chapter 1, Article 9, Section 1-1-635.
Title 1 - Administration of the Government.
CHAPTER 1. GENERAL PROVISIONS.
ARTICLE 9. STATE EMBLEMS, PLEDGE TO STATE FLAG, OFFICIAL OBSERVANCES.
SECTION 1-1-635.

SECTION 1-1-635. Official State wild game bird.
The South Carolina Wild Turkey (Meleagris Gallopavo) is the official wild game bird of the State.
Additional Information
Meleagris gallopavo (Wild Turkey): University of Michigan Museum of Zoology: Animal Diversity Web.
State Bird List: List of all of the state birds.
State Birds & Flowers 1000-pc Puzzle: Created at the request of The National Wildlife Federation this design is a beautiful and informative puzzle featuring every state bird perched on the appropriate state flower.
Bird Feeders and Accessories: Backyard Birding > Bird Feeders & Accessories from Amazon.com.
State Names, Seals, Flags, and Symbols: A Historical Guide, Third Edition - Benjamin F. Shearer and Barbara S. Shearer, Greenwood Press, 2002
---
Source: South Carolina Legislature Online, (http://www.scstatehouse.net/),May 17, 2005
Source: State Names, Seals, Flags, and Symbols: A Historical Guide, Third Edition - Benjamin F. Shearer and Barbara S. Shearer, Greenwood Press, 2002