Tennessee State Game Bird
| | | |
| --- | --- | --- |
| Bobwhite Quail | Colinus virginianus | Adopted:1988 |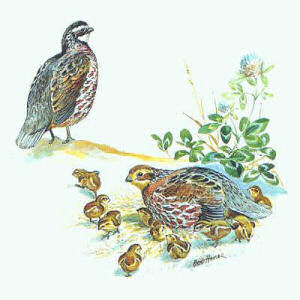 Tennessee State Game Bird: Bobwhite Quail
Adoption of the Tennessee State Game Bird
The bobwhite quail, genus Colinus virginianus, was designated as the official state game bird by Public Chapter 775 of the Acts of the 95th General Assembly.
About the Tennessee State Game Bird
The bobwhite, also known as the partridge, is considered one of the finest game birds in the world. It is a short-tailed chunky brown bird, usually 8 to 10 inches long. The male has a white throat and a white stripe above the eye, while the female has a buffy throat and eye stripe.
In spring the male's clearly whistled bob white is answered by the female's four-syllable whistle. This game bird lays from 10 to 20 pure white eggs, more than almost any other bird.
Two other states have adopted the bobwhite quail as an official game bird:
The Tennessee Code
The following information is excerpted from the Tennessee Code, Title 4, Chapter 1, Part 3, Section 4-1-318.
TITLE 4 - STATE GOVERNMENT.
CHAPTER 1 - GENERAL PROVISIONS.
PART 3 - STATE SYMBOLS.
SECTION 4-1-318.

4-1-318. State game bird.
The bobwhite quail is hereby designated as the official "state game bird."
[Acts 1988, ch. 775, § 1.]
Additional Information
Colinus virginianus (Bobwhite Quail): University of Michigan Museum of Zoology: Animal Diversity Web.
State Bird List: List of all of the state birds.
A Field Guide to the Birds of Eastern and Central North America: Peterson Field Guide: Roger Tory Peterson.
State Birds & Flowers 1000-pc Puzzle: Created at the request of The National Wildlife Federation this design is a beautiful and informative puzzle featuring every state bird perched on the appropriate state flower.
Bird Feeders and Accessories: Backyard Birding > Bird Feeders & Accessories from Amazon.com.
State Names, Seals, Flags, and Symbols: A Historical Guide, Third Edition - Benjamin F. Shearer and Barbara S. Shearer, Greenwood Press, 2002
---
Source: Tennessee Secretary of State, May 20, 2005
Source: Tennessee Code, April 14, 2005
Source: State Names, Seals, Flags, and Symbols: A Historical Guide, Third Edition - Benjamin F. Shearer and Barbara S. Shearer, Greenwood Press, 2002