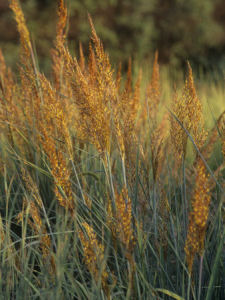 South Carolina State grass: Indian grass
Photograph by William Johnson
South Carolina Law
The following information was excerpted from the South Carolina Code of Laws, Title 1, Chapter 1, Article 9, Section 1-1-677.
Title 1 - Administration of the Government
CHAPTER 1. GENERAL PROVISIONS
ARTICLE 9. STATE EMBLEMS, PLEDGE TO STATE FLAG, OFFICIAL OBSERVANCES
SECTION 1-1-677.
SECTION 1-1-677. Official State grass.
Indian Grass, Sorghastrum nutans, is designated as the official grass of the State. In making this designation, the General Assembly makes no warranty or endorsement of Indian Grass as a commercial product, but recognizes Indian Grass as a native, nonnoxious plant, with a historical, continuing, widespread, and beneficial existence in South Carolina.
South Carolina Conservation: South Carolina Natural Resources Conservation Service.
Sorghastrum nutans (L.) Nash (Indiangrass): USDA, NRCS. 2004. The PLANTS Database, Version 3.5 (http://plants.usda.gov). National Plant Data Center, Baton Rouge, LA 70874-4490 USA.
State grasses: Complete list of official state grasses from NETSTATE.COM.
More symbols & emblems: Complete list of official South Carolina state symbols from NETSTATE.COM.

Indian Grass (Sorghastrum nutans) Jumbo Seed Packet - 2000 Seeds, This native grass is noted for its upright form and blue-green foliage growing up to two feet high. The slender leaves turn orange-yellow in the Fall. Vertical stems rise well above the leaves in late summer, with feathery light brown seed heads that darken to bronze! It naturalizes through self-seeding, providing seed for birds and material for dried flower arrangements.

Manual of Grasses for North America, Edited by Mary E. Barkworth, Laurel K. Anderton, Kathleen M. Capels, Sandy Long, and Michael B. Piep. 640 pages. Publisher: Utah State University Press; 1 edition (September 30, 2007) Grasses are the world's most important plants. They are the dominant species over large parts of the earth's land surface, a fact that is reflected in the many different words that exist for grasslands, words such as prairie, veldt, palouse, and pampas to mention just a few. As a group, grasses are of major ecological importance, as soil binders and providers of shelter and food for wild animals, both large and small. Some grasses, such as wheat, rice, corn, barley, rye, tef, and sugar cane are major sources of calories for humans and their livestock; others, primarily bamboos, are used for construction, tools, paper, and fabric. More recently, the seed catalogs that tantalize gardeners each winter have borne witness to an increasing appreciation of the aesthetic value of grasses.