Texas Parks & Wildlife Video from Caprock Canyons State Park
Additional Information
Caprock Canyons State Park & Trailway: Texas Parks and Wildlife Department.
American Bison Society: Official website of the American Bison Society founded in 1905.
At Home on the Range Again: Article by Russell Roe, Texas Parks and Wildlife Magazine (March 2011).
American Buffalo: Spirit of a Nation: PBS Nature series.
Bison bison (American bison): Smithsonian Museum of Natural History - North American Mammals.
Bison bison (American bison): The University of Michigan Museum of Zoology: Animal Diversity Web.
Bos bison - (Linnaeus, 1758), American bison: A network connecting science with conservation - NatureServe Explorer: An Online Encyclopedia of Life.
Bison bison (Linnaeus, 1758): Integrated Taxonomic Information System (ITIS) Here you will find authoritative taxonomic information on plants, animals, fungi, and microbes of North America and the world.
State Mammals: Complete list of official state mammals from NETSTATE.COM.
More symbols & emblems: Complete list of official Texas state symbols from NETSTATE.COM.


Bison
Cherie Winner
Bison (Our Wide World), by Cherie Winner. 48 pages. Publisher: Northword Books (March 1, 2001) Reading level: Ages 9-12. Bison provides information about where the Bison live, what they eat, when they sleep, how they raise their young, and much more. Lots of vivid, full color photographs and illustrations. Sidebar 'Fun Facts,' an index, and a list of useful Internet Sites. There is plenty to interest report writers and animal lovers in this book.


Buffalo
Dorothy Patent
Buffalo: The American Bison Today, by Dorothy Hinshaw Patent. 80 pages. Publisher: Sandpiper (October 18, 1993) Reading level: Ages 9-12. A vivid description of the life of the buffalo in each season of the year details its ways of courtship, birth, and winter survival. "Will make a useful addition to any library collection not only as a behavioral study of the American bison but as a success story in wildlife management and the return of an endangered species." -- School Library Journal, starred review School Library Journal Best Books of the Year.


American Bison
William Caper
American Bison: A Scary Prediction, by William Caper. 32 pages. Publisher: Bearport Publishing (July 31, 2007) Reading level: ages 9-12. Was it too late to save the American bison? For thousands of years, this remarkable creature had lived peacefully in North America. Yet by 1889, years of hunting had pushed the animal to the brink of extinction. Would people find a way to help the bison survive?
In American Bison: A Scary Prediction, children relive the inspiring and heroic efforts of people who stepped in to save this remarkable creature when all seemed lost. Through this true tale of wildlife survival, readers discover the bold and creative ideas that Americans and their government have used to protect and care for the country's endangered wildlife.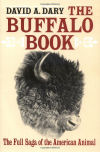 The Buffalo Book
David A. Dary
The Buffalo Book: The Full Saga of the American Animal , by David A. Dary. 384 pages. Swallow Press; 1 edition (December 1, 1989) The journals and memoirs of 19th century explorers and travelers in the American West often told of viewing buffalo massed together as far as the eye could see. This book appropriately covers the subject of the buffalo as extensively as that animal covered the plains. Other recent accounts of the buffalo have focused on two or three aspects, emphasizing its natural history, the hunters and the hunted in prehistoric time, the relationship between the buffalo and the American Indian. David Dary's treatment stretches from horizon to horizon. Of course he discusses the origin of the buffalo in North America, its locations and migrations, its habits, its significance and role in both Indian and white cultures, its near demise, its salvation. But more. Dary weaves throughout his fact-filled book fascinating threads of lore and legend of this animal that literally helped mold who and what America is. Further, in addition to detailing the extinction which almost befell this mythic beast and the attempts to give life again to the herds, Dary concentrates significant attention on the buffalo as part of 20th century America in terms of captivity, husbandry, and symbol.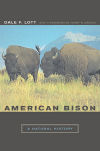 American Bison
Dale F. Lott
American Bison: A Natural History, by Dale F. Lott. 245 pages. Publisher: University of California Press; 1 edition (November 1, 2003) American Bison combines the latest scientific information and one man's personal experience in an homage to one of the most magnificent animals to have roamed America's vast, vanished grasslands. Dale F. Lott, a distinguished behavioral ecologist who was born on the National Bison Range and has studied the buffalo for many years, relates what is known about this iconic animal's life in the wild and its troubled history with humans. Written with unusual grace and verve, American Bison takes us on a journey into the bison's past and shares a compelling vision for its future, offering along the way a valuable introduction to North American prairie ecology.