Louisiana Cajun and Creole Heritage
| | | |
| --- | --- | --- |
| Hoop nets, Cast nets, and Shrimp trawls | | Adopted:1992 |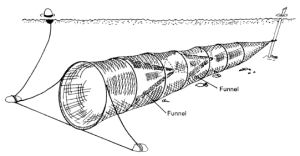 Hoop net diagram
Courtesy: United State Geological Survey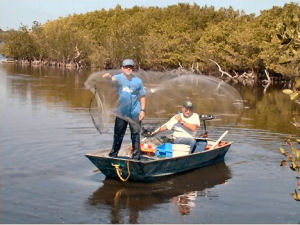 Throwing a cast net
Photo: United State Geological Survey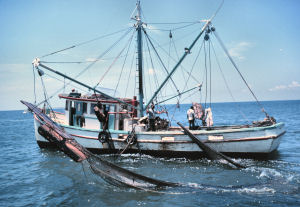 Double rigged shrimp trawler
Photo: Robert K. Brigham, NOAA
Louisiana Law
The following information was excerpted from the Louisiana Revised Statutes, Title 49, Section 170:3.
TITLE 49. State administration.
SECTION RS 170:3
§170.3. Cajun and creole heritage
It is hereby declared that hoop nets, cast nets, and shrimp trawls are part of the cajun and creole heritage of the state and, as such, should be preserved in order to help maintain the cajun and creole culture.
Acts 1992, No. 44, §1.
---
Source: Louisiana State Legislature, Louisiana Revised Statutes, , January 15, 2009.
Source: State Names, Seals, Flags and Symbols: A Historical Guide Third Edition, Revised and Expanded by Benjamin F. Shearer and Barbara S. Shearer. Greenwood Press; 3 Sub edition (October 30, 2001).
---
Additional Information
Louisiana Folk Roots: Louisiana Folk Roots, based in Lafayette, the heart of Cajun and Creole Louisiana. Includes information Dewey Balfa Cajun and Creole Heritage Week.
Shrimping in Louisiana: Overview of a Tradition: Louisiana's Living Traditions.
Folk Boats of Louisiana: Louisiana Folklife.
Folklife Traditions: Louisiana Folklife.
French, Cajun, Creole, Houma: A Primer On Francophone Louisiana, by Carl A. Brasseaux, 159 pages, Louisiana State University Press (February 17, 2005). A product of thirty years' research, French, Cajun, Creole, Houma provides a reliable and understandable guide to the ethnic roots of a region long popular as an international tourist attraction.
Louisiana Culture from the Colonial Era to Katrina, edited by by John Lowe, 327 pages, Louisiana State University Press (December 15, 2008). A rich portrait of Louisiana culture, this volume stands as a reminder of why that culture must be preserved.
Mardi Gras, Gumbo, and Zydeco: Readings in Louisiana Culture, edited by by Marcia Gaudet and James C. McDonald, 179 pages, University Press of Mississippi (April 15, 2003). The essays show great range and are reprinted from hard-to-find publications. They include a description of Cajun Country Mardi Gras on the prairies of southwestern Louisiana, an analysis of the social implications of the New Orleans Mardi Gras parades, a study of the Houma Indians of coastal Louisiana, and an analysis of the devotion given to a young Cajun girl whom many regard as a saint. Collected here, the essays portray a land and a people that are unlike any other.