The following information was excerpted from the Tennessee Code Annotates, Title 4, Chapter 1, Part 3, Section 4-1-308.
Title 4 State Government
Chapter 1 General Provisions
Part 3 State Symbols
Tenn. Code Ann. § 4-1-308 (2011)
4-1-308. State insects -- State agricultural insect.
(a) The well-known firefly, or lightning bug beetle, and the ladybird beetle, commonly known as the ladybug, are hereby designated as the official state insects.
(b) The honeybee is designated as the official agricultural insect of Tennessee in tribute to its fundamental role in the production of all crops.
ISTORY: Acts 1975, ch. 292, § 1; T.C.A., § 4-120; Acts 1990, ch. 725, § 1.
Additional Information
Lady beetles Coccinellidae: BioKids Critter Catalog.
Ladybug Coccinella septempunctata: Ladybugs, Ladybug Pictures, Ladybug Facts - National Geographic Society.
Lady Beetles (Coleoptera: Coccinellidae): Cornell University: College of Agriculture and Life Sciences.
Lady Beetle ("Lady Bug"): Texas A&M System - AgriLife Extension Field Guide.
Coccinellidae - (Latreille, 1807), Tennessee Panther: A network connecting science with conservation - NatureServe Explorer: An Online Encyclopedia of Life.
Coccinellidae Latreille, 1807: Integrated Taxonomic Information System (ITIS) Here you will find authoritative taxonomic information on plants, animals, fungi, and microbes of North America and the world.
The Ladybug Lady: Website by Lori Beth Robinson and entomologist Randi Jones.
The Lost Ladybug Project: The Lost Ladybug Project was set in motion in the year 2000 when Cornell researchers coordinated with 4-H Cooperative Extension Master Gardeners surveying ladybug populations across New York State. Now anyone in North America has the opportunity to join the exciting search for rare species and make a tangible contribution to the conservation of these beautiful and useful creatures.
State insects: Complete list of official state insects from NETSTATE.COM.
More symbols & emblems: Complete list of official Tennessee state symbols from NETSTATE.COM.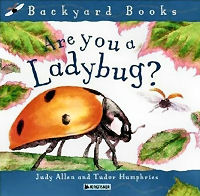 Are You a Ladybug?
by Judy Allen, Tudor Humphries
Are You a Ladybug?, by Judy Allen, Tudor Humphries. 31 pages. Kingfisher (May 16, 2003) Reading level: Ages 4-8. Beginning with its title question, "Are you a ladybug?," this accessible book is perfect for reading aloud and tells young readers how they would experience life if they were a ladybug.
What About Ladybugs?, by Celia Godkin. 40 pages. Sierra Club Books for Children (April 26, 2001) Reading level: Ages 4-8. Accompanied by detailed, full-color illustrations, this simple story introduces young children to the important concept of nature's delicate balance. When a gardener sprays his plants with bug killer, he finds the results weren't what he expected. As his beautiful garden comes close to ruin, he begins to see that the plants and insects are linked.


Children's Guide to
Insects and Spiders
Jinny Johnson
Simon & Schuster Children's Guide to Insects and Spiders , by Jinny Johnson. 64 pages. Simon & Schuster Children's Publishing (May 1, 1997) Reading level: Ages 4-8. A detailed introduction to spiders and insects contains information about every major group of arachnids and insects, hundreds of thought-provoking facts, and full-color pictures and photographs."
Eyewitness Workbooks: Insect, 48 pages. DK CHILDREN; Workbook edition (June 16, 2008) Reading level: Ages 4-8. Perfect for getting ahead at school or just stimulating children's interest, this groundbreaking series of workbooks leaves the competition in the dust, with exciting subjects, 48 full-color pages, a turn-and-learn info wheel, and special carrying folders. This book helps kids take their knowledge of insects to the next level, from battling beetles to buzzing honeybees.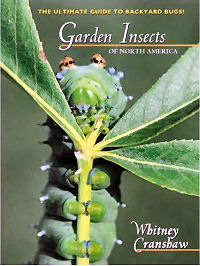 Garden Insects of North America
by Whitney Cranshaw
Garden Insects of North America: The Ultimate Guide to Backyard Bugs, by Whitney Cranshaw. 672 pages. Princeton University Press (March 8, 2004) Garden Insects of North America is the most comprehensive and user-friendly guide to the common insects and mites affecting yard and garden plants in North America. In a manner no previous book has come close to achieving, through full-color photos and concise, clear, scientifically accurate text, it describes the vast majority of species associated with shade trees and shrubs, turfgrass, flowers and ornamental plants, vegetables, and fruits--1,420 of them, including crickets, katydids, fruit flies, mealybugs, moths, maggots, borers, aphids, ants, bees, and many, many more.
Smithsonian Handbooks: Insects, by George C. McGavin. 256 pages. DK ADULT; 1st edition (October 1, 2002) Packed with over 650 crystal--clear photographs and illustrations with precise annotation to make identification sure and simple. Authoritative text, crystal--clear photography, and a systematic approach make this handbook the most comprehensive recognition guide to the insects, spiders, and other terrestrial arthropods of the world.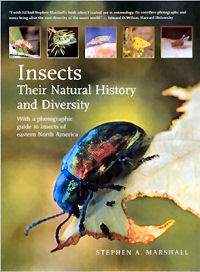 Insects by Stephen A. Marshall
Kaufman Field Guide to Insects of North America, by Eric R. Eaton, Kenn Kaufman. 392 pages. Houghton Mifflin Harcourt; 1 edition (February 28, 2007) In the new Kaufman Field Guide to Insects of North America, readers will find a wealth of information on the amazing observable behaviors of insects and their fascinating life histories. Naturalists Kenn Kaufman and Eric R. Eaton use a broad ecological approach rather than overly technical terms, making the book accessible and understandable for everyone. The guide is lavishly illustrated, with more than 2,350 digitally enhanced photographs representing every major group of insects found in North America north of Mexico.
National Wildlife Federation Field Guide to Insects and Spiders & Related Species of North America, by Arthur V. Evans. 496 pages. Sterling (May 31, 2007) National Wildlife Federation's new all-photographic field guide to North American insects, spiders, and related species, is the most up-to-date of its kind, and lets both amateur and expert naturalists identify more than 940 species quickly and accurately. More than 2,000 close-up color photographs by leading nature photographers reveal the field marks that distinguish each creature, and the clear and concise text that accompanies each image describes the range, habitat, life cycle, and behavior.
Insects: Their Natural History and Diversity, by Stephen A. Marshall. 736 pages. Firefly Books; Updated edition (June 2006) Meticulously researched and illustrated with color photographs, Insects is a landmark reference book that is ideal for any naturalist or entomologist. To enhance exact identification of insects, the photographs in this encyclopedic reference were taken in the field -- and are not pinned specimens.