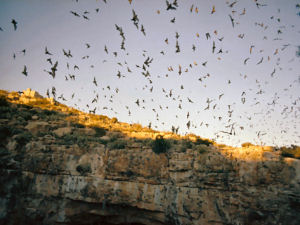 Mexican Free-Tailed Bats Emerge from Their Caves to Hunt
Texas State Flying Mammal: Mexican Free-Tailed Bat
Additional Information
Tadarida brasiliensis: Species profile from Bat Conservation International. An excellent resource. Be sure to follow the additonal links from the archives of BATS Magazine.
Brazilian Free-tailed Bat (Tadarida brasiliensis): From the Texas Parks and Wildlife Department: Information about the Brazilian Free-tailed Bat (Tadarida brasiliensis), a species found in the State of Texas.
Brazilian Free-tailed Bat: Description, photograph, distribution and habits, from the online edition of "Mammals of Texas." Natural Science Research Laboratory at the Museum of Texas Tech University.
Tadarida brasiliensis (Brazilian Free-tailed Bat ): Smithsonian Museum of Natural History - North American Mammals.
Tadarida brasiliensis (Brazilian free-tailed bat): The University of Michigan Museum of Zoology: Animal Diversity Web.
Tadarida brasiliensis

: Tadarida brasiliensis by Kenneth T. Wilkins. Published 12 May 1989 by The American Society of Mammalogists.
Tadarida brasiliensis - (I. Geoffroy, 1824), Brazilian free-tailed bat: A network connecting science with conservation - NatureServe Explorer: An Online Encyclopedia of Life.
Tadarida brasiliensis (I. Geoffroy, 1824) : Integrated Taxonomic Information System (ITIS) Here you will find authoritative taxonomic information on plants, animals, fungi, and microbes of North America and the world.
Bat Conservation International, Inc.: Official website.
State mammals: Complete list of official state mammals from NETSTATE.COM
More symbols & emblems: Complete list of official Texas state symbols from NETSTATE.COM.

Bats of Texas
Bats of Texas, by Loren K. Ammerman, Christine L. Hice, and David J. Schmidly. Illustrations by Carson Brown. Photographs by J. Scott Altenbach. 288 pages. Publisher: TAMU Press (November 23, 2011) Texas is home to all four families of bats that occur in the United States, including thirty-three species of these important yet increasingly threatened mammals. Although five species, each represented by a single specimen, may be regarded as vagrants, no other state has a bat fauna more diverse, from the state's most common species, the Brazilian free-tailed bat, to the rare hairy-legged vampire.
The introductory chapter of this new edition of Bats of Texas surveys bats in general—their appearance, distribution, classification, evolution, biology, and life history—and discusses public health and bat conservation. An updated account for each species follows, with pictures by an outstanding nature photographer, distribution maps, and a thorough bibliography. Bats of Texas also features revised and illustrated dichotomous keys accompanied by gracefully detailed line drawings to aid in identification. A list of specimens examined is located at batsoftexas.com.


Bats
Gail Gibbons
Bats, by Gail Gibbons. 32 pages. Publisher: Holiday House Books; 1st edition (September 1999) Reading level: Grade: First | Age: 4 to 8. Even though most people have never seen a real bat, many find them scary. In reality, bats are shy, gentle animals. There are about 1,000 different kinds of bats, and they live on every continent except Antarctica. Some are tiny like the hog-nosed bat that weighs less than one fourteenth of an ounce. Others are large, such as the giant flying fox with its five-foot wing span.
In this informative book Gail Gibbons offers an intriguing look at some of the many different kinds of bats, their amazing abilities, and how these mammals fit into the natural world..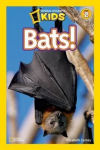 Bats
Elizabeth Carney
National Geographic Readers: Bats!, by Elizabeth Carney. 32 pages. Publisher: National Geographic Children's Books (September 14, 2010) Reading level: Ages: 5 - 7. They live in spooky caves, in forests, even in the dark reaches of ordinary attics and bridges. They flock by the hundreds, and they sleep while hanging upside down! In this beautifully photographed Level 2 reader, kids learn about one of the most interesting creatures around—and discover the bat's unique place in the wild and in the world. The high-interest topic, expertly written text, and bonus learning activity lay the groundwork for a successful and rewarding reading experience.


The Bat Scientists
Mary Kay Carson
The Bat Scientists, by Mary Kay Carson. 80 pages. Publisher: Houghton Mifflin Books for Children; First Edition, None edition (September 6, 2010) Reading level: Ages 10 and up. Dr. Merlin Tuttle and his colleagues at Bat Conservation International aren't scared of bats. These bat crusaders are fascinated by them, with good reason. Bats fly the night skies in nearly every part of the world, but they are the least studied of all mammals. As the major predator of night-flying insects, bats eat many pests. Unfortunately bats are facing many problems, including a terrifying new disease. White-nose Syndrome is infecting and killing millions of hibernating bats in North America. But Dr. Tuttle, with the help of his fellow bat scientists are in the trenches—and caves—on the front line of the fight to save their beloved bats.

Stokes Beginner's
Guide to Bats
Stokes Beginner's Guide to Bats, by By Kim Williams, Rob Mies, Donald W. Stokes, and Lillian Stokes. 70 pages. Publisher: Little, Brown and Company; 1 edition (May 2002) A pocket-size, brilliantly colorful, simple-to-use guide to bats, containing dozens of full-color photographs that enable readers of all ages to identify the most common species; range maps; tips on attracting and observing creatures in the wild; information on habitat needs, life cycle, food preferences; and much more.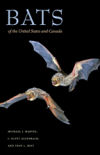 Bats of the United
States and Canada
Bats of the United States and Canada, by Michael J. Harvey, J. Scott Altenbach, and Troy L. Best. 224 pages. Publisher: The Johns Hopkins University Press; 1 edition (November 10, 2011) The only mammals capable of true flight, bats are among the world's most fascinating creatures. This accessible guide to the forty-seven species of bats found in the United States and Canada captures and explains the amazing diversity of these marvels of evolution.
A wide variety of bat species live in the United States and Canada, ranging from the California leaf-nosed bat to the Florida bonneted bat, from the eastern small-footed bat to the northern long-eared bat. The authors provide an overview of bat classification, biology, feeding behavior, habitats, migration, and reproduction. They discuss the ever-increasing danger bats face from destruction of habitat, wind turbines, chemical toxicants, and devastating diseases like white-nose syndrome, which is killing millions of cave bats in North America. Illustrated species accounts include range maps and useful identification tips.

Bat Biology
and Conservation
Bat Biology and Conservation, edited by Thomas H. Kunz and Paul A. Racey. 384 pages. Publisher: Smithsonian Institution Scholarly Press; 1 edition (October 17, 1998) Presenting the most recent research and synthetic reviews of more than thirty-five of the world's leading authorities on bats, Bat Biology and Conservation discusses bat phylogeny and evolution, functional morphology, echolocation, and conservation biology. It is an essential reference not only for bat scientists but also for conservation biologists and those working with other mammalian groups.
The Bat House
Builder's Handbook
The Bat House Builder's Handbook, Completely Revised and Updated, By Merlin D. Tuttle, Mark Kiser, and Selena Kiser. 35 pages. Publisher: Bat Conservation International; 2nd edition (March 1, 2005) Since 1994, The Bat House Builder's Handbook has been the definitive source for bat house information. This new edition has been completely revised to incorporate the latest research on improving the success rates for bat houses. It updates the original bat house plans and includes a new "rocket box" design, along with mounting suggestions, tips for experimentation, frequently asked bat house questions, and information about bats most likely to use bat houses.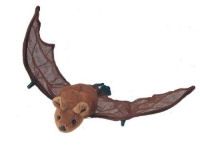 Mexican Free-Tailed Bat, Realistic Wildlife Plush Stuffed Animal, 14", This is a 14" Mexican Free-Tailed Bat from the Zoona Wildlife collection. Zoona realistic wildlife plush offers a line of products that are hard to find in plush! Zoona animals are those that are unique to a region or the kind you only see in zoos.

Bat Talk - The Secret Language of Mexican Free-tailed Bats, Format: Color, NTSC. Region: All Regions. Number of discs: 1. DVD Release Date: May 13, 2004. Run Time: 20 minutes. Bat Talk unveils the social interaction of Mexican free-tailed bats (Tadarida brasiliensis) for the first time in history. Watch and listen to these tiny, secretive creatures "talk" as they scurry, hop, shuffle, cuddle and play with one another. Laugh at males vying for female attention and witness a mothers gentle interactions with her baby. Vocalizations were recorded with a time expansion digitizer by Teh-Sheng Ma from George Pollak's Bat Lab at the University of Texas Institute of Neuroscience in Austin. The behaviors associated with these vocalizations were filmed by Barbara French and Amanda Lollar, who have identified more that 20 bat calls in their non-releasable captive bat colonies over the past 10 years.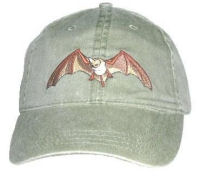 Bat Embroidered Cotton Cap This is a brand new cap with the following features:
Colorful embroidered design of a Mexican Free-tailed Bat on a new, high quality, 100% preshrunk cotton Khaki Green cap.

Fully adjustable back with antique brass finish buckle to fit nearly all teens and adults.