---
You may double left-click on a word on this page to retrieve its definition.
Official Meal of North Louisiana
One or more of... (see resolution below)
Adopted:
May 4, 2015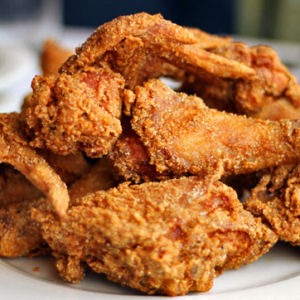 Meal of North Louisiana: Fried chicken
The Louisiana Legislature has designated a number of prepared food items to symbolize their state, among them; gumbo; Natchitoches meat pie; the beignet; and two official state jellies.
Where food was a promotional component of Louisiana's cultural heritage, Hardette Harris sensed a bias toward the cuisine of southern Louisiana. Many of the foods people associate with Louisiana do have roots in the southern part of the state even if they are not "official" representatives of the state. Crawfish, jambalaya, and etouffee come to mind.
Hardette Harris decided that a northern cuisine should be included in the state's roster of official symbols and the bias she perceived was a motivating factor perhaps joined by the fact that she is a chef and was raise in the northern part of Louisiana.
The story of how a certain group of foods came to be designated the official meal of north Louisiana is quite interesting.
Hardette Harris is a trained private chef with over fifteen years of experience who strives to educate people about the food in their lives; from nutrition to food preparation to kitchen organization. She has provided services to private homes, small and large businesses, as well as her local community.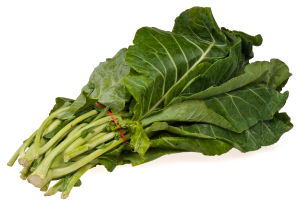 Meal of North Louisiana: Collard greens
Chef Hardette Harris originally came from Minden, Louisiana, about 30 miles east of Shreveport. After graduation from high school, Ms. Harris moved to Texas.
On return visits to Minden, she noticed that the foods she grew up with in the area were being supplanted by Cajun and Creole cuisine, perhaps in accorandance with tourist expectations of Louisiana.
When Harris moved back to Louisiana, Bossier City, in 2013 she decided that she would embark on a path to re-establish the role of local, indigenous foods of north Louisiana that she had known as a child. Her first efforts resulted in the establishment of the Dream Dinner, held on Martin Luther King's birthday, where diners would enjoy servings of foods such as fresh catfish, purple hull peas, collard greens, cornbread and peach cobbler. At this dinner, she hosted author, food justice activist, and former White House aide, Adrian Miller.
One of the Dream Dinner attendees, was State Representative Gene Reynolds. He shared with Harris concern over the loss of north Louisiana cultural identity with the invasion of a more southern cuisine and offered to assist her in her quest to restore an appreciation of the local food products of the area.
In an effort to raise awareness and status of north Louisiana cuisine, Harris determined to thoroughly research the ingredients and foods that comprise north Louisiana cuisine and to promote its status in the state. Her list of foods was compiled from personal experiences, culinary knowledge, interviews and conversations with north Louisianans, and her post Dream Dinner evaluation cards.
About a year after their initial meeting, Harris contacted State Representative Gene Reynolds with here ideas regarding promotion of north Louisiana food culture and the results of her research, a list of foods that she considered representative of north Louisiana culture. They worked together to craft House Concurrent Resolution No. 88 which declared that particular list of foods as specifically representative of north Louisiana.
House Concurrent Resolution No. 88 was first read and approved by the Louisiana House of Representatives on April 26, 2015. It was adopted by the Senate the next day. On May 4, 2015, the Speaker of the House and the President of the Senate formally signed House Concurrent Resolution No. 88 declaring Hardette Harris' food items the official state meal of north Louisiana.
As described by House Concurrent Resolution No. 88, reproduced below, the official Louisiana state meal is not one specifically defined meal but a menu offering a number of foods that Harris considers indigenous to north Louisiana. Nor are specific preparation recommendations included.
ENROLLED

2015 Regular Session

HOUSE CONCURRENT RESOLUTION NO. 88

BY REPRESENTATIVE REYNOLDS

A CONCURRENT RESOLUTION

To recognize the culinary uniqueness of North Louisiana and to recognize its official meal.

HangingIndent

WHEREAS, Louisiana is filled with abundant varieties in culture, tastes, and music, and is especially heralded around the world for its distinctive, savory foods; and

WHEREAS, Chef Hardette Harris, a well-known and respected North Louisiana culinary entrepreneur, has coined the phrase, "straight from the red dirt and fresh waters of North Louisiana, we offer you our soul in a bowl" and has cobbled a list of favorite dishes served in North Louisiana that express the flavor of the region; and

WHEREAS, while culinary staples like fried catfish, fried chicken, and barbecue ribs; fresh greens, peas, and beans cooked with smoked neck bones and ham hocks; rice and gravy, potato salad, and fried okra; hot water cornbread and homemade biscuits; desserts like sweet potato pie, pecan pie, and pound cake; and cool drinks like sweet tea may be found throughout the length and breadth of Louisiana, North Louisiana chefs make special claims to these and certain other dishes as tasting best when prepared by chefs from "up north"; and

WHEREAS, it is appropriate to recognize the proud cuisines birthed from the mix of ethnic heritages and identities that, blended together, produce these recipes for delightfully edible comestibles.

THEREFORE, BE IT RESOLVED that the Legislature of Louisiana does hereby recognize the unique contribution North Louisiana has made to the flavors of the state and does hereby recognize the official meal of North Louisiana as consisting of a combination of one or more selections from the following dishes and courses:

Appetizer
Mini Natchitoches Meat Pie
Main Dish
Fried Catfish
Barbecue Ribs
Barbecue Chicken
Barbecue Smoked Sausage
Baked Ham
Greens
Cabbage
Collards
Mustards
Turnips
(cooked with Smoked Neck Bones and/or Smoked Ham Hocks)
Peas and Beans
Black Eye
Purple Hull
Pinto
Butter
(cooked with Smoked Neck Bones and/or Smoked Ham Hocks)
Side Dishes
Baked Sweet Potato
Rice with Gravy
Potato Salad
Fried Okra
Breads
Hot Water Cornbread
Skillet Cornbread
Homemade Biscuits
Desserts
Sweet Potato Pie
Pecan Pie
Pound Cake
Peach Cobbler
Fruit Salad (sliced watermelon chunk topped with fresh blueberries, peaches, and strawberries)
Condiments
Homemade Mayhaw and Plum Jelly
Cucumber, Tomato, Onion, and Green
Onion Salad
Hot Sauce
Homemade Pepper Sauce
Cane Syrup
Beverage
Sweet Tea
According to her press release, Hardette Harris "hopes to jump start the eternal love affair between North Louisiana dishes and the rest of the world by making sure every tourist and visitor to the state taste what we eat up north." [1]
It's not everything — there are things that I left off that are very popular here — but I wanted to list three or four that are representative of what we historically eat."
Chef Jason Brady, owner of several restaurants in Shreveport including Wine Country and Zocolo's, said his businesses uses many of the items from the official meal list.

"I like highlighting what we have culturally. It's a great thing," Brady said. "I like Louisiana as a whole cuisine, but I think there's a very strong point to be made about what we have in north Louisiana versus south Louisiana."

Brady grew up eating these dishes in Shreveport. Although his restaurants serve national and some international dishes, it's the local options that are most requested.

"One of our biggest sellers at Wine Country is collard greens," Brady said. "We put it on the menu because it is a local staple and grows very well here. When sweet potatoes are around we have them in lots of dishes. We just had a big dinner of 200 people and used Louisiana catfish."
("Official north Louisiana menu declared", 2015)
---
Sources...
Harris, Hardette. "Adrian Miller." Chef Services, Inc., n.d. Web. 15 Oct. 2016.
Harris, Hardette. "About Chef Harris." Chef Services, Inc., n.d. Web. 15 Oct. 2016.
[1] Harris, Hardette. "Chef Hardette Harris Announces North Louisiana''s Official Meal." Scribd Inc. Chef Services, Inc., n.d. Web. 6 Oct. 2016.
Harris, Hardette. "The Dream Dinner." Chef Services, Inc., n.d. Web. 15 Oct. 2016.
Kennell, Tiana. "Official North Louisiana Menu Declared." The Times [Shreveport] 15 June 2015: n. pag. The Times. The Times, 15 June 2015. Web. 6 Oct. 2016.
Reynolds, Gene. "HCR88 by Representative Gene Reynolds." Louisiana State Legislature. State of Illinois, 07 May 2015. Web. 6 Oct. 2016.
---
Additional Information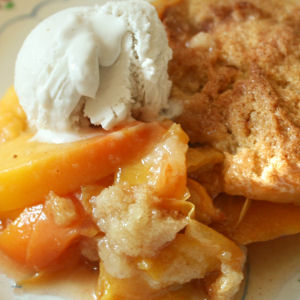 Meal of North Louisiana: Peach cobbler
Louisiana's Food Traditions: An Insider's Guide: Article by Maida Owens, director of the Louisiana Division of the Arts Folklife Program. Louisiana Folklife Program: Department of Culture, Recreation & Tourism.
Website: Chef Services, Inc.: Private Chef Hardette Harris.
Website: North Louisiana Historical Association.
State foods: Complete list of official state foods from NETSTATE.COM.
More symbols & emblems: Complete list of official Louisiana state symbols from NETSTATE.COM.

Soul Food
Adrian Miller
Soul Food: The Surprising Story of an American Cuisine, One Plate at a Time, by Adrian Miller. 352 pages. Publisher: The University of North Carolina Press; 1st New edition edition (August 15, 2013)
In this insightful and eclectic history, Adrian Miller delves into the influences, ingredients, and innovations that make up the soul food tradition. Focusing each chapter on the culinary and social history of one dish--such as fried chicken, chitlins, yams, greens, and "red drinks"--Miller uncovers how it got on the soul food plate and what it means for African American culture and identity.
Miller argues that the story is more complex and surprising than commonly thought. Four centuries in the making, and fusing European, Native American, and West African cuisines, soul food--in all its fried, pork-infused, and sugary glory--is but one aspect of African American culinary heritage. Miller discusses how soul food has become incorporated into American culture and explores its connections to identity politics, bad health raps, and healthier alternatives. This refreshing look at one of America's most celebrated, mythologized, and maligned cuisines is enriched by spirited sidebars, photographs, and twenty-two recipes.