Alabama State Agricultural Museum
| | | |
| --- | --- | --- |
| Dothan Landmarks Parks | | Adopted:1992 |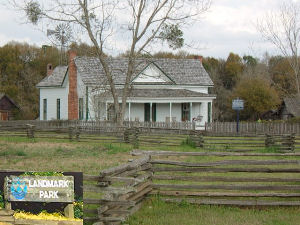 Wiregrass Farmstead at Landmark Park
Alabama State Agricultural Museum
Adoption of the Alabama State Agricultural Museum
Landmark Park is a 100 acre facility dedicated to preserving the cultural and natural heritage of the wiregrass region of Southeast Alabama. Owned and operated by Dothan Landmarks Foundation, the park features an 1890s living history farm, a one-room schoolhouse, a general store, and a turn-of the-century church. The park also includes elevated boardwalks, nature trails, wildlife exhibits, a planetarium, and a picnic area. In addition, Landmark Park also serves as headquarters for the Alabama Agricultural Museum Board.
Special programs include Spring Farm Day in March; Antique and Collector Car Show in October; Wiregrass Heritage Festival in October; and Victorian Christmas in December.
Landmark Park became the State Agricultural Museum in 1992 by Act no. 92-541.
Like many other parks and historic sites, Dothan Landmarks Parks is counting on donations and volunteers to maintain it presence. If you'd like more information about how to help Landmark Park, call (334) 794-3452, or you may send your donations to P. O. Box 6362, Dothan, Alabama 36301.
Alabama Law
The following information was excerpted from the The Code of Alabama 1975, Title 1, Chapter 2.
The Code of Alabama 1975
TITLE 1.
Chapter 2 STATE SYMBOLS AND HONORS
Section 1-2-30 State agricultural museum
Section 1-2-30
State agricultural museum.
The Dothan Landmarks Parks is hereby designated the official Agricultural Museum for the State of Alabama.
(Acts 1992, No. 92-541, p. 1149.)
---
Source: California State Legislature, Alabama Legislative Information System Online, September 27, 2008.
Source: Alabama Department of Archives & History, Official Alabama Agricultural Museum, September 27, 2008.
---
Additional Information
Dothan Landmarks Parks: Dothan, Alabama: Official web site of Dothan Landmarks Parks, the official agricultural museum of Alabama.
Alabama Department of Agriculture & Industries: Web site of the Alabama Department of Agriculture & Industries.
ALFA Farmers Federation: Web site of the Alabama Farmers Federation, a member of the American Farm Bureau Federation.
Alabama Agriculture News: Agriculture Industry Today: An EIN Service for Agriculture Industry Professionals.
Alabama Cooperative Extension System: Web site of from Alabama A&M University and Auburn University.
USDA National Agricultural Statistics Service: Alabama agricultural statistics from the United States Department of Agriculture.
Alabama Agriculture: Agricultural crop and livestock rankings from StuffAboutStates.com
Southern Agriculture During the Civil War Era, 1860-1880, by John Solomon Otto, 184 pages, Greenwood Press (April 30, 1994).