---
Double click any word in document for definition.
Texas State Maritime Museum
Texas Maritime Museum, Rockport
Adopted:
May 18,1987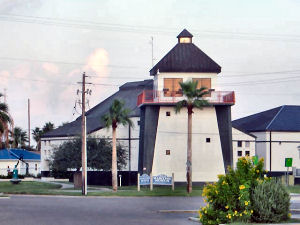 Texas State Maritime Museum:
Texas Maritime Museum in Aransas County
At Chamber Drive and Veterans Memorial Drive, Rockport
The maritime museum planned by the Texas Maritime Museum Association, Inc. was adopted as the "official state maritime museum" when Governor Bill Clements signed Senate Concurrent Resolution No. 57 on May 18, 1987.
Often, a state will grant an official status to an item for promotional and economic reasons. In the case of the Texas state maritime museum, this is precisely what seems to have occurred. The State of Texas honored an entity that did not exist at the time but was in the planning stages.
A similar process occurred two years earlier when the "proposed" Corpus Christi Aquarium was named the "Official Aquarium of Texas" four years before it opened its doors.
Construction of the Texas Maritime Museum began in 1988 and the James H. Sorenson Building opened July 1, 1989, two years after being named the official maritime museum of the State of Texas.
The museum is located in Rockport, about thirty miles north of Corpus Christi.
S.C.R. No. 57

SENATE CONCURRENT RESOLUTION

WHEREAS, From Beaumont to Port Arthur and Brownsville, this state's ports serve as commercial outlets for Texas products such as cotton, grain, and oil; and

WHEREAS, The Gulf Coast is visited by freighters and tankers from seafaring nations throughout the world and by domestic tugboats and barges that ply the Texas portion of the intracoastal waterway; and

WHEREAS, Coastal ship traffic dates back at least as far as the Spanish galleons that signaled the arrival to the New World of European sea farers; sunken remains of these vessels still yield to today's recovery expeditions a wealth of archeological artifacts and treasures; and

WHEREAS, The Texas Maritime Museum, a facility to be located on picturesque Aransas Bay in Rockport, has been proposed to house collections and exhibits depicting the growth of Texas seaports and the history of Texas shipping from the days of sail and steam to the modern industrial era; and

WHEREAS, In recognition of the tidelands that contribute to Texas petroleum production, the museum will include a working model of an offshore drilling rig and will highlight the role of service vessels that supply such rigs; and

WHEREAS, Proposed displays will honor also the state's seafood industry, paying tribute to the diverse Texas fishing fleet that harvests finfish, shrimp, oysters, and crab; and

WHEREAS, Recreational aspects of state bays and gulf waters likewise will receive attention, with exhibits celebrating the pleasure craft that engage in yachting, sailing, and sport fishing along the Texas coast; and

WHEREAS, The facility, to be sponsored by the Texas Maritime Museum Association, will serve as a center for cultural enjoyment and enlightenment; now, therefore, be it

RESOLVED, That the 70th Legislature of the State of Texas hereby designate the proposed Texas Maritime Museum in Aransas County as the official state maritime museum; and, be it further

RESOLVED, That a copy of this resolution be forwarded to members of the Texas Maritime Museum Association in legislative recognition of their plans to preserve and promote appreciation of the cultural heritage of this state.
Additional Information
The Texas Maritime Museum: Official website.
Texas Maritime Museum: Texas Maritime Museum on Facebook.
Texas Maritime Museum: For almost 18 years, the South Texas Traveler has been a handy free guide to the places, events, culture and history of South Texas for visitors and residents alike.
Texas Maritime Museum: Community reviews from Trip Advisor.
More symbols & emblems: Complete list of official Texas state symbols from NETSTATE.COM.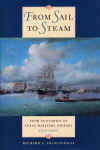 From Sail to Steam
Richard Y. Francaviglia
From Sail to Steam: Four Centuries of Texas Maritime History, 1500-1900, by Richard Y. Francaviglia. 344 pages. Publisher: University of Texas Press (1998) The Gulf Coast has been a principal place of entry into Texas ever since Alonso Alvarez de Pineda explored these shores in 1519. Yet, nearly five hundred years later, the maritime history of Texas remains largely untold. In this book, Richard V. Francaviglia offers a comprehensive overview of Texas' merchant and military marine history, drawn from his own extensive collection of maritime history materials, as well as from research in libraries and museums around the country.
Francaviglia tells the stories of the Spanish flotilla that wrecked off Padre Island in 1554 and of La Salle's flagship Belle, which sank in 1687. He explores the role of the Texas Navy in the Texas Revolution of 1835-1836 and during the years of the Texas Republic and also describes the Civil War battles at Galveston and Sabine Pass. Finally, he recounts major developments of the nineteenth century, concluding with the disastrous Galveston Hurricane in 1900. More than one hundred illustrations, many never before published, complement the text.


Lone Star Navy
Jonathan W. Jordan
Lone Star Navy: Texas, the Fight for the Gulf of Mexico, and the Shaping of the American West, by Jonathan W. Jordan. 397 pages. Publisher: Potomac Books Inc. (December 24, 2005) Lone Star Navy chronicles the little fleet of wooden warships, bought on credit by an impoverished band of revolutionaries and sent to sea on a singular mission: to win Texas's independence from Mexico. Beginning with four small sailing vessels, the upstart flotilla became a vital counterpart to Texan armies fighting for an independent republic. Indeed, Capt. Jeremiah Brown's naval battle off Matamoros in April 1836 helped save the fledgling republic from a premature end. But even as it battled for independence on the Gulf of Mexico, the Texas navy came under attack from unexpected enemies.
**WINNER OF THE 2007 UNITED STATES MARITIME LITERATURE AWARD**


Kayaking
the Texas Coast
John Whorff
Kayaking the Texas Coast, by John Whorff. 152 pages. Publisher: Texas A&M University Press (February 10, 2011) Half of the nearly 400-mile Texas coastline is flanked by barrier islands. Behind them, large and small bays shelter estuarine marshes, oyster-reef communities, and sea grass meadows that teem with wildlife, creating a bird watcher's and angler's paradise. For an intimate encounter with these natural treasures, no other water craft can compare to a kayak.
Veteran kayaker John Whorff's Kayaking the Texas Coast is an essential guide for beginning and experienced kayakers to the many miles of shoreline that surround the shallow bays, lagoons, and islands of the Texas coast. Novices will appreciate this book's detailed information about where to paddle and camp, what to see, and where to obtain additional information about safety and route planning. Accomplished kayakers will enjoy Whorff's enticing route descriptions and other pertinent details on paddling the Texas coastline.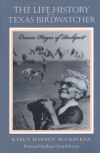 The Life History of
a Texas Birdwatcher
The Life History of a Texas Birdwatcher: Connie Hagar of Rockport, by Karen Harden McCracken. 336 pages. Publisher: Texas A&M University Press (May 1, 2001) In any other context, saying that someone was "for the birds" would hardly be polite. But applied to Connie Hagar, it would be high praise. The diminutive birdwatcher nicknamed Connie was reared as Martha Conger Neblett in early twentieth-century Texas, where she led a genteel life of tea parties and music lessons. But at middle age she became fascinated with birds and resolved to learn everything she could about them. In 1935, she and her husband, Jack, moved to Rockport, on the Coastal Bend of Texas, to be at the center of one of the most abundant areas of bird life in the country. Her diligence in observation soon had her setting elite East Coast ornithologists on their ears, as she sighted more and more species the experts claimed she could not possibly have seen. (Repeatedly she proved them wrong.)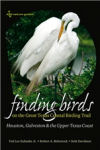 Finding Birds
Finding Birds on the Great Texas Coastal Birding Trail: Houston, Galveston, and the Upper Texas Coast, by Ted L. Eubanks Jr., Robert A. Behrstock and Seth Davidson. 258 pages. Publisher: Texas A&M University Press (April 2, 2008) The Texas coast offers rich avian treasures for expert birders and beginners alike, if only they know where to look. For those familiar with the Texas Parks and Wildlife Department's maps to the Great Texas Coastal Birding Trail, this book on the Upper Texas Coast offers more—more information, more convenient and detailed maps, more pictures, more finding tips, and more birding advice from one of the trail's creators, Ted Lee Eubanks Jr., and trail experts Robert A. Behrstock and Seth Davidson. For those new to the trail, the book is the perfect companion for learning where to find and how to bird the very best venues on this part of the Texas coast.
While not intended as a field identification guide, the book contains more than 175 color photographs of birds and their coastal habitat, giving readers an excellent feel for the trail's diversity and abundance.

Encyclopedia of
Texas Seashells
Encyclopedia of Texas Seashells: Identification, Ecology, Distribution, and History, by John W. Tunnell, Jr., Jean Andrews, Noe C. Barrera, Fabio Moretzsohn. 512 pages. Publisher: Texas A&M University Press (July 15, 2010) An essential reference book for every collector and researcher of American seashells, Encyclopedia of Texas Seashells is a complete sourcebook and up-to-date identification guide, covering an unprecedented nine hundred species of seashells and mollusks that reside in the marine habitats of the Gulf of Mexico.
This reference contains 987 detailed and data-rich color images for even the tiniest shells, a valuable primer on shell collecting as a hobby, and a wealth of entries on the history of use and study, habitats and ecology, shell characteristics, distribution, biology, and identification.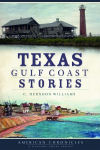 Texas
Gulf Coast Stories
C. Herndon Williams
Texas Gulf Coast Stories, by C. Herndon Williams. 128 pages. Publisher: The History Press (December 3, 2010) The middle Texas coast, known locally as the Coast Bend, is an area filled with fascinating stories. From as early as the days of de Vaca and La Salle, the Coastal Bend has been a site of early exploration, bloody conflicts, legendary shipwrecks and even a buried treasure or two. However, much of the true history has remained unknown, misunderstood and even hidden. For years, local historian C. Herndon Williams has shared his fascinating discoveries of the area's early stories through his weekly column, "Coastal Bend Chronicle." Now he has selected some of his favorites in Texas Gulf Coast Stories.
Join Williams as he explores the days of early settlement and European contact, Karankawa and Tonkawa legends and the Coastal Bend's tallest of tall tales.