Alabama State Rock
| | | |
| --- | --- | --- |
| Marble | | Adopted:September 12, 1969 |
Adoption of the Alabama State Rock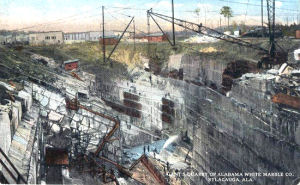 Postcard: Gant's Quarry
Alabama White Marble Co., Sylacauga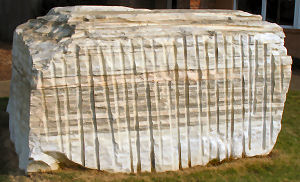 Mined marble block: Sylacauga, Alabama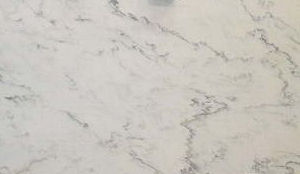 Cut marble slab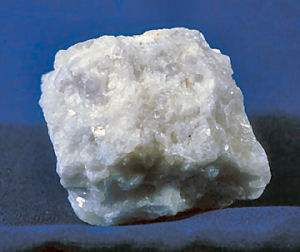 Marble stone
Photo: Mineral Information Institute
Marble was adopted as the official state rock of Alabama by legislative Act No. 755 on September 12, 1969.
About marble
Marble is metamorphic rock. This means that it has undergone a change, much like a caterpillar turns into a butterfly, to reach its present state. Marble begins as limestone or dolomite and is formed by heat and pressure in the earth's crust. The change produced on the limestone and dolomite is called recrystallization. The final form of the marble is determined by the composition and purity of the original limestone or dolomite. Marble may be white, pink, gray, red, or black in color, depending on the impurities in the original limestone or dolomite. The purest calcite marble is white. Marble containing hematite has a reddish color while marble containing limonite is yellow and marble containing serpentine is green.
Mining
Care must be taken when mining marble. It does not split easily in uniform sheets and it may shatter if explosives are used. Marble must be mined by cutting grooves and holes in the rock and separating blocks with wedges. Diamond tipped saws are also used at various stages in the mining process.
Marble is plentiful in the Alabama counties of Talladega, Bibb, Calhoun, Clay, Coosa, Etowah, Lee, Macon, St. Clair, and Shelby. One site in Talladega County is 200 feet thick. Much of the state's marble has been used in buildings all over the United States. Crushed marble also is used for textiles, paints, electrical insulation and plastics.
Uses of marble
Marble has long been highly valued for its beauty, strength, and resistance to fire and erosion. The ancient Greeks used marble in many buildings and statues. The Italian artist Michelangelo used marble from Carrara, Italy, in a number of sculptures. Marble from Tennessee was used in parts of the National Gallery of Art in Washington, D.C. The Lincoln Memorial, also in Washington, was built of marble from Alabama, Colorado, and Georgia.
Extremely pure calcite marble is used for most statues. This kind of marble is translucent--that is, light penetrates a short distance below the surface of the marble before it is reflected. Large blocks of colored marble are used for columns, floors, and other parts of buildings. Smaller pieces of such marble are crushed or finely ground and used as abrasives in soaps and other products. Crushed or ground marble is also used in paving roads and in manufacturing roofing materials and soil treatment products.
Alabama marble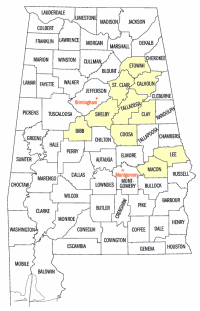 Marble Counties in Alabama
Marble is found in many parts of the world. In the United States, the major marble-producing areas are found in Alabama, Colorado, Montana, Tennessee, Texas, and Vermont. Most of the Alabama marble is found in the middle-eastern parts of the state, in Talladega, Bibb, Calhoun, Clay, Coosa, Etowah, Lee, Macon, St. Clair, and Shelby counties. There is an area in Talladega County, called the Sylacauga marble belt, which extends from the Coosa River to southeast of Talladega. One section is 200 feet thick. Marble in the Sylacauga area is known for its high-grade crystalline texture, whiteness, and beauty and has been quarried since 1840 for use as monuments and building stones throughout the state and country. Sylacauga marble is now marketed primarily as a filler, agricultural soil conditioner, and micronized marble, which is shipped as a slurry for use in paper pigment and coating. Crushed marble also is used for textiles, paints, electrical insulation, and plastics.
Alabama Law
The following information was excerpted from the Code of Alabama, Title 1, Chapter 2.
TITLE 1.
CHAPTER 2. STATE SYMBOLS AND HONORS.
Section 1-2-14
Official rock.
Marble is hereby designated and named the official rock of Alabama.
---
Source: Alabama Legislature, January 19, 2008.
Source: Alabama Department of Archives & History, Alabama Rock, February 8, 2008.
Source: Charles, Robert W. "Marble." World Book Online Reference Center. 2005. World Book, Inc. 20 Jan. 2005.
Source: State Names, Seals, Flags and Symbols: A Historical Guide Third Edition, Revised and Expanded by Benjamin F. Shearer and Barbara S. Shearer. Greenwood Press; 3 Sub edition (October 30, 2001).
---
Additional Information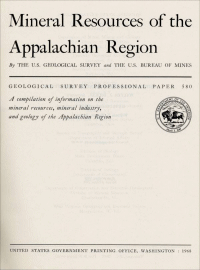 Government Printing Office, 1968 (Excerpt)
Stone Quarries & Beyond: Alabama: A look at Alabama quarries, quarry workers, stone cutters, stone carvers, historical dealers of stone and the finished stone products from Peggy Barriskill Perazzo and Pat Perazzo.
Artist Giuseppe Moretti and Alabama Marble: Article about Italian artist Giuseppe Moretti - Covers his introduction to and love of Alabama marble.
Alabama Stone in Washington Monument: Stone of Alabama Marble representing Alabama in the Washington Monument. [PDF].
The Marble Industry in Sylacauga: A Story of Its Growth, People, and Contributions: From Sylacauga.Net.
The Mineral Industry in Alabama (2005): Prepared under a Memorandum of Understanding between the U.S. Geological Survey and the Geological Survey of Alabama for collecting information on all nonfuel minerals.
Preliminary Report on the Crystalline and Other Marbles of Alabama, by William Frederick Prouty, 216 pages, BiblioLife (December 9, 2008).