HOME
INTRO
SYMBOLS
ALMANAC
ECONOMY
GEOGRAPHY
STATE MAPS
PEOPLE
FORUM
NEWS
COOL SCHOOLS
STATE QUIZ
STATE LINKS
BOOK STORE
MARKETPLACE
NETSTATE.STORE
NETSTATE.MALL
GUESTBOOK
CONTACT US

---
Double click any word in document for definition.
Texas State Fiber and Fabric
Cotton
Genus

Gossypium
Adopted:
June 18, 1997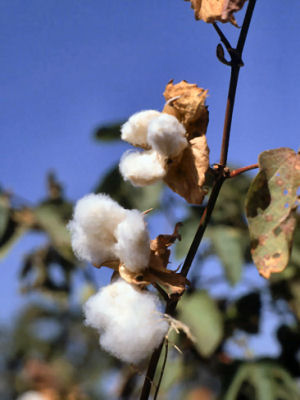 State Fiber and Fabric: Cotton (Genus Gossypium)
Photographs, prints and posters
Cotton has long been a commercial success story for Texas. It formed the western border of the cotton belt prior to World War I and today is the leading producer of cotton in the United States. It's no wonder that the Texas Legislature chose to honor cotton as the official fiber and fabric of the state. What's remarkable is that it wasn't done until 1997.
Though, if we return to 1901 when the bluebonnet was adopted as the official flower of the State of Texas, we find that a certain Texas legislator attempted the feat.
The open cotton boll was promoted by Legislator Phil Clement of Mills, Texas. Cotton was king in Texas in 1901 and he referred to his nomination as the "white rose of commerce." Though cotton was big business, the cotton boll as state flower didn't receive big support in the Legislature.
Cotton finally did win a place among the numerous official state symbols of Texas, though not as the state flower. Cotton became the official fabric and fiber of the State of Texas when Governor George W. Bush signed House Concurrent Resolution No. 228 on June 18. 1997.
Texas is the first, and only, state to recognize an official fiber and fabric. It will be interesting to see if any other state will decide to compete with the Lonestar State in this endeavor.
H.C.R No. 228

HOUSE CONCURRENT RESOLUTION

Whereas, The Lone Star State is world renowned for the abundance, variety, and excellence of its agricultural output, and throughout the state's history cotton has been a mainstay of the Texas economy and culture; and

Whereas, The state's largest cash crop, cotton is planted on more acres than any other agricultural product in Texas, and the preeminence of the United States in world cotton production is due largely to the quantity produced within the state's borders; the magnitude of this contribution is reflected in the fact that, if Texas were an independent country, it would rank sixth among the world's cotton producers; and

Whereas, Through the years, cotton had become closely identified with Texas in the popular mind; countless works of art, music, literature, and history have reaffirmed the importance of cotton to the development of the state, and the tradition of Texas producing the nation's first bale of cotton each year aptly symbolizes this deep connection; and

Whereas, Cotton is deservedly one of the worlds most popular fabrics, combining durability, versatility, and remarkable comfort; particularly well suited to the Lone Star State's unique range of climatic conditions, cotton clothing is a typically Texan tradition, and its many virtues underscore the fiber's importance to the state; and

Whereas, Cotton is universally acknowledged as an essential element of the Lone Star State's history and heritage, and it is indeed fitting that this close relationship be recognized at this time; now, therefore, be it

Resolved, That the 75th Legislature of the State of Texas hereby designate cotton the Official State Fiber and Fabric of Texas.
In 2009, Governor Rick Perry signed House Concurrent Resolution No. 71 naming the Burton Cotton Gin & Museum the official cotton gin museum of the State of Texas.
Texas Law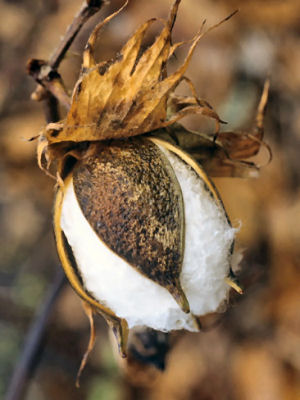 State Fiber and Fabric: Cotton (Genus Gossypium)
Photographs, prints and posters
Because cotton was adopted as the official state fiber and fabric by concurrent resolution, it is not listed in the Texas Statutes.
Only a small number of Texas' myriad symbols have been actually adopted by an act of the legislature and written into the Texas Statutes.
---
Sources...
"House Concurrent Resolution No. 228." The Texas Legislature Online. The State of Texas, 2011. Web. 16 Nov 2011.
"Texas State Flower." >Netstate.com. Netstate.com, September 28, 2007. Web. 16 Nov 2011.
"Crops: Cotton (Ranked by 2004 cash receipts)." StuffAboutStates.com. StuffAboutStates.com, January 5, 2011. Web. 16 Nov 2011.
Shearer, Benjamin F. and Barbara S. State Names, Seals, Flags and Symbols: A Historical Guide Third Edition, Revised and Expanded. Westport, Conn: Greenwood Press, 3 Sub edition, 2001.
---
Additional Information
Cotton Culture: The Texas State Historical Association: The Texas Handbook Online.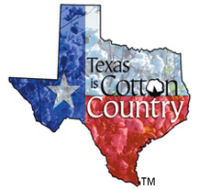 Texas is Cotton Country
Texas A&M University Cotton Program
Fun Facts: Texas A&M University Cotton Program.
World of Cotton: Article from the website of the National Cotton Council of America.
How Cotton Fabric is Made: How Products Are Made explains and details the manufacturing process of cotton. The site provides step by step descriptions of the assembly and the manufacturing process (complemented with illustrations and diagrams).
Burton Cotton Gin and Museum: Official website of the official state cotton gin museum of Texas.
Texas Organic Cotton Cooperative: Official website.
The Texas Cotton Association: Official website.
More symbols & emblems: Complete list of official Texas state symbols.


Cotton
Stephen Yafa
Cotton: The Biography of a Revolutionary Fiber, by Stephen Yafa. 416 pages. Publisher: Penguin (Non-Classics) (June 27, 2006) In the tradition of Mark Kurlansky's Cod and Salt, this endlessly revealing book reminds us that the fiber we think of as ordinary is the world's most powerful cash crop, and that it has shaped the destiny of nations. Ranging from its domestication 5,500 years ago to its influence in creating Calvin Klein's empire and the Gap, Stephen Yafa's Cotton gives us an intimate look at the plant that fooled Columbus into thinking he'd reached India, that helped start the Industrial Revolution as well as the American Civil War, and that made at least one bug—the boll weevil—world famous. A sweeping chronicle of ingenuity, greed, conflict, and opportunism, Cotton offers "a barrage of fascinating information" (Los Angeles Times).


Cotton
Beverly Lemire
Cotton, by Beverly Lemire. 192 pages. Publisher: Berg Publishers (April 15, 2011) This book explores the fascinating history and present-day practices associated with cotton. This is a story of commercial and cultural enterprise, of the ties and tensions between East and West, of technological and industrial revolution, social modernization, colonialism and slavery. Cotton's history mirrors profound global transformations. And cotton remains one of the most significant mass commodities today.
Cotton's track record on labor conditions in factories and plantations has tarnished its history and reputation, even as cotton clothes became the hallmark of modern industrialized society. Cotton expressed popular fashions and popular politics in dynamic ways. Yet cottons also take other cultural forms and are part of vibrant craft traditions in many parts of the world. This book explores the history, impact and ongoing life of this hugely influential textile.