The Tennessee Bicentennial Tree
The Yellowwood Tree (Cladrastis lutea)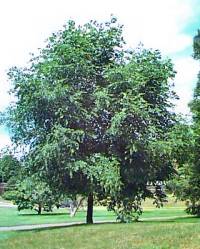 The Yellowwood Tree (Cladrastis lutea)
The Yellowwood tree was designated as the Official Bicentennial Tree of Tennessee by Senate Joint Resolution Number 62 of 1991. The resolution stated that the Yellowwood tree, scientifically known as Cladrastis lutea, is a native Tennessee ornamental tree of unsurpassed beauty, worthy of being grown in yards and public spaces across Tennessee and should serve as a tribute to the pioneering spirit of those individuals whose courage and perseverance paved the way for the settlement of the great state of Tennessee.
Andre Micheaux, the French botanist, discovered the Yellowwood Tree near Fort Blount in 1796. The Yellowwood, one of the rarest trees in the eastern United States, can still be found growing wild around Fort Blount today.
A Yellowwood grows to about 50'-60' with a trunk diameter between 1 1/2' and 2'. A champion tree in Hamilton County, Ohio grew 72' tall with a spread of 73'. The bark is smooth and gray.
Landscapers consider the Yellowwood an attractive shade tree and ornamental specimen. Dye makers have used the bright yellow heartwood to make dye.
Sources:
The Tennessee Blue Book Online 2001-2002,(http://www.state.tn.us/sos/bluebook/online/bbonline.htm), February 3, 2003
Ohio Public Library Information Network, (http://www.oplin.lib.oh.us/products/tree/fact%20pages/yellowwood/yellowwood.html)< February, 3, 2003
University of Washington, (http://www.washington.edu/home/treetour/yellowwood.html), February 3, 2003