---
The State of New Mexico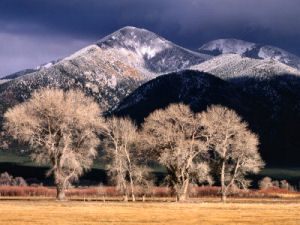 Winter Cottonwoods, Taos
New Mexico welcomes you with color and art, music and dance, breathtaking landscapes, and a heritage of Indian, Anglo, and Hispanic cultures that cannot be found in any other state in the union. From prehistoric times until the present, cultures and tribes have journeyed through New Mexico's land. From the north, various native American tribes have wandered in, and from the south, people from Mexico, and Spaniards as well, and Europeans have added to the mix. Pueblo, Apache, Navajo and others are all part of the incredible diversity that marks the vibrant culture of New Mexico.
The people, their heritage and traditions, their skills and their arts, and the land, its awesome beauty, all make New Mexico the unique and colorful place that it is today.
The name of this state is an anglicized version of "Nuevo Mexico," the Spanish name for the upper Rio Grande. Mexico, an Aztec spelling, means "place of Mexitli" one of the Aztec gods.

Balloon Festival, Albuquerque

The hot air balloon is New Mexico's official aircraft.
Land of Enchantment (Official)
The "Land of Enchantment" describes New Mexico's scenic beauty and its rich history. This legend was placed on New Mexico license plates in 1941. This nickname became the official State Nickname of New Mexico on April 8, 1999.
The Cactus State
or "Land of the Cactus" refers to the cacti that grow so abundantly in the state, particularly along the border with Mexico and on the plains.
The Spanish State
New Mexico has been referred to as "The Spanish State" because of its border with Mexico, its historical background and the proportion of its Spanish speaking population.
The Land of Sunshine
or "The Sunshine State" are nicknames that refer to the generous portion of sunshine that "rains" down upon New Mexico. "Sunshine State" appeared on state license plates before 1941.
The Land of the Delight Makers
This nickname, suggested by George Wharton James, was to celebrate the state's influence on literature and art and because "...it is also the home of the first real field-school of American Archaeology in America." The name was suggested by a book by Adolf Bandelier, The Delight Makers.
The Land of Opportunity
So called because of its natural beauty, its climate, its newness at the time, its free lands and its industries. New Mexico was described as place that offered enough opportunity to fulfill the hopes of all who came.
The Land of the Heart's Desire
This is another historical nickname that promoted New Mexico as a land of unbound opportunity. Its location was between the Gulf of Mexico and the Pacific Ocean, it provided an ideal climate and was still relatively undeveloped.
People who live in New Mexico or who come from New Mexico are called New Mexicans.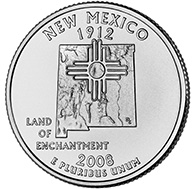 United States Mint Image
The second commemorative quarter-dollar coin released in 2008 honors New Mexico, and is the 47th coin in the United States Mint's 50 State Quarters® Program. New Mexico, nicknamed the "Land of Enchantment," was admitted into the Union on January 6, 1912, becoming our Nation's 47th state. The reverse of New Mexico's quarter features a Zia sun symbol over a topographical outline of the State with the inscription "Land of Enchantment." The coin also bears the inscriptions "New Mexico" and "1912."
The great influence of Native American cultures can be found throughout New Mexico. The Zia Pueblo believe the sun symbol represents the giver of all good, who gave gifts in groups of four. From the circle representing life and love without beginning or end, the four groups of four rays that emanate represent the four directions, the four seasons, the four phases of a day (sunrise, noon, evening, and night), and the four divisions of life (childhood, youth, middle years, and old age).
The New Mexico Coin Commission, appointed by Governor Bill Richardson, solicited and reviewed approximately 1,000 concept submissions from state citizens. The Commission then constructed four narrative concepts that represented the most popular elements submitted by the public and forwarded them to the United States Mint for consideration. The final artistic renderings developed by United States Mint Sculptor-Engravers and artists participating in the United States Mint's Artistic Infusion Program were then proposed to New Mexico for a final selection process. On April 24, 2007, Governor Richardson announced his recommendation of the "Zia Symbol over Topographical State Outline" design.
The Department of the Treasury approved the design on May 25, 2007. The other three designs considered were "Zia Symbol over Textured State Outline," "Textured Zia Symbol over State Outline," and "Zia Symbol over Textured State Outline," with the Zia symbol marking the location of the capital, Santa Fe.
For more about the state commemorative quarters, visit this page.
This 50 State Quarter Map is a great way to collect and display all 50 State Quarters.
Additional Information


New Mexico
Therese DeAngelis
New Mexico (From Sea to Shining Sea), by Therese DeAngelis. 80 pages. Publisher: Children's Press(CT) (September 2002) Reading level: Grades 3-5. Presents information about New Mexico's people, geography, history, landmarks, natural resources, government, state capitol, towns and cities, and more.


New Mexico
Michael Burgan
New Mexico (World Almanac Library of the States), by Michael Burgan. 48 pages. Publisher: Gareth Stevens Publishing (February 2003) Reading level: Grades 4-6. Filled with the most up-to-date information, including the latest Census results. Full-color photos bring to life the story of New Mexico. In addition to an in-depth factual profile of New Mexico in the form of a state Almanac, this book offers fascinating and lively discussions of the state's history, people, geography, government, economy, culture, and lifestyles. A section on Notable People, a calendar of events, and enough primary source documents, time lines, maps, and other tools to make this unquestionably the best young adult reference material on the USA available anywhere.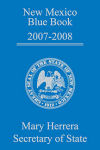 New Mexico Blue Book
2007-2008
New Mexico Blue Book 2007-2008, 368 pages. Publisher: Publisher: State of New Mexico (2007) "The New Mexico Blue Book 2007-2008 is an invaluable resource for state government and its people. Both New Mexicans and newcomers will discover something new in this edition. The Blue Book speaks to the rich state history that has crafted our western values, while it informs about the leaders who will guide our state's future. For citizens, students, and researchers, we hope and expect this resource will entertain while it educates."
Governor Bill Richardson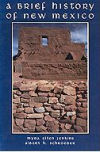 A Brief History
of New Mexico
A Brief History of New Mexico, by Myra Ellen Jenkins & Albert H. Schroeder 95 pages. Publisher: University of New Mexico Press; 1st edition (January 1, 1975) No New Mexican should be without this useful volume, the first history of New Mexico in many years to be published with the official sanction of the state. The general reader, the newcomer to New Mexico, and the student will find remarkably detailed information here on every aspect of New Mexico's past.
The authors begin their survey with New Mexico's earliest inhabitants, prehistoric Sandia and Folsom men, and carry it up to such contemporary developments as the construction of Cochiti Dam. Their narrative covers such major subjects as exploration and settlement, westward expansion, political and military affairs, commerce and trade, ranching and agriculture, lumbering and mining, science, religion, culture, and education.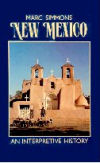 New Mexico
An Interpretive History
Marc Simmons
New Mexico: An Interpretive History, by Marc Simmons. 221 pages. Publisher: University of New Mexico Press (August 1, 1988) For all who love New Mexico, and for those who aspire to know the state, this book is a graceful and compelling summary of what has made the Land of Enchantment its distinctive self. Originally published in 1977 to commemorate the bicentennial of American Independence, New Mexico is now available for the first time in a quality paperback edition with a new introduction by the author.
In writing this book, Marc Simmons sets out to arrive at an understanding of the state's character. His is an interpretive, sensitive, individual--even personal--account. He shows that across the centuries the collision and mingling of cultures dominates New Mexico's history. Out of this complex interplay of human and natural forces he selects his examples of Pueblo life ways, Spanish domination, and Anglo control to make immediate and memorable the state's rich history.


An Illustrated History
of New Mexico
Thomas E. Chávez
An Illustrated History of New Mexico, by Thomas E. Chávez. 99 pages. Publisher: University of New Mexico Press; 1 Reprint edition (July 15, 2002) Originally published in 1992, An Illustrated History of New Mexico combines more than two hundred photographs and a concise history to create an engaging, panoramic view of New Mexico's fascinating past. For thousands of years various cultures have filtered into New Mexico, and each has adapted to the land. New Mexico has become a cosmopolitan society of many nationalities and ethnicities, all influenced by those who came before, and all part of a distinctive New Mexican culture that thrives today.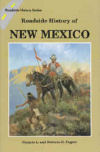 Roadside History
of New Mexico
Roadside History of New Mexico, Francis L. & Roberta B. Fugate. 483 pages. Publisher: Mountain Press Publishing Co. (October 1989) "It provides a skillfully crafted . . . synthesis of the historical background of countless communities and other sites along the roadsides that crisscross New Mexico's vast landscape."--Journal of the West. 1990 Western Writers of America Spur Award. New Mexico's heritage spans more than four and a half centuries. Roadside History of New Mexico brings the state's history to vibrant life.