Additional Information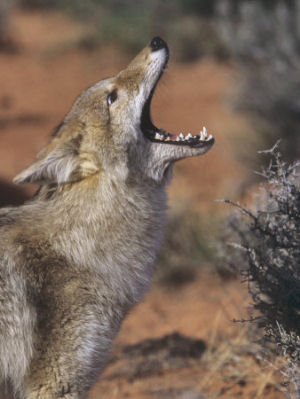 South Dakota State Animal: Coyote
Photographs, prints, posters
State Animal: Coyote: State of South Dakota Department of Transportation Kids Page.
Coyote - Canis latrans: NatureWorks: New Hampshire Public Television.
Coyote (Canis latrans): National Wildlife Foundation's eNature.com field guide.
Canis latrans (Coyote): Smithsonian Museum of Natural History - North American Mammals.
Canis latrans (coyote): The University of Michigan Museum of Zoology: Animal Diversity Web.
Canis latrans Say, 1823, Coyote: A network connecting science with conservation - NatureServe Explorer: An Online Encyclopedia of Life.
Canis latrans Say, 1823: Integrated Taxonomic Information System (ITIS) Here you will find authoritative taxonomic information on plants, animals, fungi, and microbes of North America and the world.
State animals: Complete list of official state animals from NETSTATE.COM.
State mammals: Complete list of official state mammals from NETSTATE.COM
More symbols & emblems: Complete list of official South Dakota state symbols from NETSTATE.COM.


Coyotes
(Our Wild World)
Julia Vogel
Coyotes, by Julia Vogel. 48 pages. Publisher: Cooper Square Publishing Llc (August 1, 2007) Reading level: Ages 9-12. Coyotes were once considered to be animals of the Wild West, but today they are found in every part of North America, including major cities. Some consider these animals to be a nuisance, while others see them as helpers in defeating crop pests. Frequently in the news and even in our neighborhoods, there's no denying that these creatures are a wildlife success story, continually adapting to changing habitats and conditions in order to survive. NorthWord is excited to be adding Coyotes to the popular Our Wide World collection of animals books. Known for stunning photography and straightforward information, this series has become a treasured reference for nature-minded kids.


Coyote
Wyman Meinzer
Coyote, by Wyman Meinzer. 136 pages. Publisher: Texas Tech Univ Pr; 1st Edition. edition (November 1995) Through his stunning photography, Wyman Meinzer chronicles the life of the coyote from a flea-covered, one-pound fuzzball whelp into a glistening, furry jewel that moves with fluid grace across the Texas plains. The coyote has become the symbol of western freedom in popular culture, and historically its range was limited to west of the Mississippi River. Yet now-in spite of a hundred-year effort to exterminate this wild canine-coyote howls can be heard from Los Angeles to the Bronx and from Alaska to Costa Rica. Apart from the mythology, until recently little has been known about this intelligent, adaptable creature. As he did with The Roadrunner, Meinzer gives us a personal account of the years he spent observing and photographing this often maligned animal. Seasoned with humor and poignancy, his observations give us a glimpse into the heart and soul of this intelligent and adaptable native North American.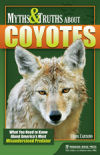 Myths and Truths
About Coyotes
Carol Cartaino
Myths and Truths About Coyotes: What You Need to Know About America's Most Misunderstood Predator, by Carol Cartaino. 192 pages. Publisher: Menasha Ridge Press (November 1, 2010) Coyotes hold a peculiar interest as both an enduring symbol of the wild and a powerful predator we are always anxious to avoid. This book examines the spread of coyotes across the country over the past century, and the storm of concern and controversy that has followed. Individual chapters cover the surprisingly complex question of how to identify a coyote, the real and imagined dangers they pose, their personality and lifestyle, and nondeadly ways of discouraging them.

The Voice
of the Coyote
J. Frank Dobie
The Voice of the Coyote, by J. Frank Dobie. 386 pages. Publisher: Bison Books (July 1, 2006) In The Voice of the Coyote, J. Frank Dobie melds natural history with tales and lore in articulating the complex and often contentious relationship between coyotes and humans. Based on his own life experiences in Texas and twenty-five years of research, Dobie forges a sympathetic and nuanced picture of the coyote prefiguring later environmental and conservation movements. He recognizes the impact of human action on the coyote while also examining the prominent role of the coyote in the myths and legends of the West.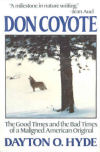 Don Coyote
Dayton O. Hyde
Don Coyote: The Good Times and the Bad Times of a Much Maligned American Original, by Dayton O. Hyde. 245 pages. Publisher: Arbor House Pub Co; 1ST edition (June 1986) Though he discusses observing wild coyotes and hand-raising coyote pups, Hyde's primary and most compelling theme in his latest book is the harmonious interdependence of species in any successful ecosystem. Surrounded by ranchers bent on wiping out coyotes and other pests with guns, poison, and other sophisticated weapons, Hyde instead actively encouraged the presence of predator and prey on his Oregon cattle ranch. He even built a dam to re-create an ancient lake. The result was a banner year: solar heat trapped by lake water moderated frosts, causing grasses and marsh plants to flourish. Because coyotes stayed well fed by small prey the new meadows supported, Hyde lost no calves to them. His beef fattened well on the natural forage, while insects were checked by birds the lake attracted. Readers will enjoy Hyde's graceful writing, good humor, and cogent arguments for working with, not against, nature.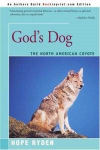 God's Dog
Hope Ryden
God's Dog: A Celebration of the North American Coyote, by Hope Ryden. 338 pages. Publisher: Backinprint.com (May 31, 2005) For two years naturalist/photographer Hope Ryden camped in remote areas of the West observing and photographing coyotes. With eloquence and clarity, she describes the private life of this much-maligned animal in a book that has been heralded as the classic treatise on the subject. While observing her controversial subjects, Hope endured hardships and peril, events she weaves into her beautiful story.


The Daily Coyote
Shreve Stockton
The Daily Coyote: A Story of Love, Survival, and Trust in the Wilds of Wyoming, by Shreve Stockton. 208 pages. Publisher: Simon & Schuster (November 3, 2009) When photographer and writer Shreve Stockton decided to move back to her beloved New York from San Francisco, she decided to take her time and make the trip on her Vespa. When she reached Wyoming, Shreve was captivated by the red dirt, the Bighorn Mountains, and the wide-open spaces. Unable to shake the spell of the "cowboy state," she soon found herself trading her New York City apartment for a house in Ten Sleep, Wyoming -- population 300.
Shreve threw away her cell phone and took to the rules of the land, adjusting to a lifestyle that was a near antithesis to that of the urban jungle. Time is of a different essence, nature is both livelihood and enemy, deer and coyote mark the dawn and dusk. After she met a local cowboy by chance on the side of the road, first a friendship and then a romance blossomed between them.
When Shreve was unexpectedly presented with a ten-day-old coyote pup whose parents had been shot for killing sheep, she had a choice to make. Despite her reservations and the terror of her tomcat Eli, Shreve decided to do the unthinkable -- to raise the coyote pup she came to call Charlie in her 12x12-foot log cabin.
In arresting prose and illuminated with Shreve's breathtaking photography, The Daily Coyote is at once Shreve's month-by-month exploration of Charlie's first year and a meditation on the nature of wildness versus domestication, of nature versus nurture, and of forgiveness, loyalty, and love in all its forms.