Idaho State Bird
| | | |
| --- | --- | --- |
| Mountain Bluebird | Sialia arctcia | Adopted:February 28, 1931 |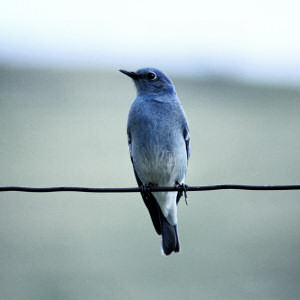 Idaho State Bird: Mountain Bluebird (Sialia arctcia)
Adoption of the Idaho State Bird
The Twenty-first Session of the State Legislature passed an act designating the mountain bluebird (Sialia arctcia) the "...state bird of Idaho" on February 28, 1931.
"Be It Enacted by the Legislature of the state of Idaho:

Section 1. That the Mountain Bluebird (Sialia arctcia) is hereby designated and declared to the the state bird of the State of Idaho."
About the Idaho State Bird
Habitat:
The mountain bluebird nests in nearly all timber types of the Rocky Mountain region, and is reported from 800 to 11,000 feet elevation in Idaho (Burleigh 1972). However, this species usually ranges from 7,000 to 11,000 feet in open forests or near forest edges.
Nest:
The mountain bluebird usually nests in natural cavities or in old woodpecker holes but will also use man-made structures. Nests have been reported in fir and pinyon snags and aspen trees (Burleigh 1972, Bent 1949). We recorded six nests in the White Mountains of Arizona ranging from 12 to 35 feet above ground in ponderosa pine snags. Five of these were in abandoned woodpecker holes and one was in a natural cavity. Nest boxes should be similar to those for other bluebirds.
Food:
This is probably the most insectivorous of the bluebirds. Studies indicate that nearly 92 percent of the diet is animal material, including miscellaneous beetles, weevils, ants, bees, wasps, cicadas, stinkbugs, negro bugs, assassin bugs, jassids, flies, caterpillars, grasshoppers, locusts, and crickets (Bent 1949). Vegetable items include currants, grapes, elderberries, sumac seeds, mistletoe berries, hackberry seeds, Virginia creeper seeds, and cedar berries.
The Idaho Statutes
The following information is excerpted from the Idaho Statutes, Title 67, Chapter 45, Section 67-4501.
TITLE 67 - STATE GOVERNMENT AND STATE AFFAIRS.
CHAPTER 45 - STATE SYMBOLS.
67-4501 - STATE BIRD DESIGNATED.

67-4501. STATE BIRD DESIGNATED. The Mountain Bluebird (Sialia arctcia) is hereby designated and declared to be the state bird of the state of Idaho.
Additional Information
Mountain Bluebird: Cornell Lab of Ornithology: All About Birds.
State Bird List: List of all of the state birds.
Birds of Idaho: Field Guide: by Stan Tekiela.
State Birds & Flowers 1000-pc Puzzle: Created at the request of The National Wildlife Federation this design is a beautiful and informative puzzle featuring every state bird perched on the appropriate state flower.
Bird Feeders and Accessories: Backyard Birding > Bird Feeders & Accessories from Amazon.com.
State Names, Seals, Flags, and Symbols: A Historical Guide, Third Edition - Benjamin F. Shearer and Barbara S. Shearer, Greenwood Press, 2002
State Names, Flags, Seals, Songs, Birds, Flowers and Other Symbols: A Study based on historical documents giving the origin and significance of the state names, nicknames, mottoes, seals, flowers, birds, songs, and descriptive comments on the capitol buildings and on some of the leading state histories, Revised Edition - George Earlie Shankle, Ph.D., The H.W. Wilson Company, 1938 (Reprint Services Corp. 1971)
---
Source: The Idaho Statutes, (http://www3.state.id.us/idstat/TOC/idstTOC.html), April 8, 2005
Source: State Names, Seals, Flags, and Symbols: A Historical Guide, Third Edition - Benjamin F. Shearer and Barbara S. Shearer, Greenwood Press, 2002
Source: State Names, Flags, Seals, Songs, Birds, Flowers and Other Symbols: Revised Edition (Reprint)- George Earlie Shankle, Ph.D., The H.W. Wilson Company, 1938