Maryland State Bird
| | | |
| --- | --- | --- |
| Baltimore Oriole | Icterus galbula | Adopted:1947 |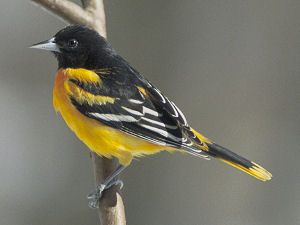 Maryland State Bird: Baltimore Oriole (Icterus galbula)
Adoption of the Maryland State Bird
The Baltimore Oriole (Icterus galbula) was adopted by and act of the Maryland General Assembly in 1947. Special provisions were made for the bird's protection as well.
The Maryland Statutes
The following information is excerpted from the Maryland Statutes, State Government, Title 13, Subtitle 3, Section 13-302.
STATE GOVERNMMENT
TITLE 13. EMBLEMS; COMMEMORATIVE DAYS; MANUAL.
SUBTITLE 3. ADDITIONAL EMBLEMS; DESIGNATIONS

§ 13-302.
The Baltimore Oriole (Icterus galbula) is the State bird.
Additional Information
Maryland State Bird: Baltimore Oriole (Icterus galbula)
Courtesy of BirdCinema.com
Icterus galbula (Baltimore Oriole): University of Michigan Museum of Zoology: Animal Diversity Web.
State Bird List: List of all of the state birds.
Birds Of Maryland & Delaware Field Guide: Includes Washington DC & Chesapeake Bay: by Stan Tekiela.
State Birds & Flowers 1000-pc Puzzle: Created at the request of The National Wildlife Federation this design is a beautiful and informative puzzle featuring every state bird perched on the appropriate state flower.
Bird Feeders and Accessories: Backyard Birding > Bird Feeders & Accessories from Amazon.com.
State Names, Seals, Flags, and Symbols: A Historical Guide, Third Edition - Benjamin F. Shearer and Barbara S. Shearer, Greenwood Press, 2002
State Names, Flags, Seals, Songs, Birds, Flowers and Other Symbols: A Study based on historical documents giving the origin and significance of the state names, nicknames, mottoes, seals, flowers, birds, songs, and descriptive comments on the capitol buildings and on some of the leading state histories, Revised Edition - George Earlie Shankle, Ph.D., The H.W. Wilson Company, 1938 (Reprint Services Corp. 1971)
---
Source: Maryland Statutes, (http://mlis.state.md.us/#stat), April 10, 2005
Source: State Names, Seals, Flags, and Symbols: A Historical Guide, Third Edition - Benjamin F. Shearer and Barbara S. Shearer, Greenwood Press, 2002
Source: State Names, Flags, Seals, Songs, Birds, Flowers and Other Symbols: Revised Edition (Reprint)- George Earlie Shankle, Ph.D., The H.W. Wilson Company, 1938