Mississippi State Bird
| | | |
| --- | --- | --- |
| Mockingbird | Mimus polyglottos | Adopted:1944 |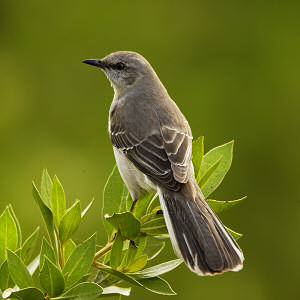 Mississippi State Bird: Mockingbird (Mimus polyglottos)
Adoption of the Mississippi State Bird
The Mississippi Federation of Women's Clubs selected the mockingbird as their club bird and lobbied the state to adopt the mockingbird as the official state bird of Mississippi.
The bill to designate the mockingbird the official state bird of Mississippi was approved in the Mississippi House of Representatives and the Senate unanimously. The legislation was signed by the Governor on February 23, 1944.
Additional Information
Mimus polyglottos (Northern Mockingbird): University of Michigan Museum of Zoology: Animal Diversity Web.
State Bird List: List of all of the state birds.
Mississippi Bird Watching: A Year-Round Guide: by Bill Thompson III with staff of Bird Watcher's Digest.
Mockingbird (Mimus polyglottos)
State Birds & Flowers 1000-pc Puzzle: Created at the request of The National Wildlife Federation this design is a beautiful and informative puzzle featuring every state bird perched on the appropriate state flower.
Bird Feeders and Accessories: Backyard Birding > Bird Feeders & Accessories from Amazon.com.
State Names, Seals, Flags, and Symbols: A Historical Guide, Third Edition - Benjamin F. Shearer and Barbara S. Shearer, Greenwood Press, 2002
State Names, Flags, Seals, Songs, Birds, Flowers and Other Symbols: A Study based on historical documents giving the origin and significance of the state names, nicknames, mottoes, seals, flowers, birds, songs, and descriptive comments on the capitol buildings and on some of the leading state histories, Revised Edition - George Earlie Shankle, Ph.D., The H.W. Wilson Company, 1938 (Reprint Services Corp. 1971)
---
Source: State Names, Seals, Flags, and Symbols: A Historical Guide, Third Edition - Benjamin F. Shearer and Barbara S. Shearer, Greenwood Press, 2002
Source: State Names, Flags, Seals, Songs, Birds, Flowers and Other Symbols: Revised Edition (Reprint)- George Earlie Shankle, Ph.D., The H.W. Wilson Company, 1938