Nebraska State Bird
| | | |
| --- | --- | --- |
| Western Meadowlark | Sturnella neglecta | Adopted:1929 |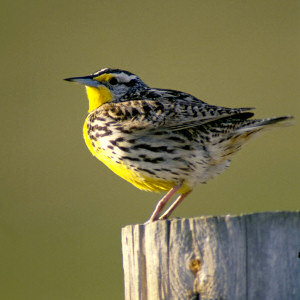 Nebraska State Bird: Western Meadowlark (Sturnella neglecta)
Adoption of the Nebraska State Bird
The western meadowlark (Sturnella neglecta) was adopted by the Forty-fifth Session of the Nebraska Legislature as the official state bird of Nebraska by Joint and Concurrent Resolution on March 22, 1929. It read, in part:
"WHEREAS, the Nebraska Federation of Women's Clubs had its convention at Kearney, passed almost unanimously a resolution in favor of the adoption of a state bird, and

WHEREAS, the Conservation Division of said Federation followed up the action taken by the resolution aforesaid by submitting a list of the five (5) birds receiving the highest vote, to the schools of the State of Nebraska, with a request that the pupils of such schools express their privilege of indicating their particular favorite bird, and

WHEREAS, the Ornithologists Union of Nebraska in the spring of 1928, went on record as choosing the Western Meadowlark as a state bird, and

WHEREAS, the Western Meadowlark was also the choice of the Convention of the Nebraska Federation of Women's Clubs, each organization a unit, and

WHEREAS, an intensive study of birds in Nebraska ought to be encouraged, and recognized by this Legislature for the reason that it will stimulate the interest of present and prospective citizens of the State in Nebraska in the natural life of this state,

NOW, THEREFORE:
BE IT RESOLVED BY THE HOUSE OF REPRESENTATIVES OF THE STATE OF NEBRASKA, THE SENTATE CONCURRING:
Section 1. That the 'Western Meadowlark,' be and hereby is declared the state bird of Nebraska."
The Nebraska Statutes
The following information is excerpted from the Nebraska Statutes, Chapter 90, Section 90-107.
CHAPTER 90 - Special Acts.
SECTION 90-107.

State bird; western meadowlark. The western meadowlark is hereby declared the state bird of Nebraska.
Source:
Laws 1929, c. 139, § 1, p. 495; C.S.1929, § 84-725; R.S.1943, § 84-717.
Additional Information
Western Meadowlark: Cornell Lab of Ornithology: All About Birds.
State Bird List: List of all of the state birds.
Birds of Nebraska: Field Guide: by Stan Tekiela.
Birds of Nebraska: Their Distribution & Temporal Occurrence: by Roger S. Sharpe, W. Ross Silcock, Joel G. Jorgensen. University of Nebraska Press.
State Birds & Flowers 1000-pc Puzzle: Created at the request of The National Wildlife Federation this design is a beautiful and informative puzzle featuring every state bird perched on the appropriate state flower.
Bird Feeders and Accessories: Backyard Birding > Bird Feeders & Accessories from Amazon.com.
State Names, Seals, Flags, and Symbols: A Historical Guide, Third Edition - Benjamin F. Shearer and Barbara S. Shearer, Greenwood Press, 2002
State Names, Flags, Seals, Songs, Birds, Flowers and Other Symbols: A Study based on historical documents giving the origin and significance of the state names, nicknames, mottoes, seals, flowers, birds, songs, and descriptive comments on the capitol buildings and on some of the leading state histories, Revised Edition - George Earlie Shankle, Ph.D., The H.W. Wilson Company, 1938 (Reprint Services Corp. 1971)
---
Source: Laws of Nebraska, (http://statutes.unicam.state.ne.us/), April 11, 2005
Source: State Names, Seals, Flags, and Symbols: A Historical Guide, Third Edition - Benjamin F. Shearer and Barbara S. Shearer, Greenwood Press, 2002
Source: State Names, Flags, Seals, Songs, Birds, Flowers and Other Symbols: Revised Edition (Reprint)- George Earlie Shankle, Ph.D., The H.W. Wilson Company, 1938