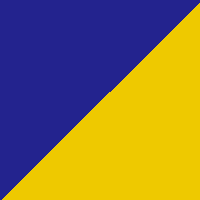 State colors: Navy Blue and Gold
Oregon Law
The following information was excerpted from the Oregon Revised Statutes - 2009, Title 19, Chapter 186, Section 186.010.
TITLE 19 MISCELLANEOUS MATTERS RELATED TO GOVERNMENT AND PUBLIC AFFAIRS
186. State Emblems; State Boundary
SECTION 186.010.
186.010 State flag; official colors.(1) A state flag is adopted to be used on all occasions when the state is officially and publicly represented, with the privilege of use by all citizens upon such occasions as may be fitting and appropriate. It shall bear on one side on a navy blue field the state escutcheon in gold, supported by 33 gold stars and bearing above the escutcheon the words "State of Oregon" in gold and below the escutcheon the figures "1859" in gold, and on the other side on a navy blue field a representation of the beaver in gold.
(2) The official colors of the State of Oregon are navy blue and gold. [Amended by 1959 c.120 §1]
Additional Information
State colors: Complete list of official state colors from NETSTATE.COM.
More symbols & emblems: Complete list of official Oregon state symbols from NETSTATE.COM.