Additional Information
John H Hall: National Park Service. Harpers Ferry National Historic Park.
U.S. Hall Model 1819 Breechloading Flintlock Rifle: The National Rifle Association's National Rifle Museum.
Hall Model M1819 Rifle in the Original Flint: Only $3,750 !
State firearms: Complete list of official state firearms from NETSTATE.COM
More symbols & emblems: Complete list of official West Virginia state symbols from NETSTATE.COM.


Hall's Breechloaders
Roy Theodore Huntington
Hall's Breechloaders, by Roy Theodore Huntington. 369 pages. Publisher: George Shumway Publisher (1972)
John H. Hall's invention and development of a breechloading rifle with precision-made interchangeable parts and its introduction into the United States service.


Hall's Military
Breechloaders
Peter A. Schmidt
Hall's Military Breechloaders, by Peter A. Schmidt. 232 pages. Publisher: Andrew Mowbray Pub; 1 Ed edition (October 1996)
What firearm could be more emblematic of our nation's early attempts to arm itself in an uncertain world? The rifles and carbines designed by John Hall, and the groundbreaking methods used to manufacture them, brought American industry to the forefront of industrial development...worldwide. This exceptional book tells the whole story behind these bold and innovative weapons. The author, a renowned authority in this field, has left no stone unturned - original documents, historical accounts and careful study of hundreds of examples have all been brought together in a tour de force of firearms scholarship. Also included are a variety of useful tables, copies of patent documents, manuals and contracts. 182 back & white photographs.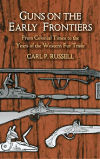 Guns on the
Early Frontiers
Carl P. Russell
Guns on the Early Frontiers: From Colonial Times to the Years of the Western Fur Trade, by Carl P. Russell. 416 pages. Publisher: Dover Publications (March 24, 2005)
This thoroughly documented reference identifies the guns used in America during eastern settlement and westward expansion. Covering weapons in use from colonial times through the first half of the nineteenth century, the very readable account describes traders, trappers, soldiers, and Native Americans who made, sold, and used weapons. Accompanying the survey of military arms, small cannon, and other accessories are rare illustrations of everything from antique muskets to bullet molds — all clearly identified. Reprint of Guns on the Early Frontiers, University of California Press, Berkeley and Los Angeles, 1957.


American Rifle
Alexander Rose
American Rifle: A Biography, by Alexander Rose. 512 pages. Publisher: Delta; Reprint edition (September 29, 2009)
In this first-of-its-kind book, historian Alexander Rose delivers a colorful, engrossing biography of an American icon: the rifle. Drawing on the words of soldiers, inventors, and presidents, based on extensive new research, and encompassing the Revolution to the present day, American Rifle is a balanced, wonderfully entertaining history of this most essential firearm and its place in American culture.
In this spirited narrative, Alexander Rose reveals the hidden connections between the rifle's development and our nation's history. We witness the high-stakes international race to produce gunpowder . . . how the mysterious arts of metallurgy, gunsmithing, and mass-production played vital roles in the creation of American economic supremacy . . . and the ways in which the bitter rivalry between armsmakers shaped diplomacy and influenced the most momentous decisions in American history.