Additional Information
State Symbols: Animal to Fish: Oregon Blue Book: Directory and Fact Book compiled by the Oregon State Archives.
State Symbolic Species: Chinook Salmon (Oncorhynchus tshawytscha): Oregon 150 Investment in our Natural Heritage - Oregon Watershed Enhancement Board and Oregon Fish and Wildlife.
Chinook Salmon (Oncorhynchus tshawytscha): U.S. Department of Commerce: National Oceanic and Atmospheric Administration: National Marine Fisheries Service: Office of Protected Resources.
Chinook salmon (Oncorhynchus tshawytscha): Article from The Nature Conservancy.
Oncorhynchus tshawytscha (Chinook salmon): University of Michigan Museum of Zoology: Animal Diversity Web.
Oncorhynchus tshawytscha (Walbaum in Artedi, 1792): Integrated Taxonomic Information System (ITIS).
Chinook Salmon Oncorhynchus tshawytscha: From eNature.com.
State Fish: Complete list of official state fish.
More symbols & emblems: Complete list of official Oregon state symbols.
Resources: Fishing: Oregon Department of Fish and Wildlife.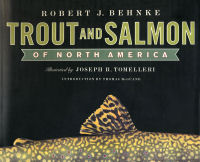 Trout and Salmon of North America
by Robert J. Behnke
Trout and Salmon of North America, by Robert J. Behnke. 384 pages. Free Press (September 24, 2002) Behnke, professor emeritus of fishery and wildlife biology at Colorado State University, has brought his more than 50 years of studying, and fishing for salmon and trout, to wonderful effect. He provides readers with an authoritative compendium of the evolution, biology, ecology, habitats and behaviors of these prized game fish. A capsule legend that includes scientific name, other common names, habitat, size, life span and diet accompanies each entry, amazingly illustrated by Tomelleri, whose fish seem to shimmer on the pages. Habitat maps, which include coastal waters, rivers, streams and lakes, are detailed and specific enough to be taken on fishing excursions. The book includes a good deal of fishing lore, as in the notations that describe the best flies, bait and lures for specific types of fish and locales.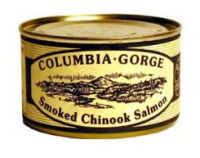 Made in Oregon
Rogue River Fly Fishing Guide, by Scott Richmond. 48 pages. Frank Amato Publications (October 1, 2000) The Rogue River is one the Northwest's richest streams, supporting large numbers of spring and fall chinook salmon, coho, summer and winter steelhead, trout and other fish. In this River Journal Richmond shares: the formation of the river; a description of the river; its often-violent history; numerous fish available; effective flies with color plates; tactics for the species you'll encounter; boating the Rogue; and more. This wondrously rugged western river has attracted numerous fly-fishers to her banks -- Zane Grey and Ginger Rogers included -- this book show why the Rogue River has earned its great fly-fishing reputation.
Oregon River Map & Fishing Guide, by Frank Amato. 48 pages. Publisher: Frank Amato Publications (November 2004) Over 1200 miles of river - Included for each river are the best seasons, species, available illustrated fishing methods (both fly and gear), best flies and best gear for individual rivers and species, fly hatches, knots, launches, parks, number of hookups per year, size of runs, parks, services, guides.
Fly Fishing Central & Southeastern Oregon, by Harry Teel. 96 pages. California Bill's Automotive Handbooks; 3rd edition (October 1, 2004) This guide provides a quick, clear understanding of the essential information needed to fly fish the outstanding waters in Oregon. For the better part of 60 years, Harry Teel fly fished his home state as well as the various waters around the world. Detailed maps, annotated by the author, reveal how to get there and where to fish. In addition, illustrations of the flies and fish are provided.
Moon Oregon Fishing: The Complete Guide to Fishing Lakes, Rivers, Streams, and the Ocean, by Craig Schuhmann. 325 pages. Avalon Travel Publishing (November 27, 2006) Craig Schuhmann has devoted many of his days to the outdoors as both a professional guide and fly fishing shop owner. With a background in ecological studies, Craig offers helpful advice on enviro-friendly fishing methods and ideas for the Best Family Fishing, Best Trophy Rainbow Trout Rivers, and Best Places to Teach Kids to Fish.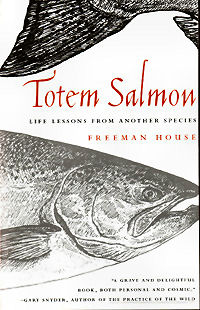 Totem Salmon
by Freeman House
Totem Salmon: Life Lessons from Another Species, by Freeman House. 248 pages. Beacon Press (May 12, 2000) Tucked away where Highway 101 diverts inland from the Northern California coastline to avoid the 4,000-foot peaks of the King Range is a damp, verdant landscape of rolling hills, towering forests, and isolated pockets of humanity. The Mattole River drains much of the area, greeting the Pacific at the Lost Coast. For thousands of years, the river formed the connective tissue of human settlement--first for the native tribes, and later for Euro-American pioneers. Each year, salmon swam up the river to their natal spawning beds, marking the passage of time and providing sustenance for the people along the banks. Then, in the early 1970s, the salmon stopped returning.
Salmon Without Rivers: A History Of The Pacific Salmon Crisis, by James A. Lichatowich. 336 pages. Island Press; 1 edition (March 1, 2001) Lichatowich is a well-known fisheries biologist who has contributed extensively to the literature on salmonid populations during his 25-year career. His book offers a biologist's view of the salmon crisis in the Pacific Northwest, discussing the failure of restoration efforts, which have concentrated on returning salmon to the rivers without understanding the cause of the fish's decline.
Making Salmon: An Environmental History of the Northwest Fisheries Crisis, by Joseph E. Taylor. 440 pages. University of Washington Press (March 2001) This book addresses many aspects of the salmon crisis: aboriginal fishing, European settlement (including mining and agriculture), hatcheries, industrial fisheries, and pen rearing of salmon. He concludes with a chapter calling for all parties to take responsibility for salmon stocks and habitat restoration. Well researched and well documented, the book captures the complexity of the salmon's plight and presents it in a well-organized format.
Complete line of fishing equipment
including rods, reels, rod and reel combinations, fly fishing gear, bait and spin casting rods and reels, ice fishing equipment, lures and flies, and other accessories. All major brands.
Custom Search