Additional Information
Stizostedion vitreum (walleye): University of Michigan Museum of Zoology: Animal Diversity Web.
Walleye Fish Identification: Research fish habitats, Walleye feeding habits, Walleye fishing tips, Walleye pictures, images, photos, descriptions, recipes.
Stizostedion vitreum Walleye: Flora, fauna, earth, and sky... The natural history of the northwoods.
Sander vitreus (Mitchill, 1818): Froese, R. and D. Pauly. Editors. 2008.FishBase. World Wide Web electronic publication. www.fishbase.org, version (12/2008).
Stizostedion vitreum (Mitchill, 1818): Integrated Taxonomic Information System (ITIS) Here you will find authoritative taxonomic information on plants, animals, fungi, and microbes of North America and the world..
Sander vitreus - (Mitchill, 1818): NatureServe Explorer: An Encyclopedia of Life.
State Fish: Complete list of official state fish.
More symbols & emblems: Complete list of official South Dakota state symbols.
Fishing in South Dakota: South Dakota Division of Wildlife.
Walleye Central: More walleye information than you can handle.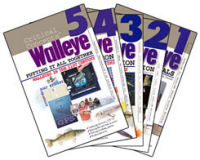 Critical Concepts: Walleye 1 - Fundamentals, 160 pages. In-Fisherman (June 1998) Secrets to being a consistently successful walleye angler. What you need to know, where you need to go, what you need to review.
Critical Concepts: Walleye 2 - Location, 262 pages. In-Fisherman; 1st edition (June 1999) The experts at In-Fisherman combined decades of experience to give you the first season by season guide to walleye location. They can swim but they can't hide.
Critical Concepts: Walleye 3 - Presentation, 246 pages. In-Fisherman (January 1999) The most detailed book on walleye presentations ever written focuses on precision presentation tactics.
Critical Concepts: Walleye 4 - Presentation, 278 pages. In-Fisherman (December 1, 2001) Book 4 of a 5-part series covers traditional and advanced boat control and coverage systems to keep your presentation where it will get bit, plus mobile casting tactics.
Critical Concepts: Walleye 5 - Putting It All Together, 278 pages. In-Fisherman (January 2003) With this book you'll leap beyond sonar to pinpoint fish and learn how to define and refine your patterns.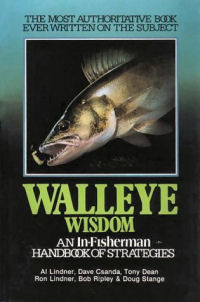 Walleye Wisdom:
An In-Fisherman Handbook of Strategies
Walleye Wisdom: An In-Fisherman Handbook of Strategies, 280 pages. In-Fisherman (February 1, 1983) This book has it all from time to fish for them to how and where. The ins and outs of jigging, rigging, live bait, crankbaits. All the stuff you need trolling, driffting, and also all the equimpment for all types of walleye fishing. If you don't catch more walleye with this book than you did not read it.
Successful Walleye Fishing, by Dick Sternberg. 160 pages. Creative Publishing international (March 1, 1999) Learn to rig your boat, choose the right rods, reels, lines and lures, and how to use the latest electronics. The combination of underwater, overhead, and how-to photography makes it easier than ever to understand the basics of catching walleye. Even if the fish are hiding in the weeds or the weather isn't ideal, this book will improve your success on the water.
Pro Tactics: Walleye, by Mark Martin. 144 pages. The Lyons Press (April 15, 2008) In this expertly written book, pro angler Mark Martin shares never-before-published advice for catching the big ones, including insider tips and techniques by season. See how to trick out your boat and the importance of breaklines in spring. Discover how to adjust for water depth and use live bait in summer. Find out the importance of location, location, location-and learn how to work weed beds in the fall.
What Fish Don't Want You to Know: An Insider's Guide to Freshwater Fishing, by Frank P. Baron. 176 pages. International Marine/Ragged Mountain Press; 1 edition (August 27, 2003) Anyone can toss a line into the water and get lucky once in a while, but if you want to catch more and bigger fish and have more fun doing it, you need to learn What Fish Don't Want You to Know. Whether you're new to fishing or an accomplished angler, this comprehensive and entertaining guide will improve your chances every time you cast a line into fresh water.
Complete line of fishing equipment
including rods, reels, rod and reel combinations, fly fishing gear, bait and spin casting rods and reels, ice fishing equipment, lures and flies, and other accessories. All major brands.