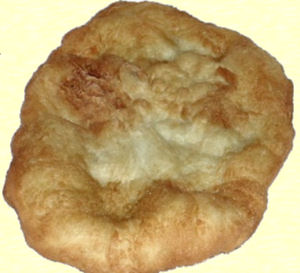 South Dakota State Bread: Fry bread
South Dakota Law
The following information was excerpted from the South Dakota Codified Laws, title 1, chapter 1-6, section 1-6-16.9.
TITLE 1 STATE AFFAIRS AND GOVERNMENT
CHAPTER 1-6 STATE EMBLEMS
SECTION 1-6-16.9
1-6-16.9. State bread. Fry bread is hereby designated as the official state bread of South Dakota.
Source: SL 2005, ch 6, § 1.
Additional Information
Frybread: Smithsonian magazine, chronicling the arts, history, sciences and popular culture of the times.
Fry bread: Oklahoma Historical Society's Encyclopedia of Oklahoma History & Culture.
Navajo Fry Bread History - Indian Tacos History: by Cynthia Detterick-Pineda at Linda Stradley's WhatsCookingAmerica.net.
State foods: Complete list of official state foods from NETSTATE.COM.
More symbols & emblems: Complete list of official South Dakota state symbols from NETSTATE.COM.
Foods of the Americas: Native Recipes and Traditions, by Fernando and Marlene Divina. 240 pages. Publisher: Ten Speed Press (June 8, 2010) For many American Indians, food is more than sustenance--it is also of vital cultural significance. Salmon, buffalo, berries, acorns, quinoa, wild rice, tomatoes, chocolate, and especially corn--where these indigenous staples flourish, they have become a central part of Native American ceremonies and creation stories.
This illuminating book, produced in association with the Smithsonian's National Museum of the American Indian, celebrates the amazing diversity of the original foods of North, Central, and South America. Winner of a 2005 James Beard Award, Foods of the Americas highlights indigenous ingredients, traditional recipes, and contemporary recipes with ancient roots. Written by chef Fernando Divina and his wife, Marlene Divina (who is of Chippewa, Cree, and Assiniboine heritage), Foods of the Americas includes 140 modern recipes representing tribes and communities from all regions of the Americas.


Indian Fry Bread Mix
Red Corn Native
Red Corn Native Indian Fry Bread Mix, For 30 years Ha-pah-shu-tse Fry Bread Mix has been America's Favorite. Why? Well, for starters it's easy (just add water), tasty, priced right, and versatile. Our authentic and proven recipe consistently turns out light, delicious fry bread, tasty grape dumplings, hearty meat pies or everyone's favorite, Indian Tacos. Ha-pah-shu-tse Fry Bread Mix also makes a great gift for anyone interested in Native culture.