HOME
INTRO
SYMBOLS
ALMANAC
ECONOMY
GEOGRAPHY
STATE MAPS
PEOPLE
GOVERNMENT
FORUM
NEWS
COOL SCHOOLS
STATE QUIZ
STATE LINKS
BOOK STORE
MARKETPLACE
NETSTATE.STORE
NETSTATE.MALL
GUESTBOOK
CONTACT US

---
South Dakota State Dessert
Kuchen
Adopted:
March 14, 2000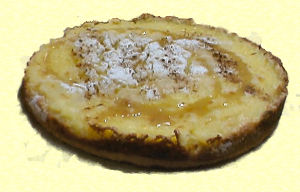 South Dakota State Dessert: Kuchen
The president of The Eureka Community Development Company, also the superintendent of Eureka Public School, was a little late to the table in 1999. Senate Bill No. 191, proposing the designation of kuchen as South Dakota's official dessert, passed in the Senate but failed in the House.
Undeterred, the Eureka Community Development was back in 2000. This time, after more preparation and a state-wide campaign, they were successful.
Kuchen became the official state dessert of South Dakota when Governor William Janklow signed House Bill No. 1229 on March 14, 2000.
South Dakota Law
The following information was excerpted from the South Dakota Codified Laws, title 1, chapter 1-6, section 1-6-16.7.
TITLE 1 STATE AFFAIRS AND GOVERNMENT
CHAPTER 1-6 STATE EMBLEMS
SECTION 1-6-16.7
1-6-16.7. State dessert. Kuchen is hereby designated as the official state dessert of South Dakota.
Source: SL 2000, ch 2, § 1.