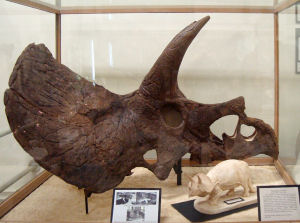 Tricerotops on display: Section 22
South Dakota School of Mines and Technology: Museum of Geology
Additional Information
State Fossil: Triceratops: South Dakota Department of Environment & Natural Resources.
Creature Feature: Triceratops Horridus Facts and Pictures -- National Geographic Kids.
Triceratops horridus: Triceratops Horridus, Dinosaur Pictures, Dinosaur Facts - National Geographic.
Triceratops at the Smithsonian: The Smithsonian Museum of Natural History.
State fossils: Complete list of official state fossils from NETSTATE.COM
More symbols & emblems: Complete list of official South Dakota state symbols from NETSTATE.COM.


Triceratops
Elaine Landau
Triceratops, by Elaine Landau. 48 pages. Publisher: Children's Press(CT); Revised edition (September 2006) Reading level: Ages 9-12. In this book, the reader learns interesting facts about "Triceratops," including its behavior and possible causes for its extinction. What did its body look like? How did it defend itself?


Charge of
the Triceratops
Rex Stone
Charge of the Triceratops (Dinosaur Cove), by Rex Stone. 80 pages. Publisher: Scholastic Paperbacks (May 1, 2008) Reading level: Ages 9-12. Tom and Jamie can't believe their luck when they find a secret entrance to a prehistoric world filled with dinosaurs!
The boys return to the dinosaur world looking for adventure. But they get a little more than they bargained for when a herd of triceratops charges right through their lunch! It looks like there's only one way to avoid getting squashed: they'll have to hitch a ride on a dinosaur.

Big Book
of Dinosaurs
The Big Book of Dinosaurs: A first book for young children, 32 pages. Publisher: DK CHILDREN (September 1, 1994) Reading level: Ages 5-8. The Big Book of Dinosaurs is an enticing collection of dinosaurs that is sure to excite any child. It is packed with full-color photographs of life-like models plus detailed illustrations. The simple text describes interesting features, while questions encourage children to compare various dinosaurs.


First Dinosaur
Encyclopedia
Catherine Bingham
First Dinosaur Encyclopedia, by Catherine Bingham. 128 pages. Publisher: DK CHILDREN (December 18, 2006) Reading level: Ages 6-12. From the first sea mammals to fierce dinosaurs, this inspiring reference book takes children on a fantastic journey into the prehistoric world.
New vocabulary and exciting facts inspire children to discover more--Quiz bars on every page make learning interactive and fun.

The Dinosaur Museum
The Dinosaur Museum, by The National Geographic Society. 24 pages. Publisher: National Geographic Children's Books; Pop edition (October 28, 2008) Reading level: Ages 6-10. Young, eager paleontologists wanted. Apply within. We need YOUR expertise! So step inside The Dinosaur Museum, the book where kids get to act like paleontologists. This amazing volume gives readers a behind-the-scenes peek at a museum, with an interactive experience that evokes a visit to a natural history museum. Forget about waiting in long lines for hours. This interactive guide takes you on a room-by-room tour of the most fun-packed museum you can imagine. Learning about prehistoric monsters becomes a practical challenge to the scientist in every reader. Each room points to a range of interactive investigations that can be carried out in the dino-lab gatefold flap. You can open the specimen drawer filled with fossils, look at specimen slides through the microscope, and use a whole host of interactive features: a pop-up fossil finds maps, a dinosaur time line, and a sliding chart that allows you to compare the size of dinosaurs with modern animals.

National Geographic
Dinosaurs
Paul Barrett
National Geographic Dinosaurs, by Paul Barrett. 192 pages. Publisher: National Geographic Children's Books; 1st edition (October 1, 2001) Reading level: Ages 8+. Dramatic illustrations and vivid text reveal the latest facts, field findings, and theories on how these prehistoric creatures most likely looked, behaved, and interacted. Spectacular paintings depict various dinosaurs in their habitats while scientifically-based anatomical paintings profile 53 major types of dinosaurs. A wealth of current scientific thought on the dinosaur-bird connection and profiles of feathered dinosaurs are included.


Dinosaurs
Thomas R. Holtz
Dinosaurs: The Most Complete, Up-to-Date Encyclopedia for Dinosaur Lovers of All Ages, by Dr. Thomas R. Holtz Jr. 432 pages. Publisher: Random House Books for Young Readers (October 23, 2007) Reading level: Young Adult. Written by a professional paleontologist specifically for young readers, this guide to the Dinosauria is packed with enough detail and insider information to satisfy even die-hard dinophiles! The text includes brief entries on all 800+ "named" species of Mesozoic dinosaurs, as well as chapters on the history of dinosaur discoveries, the science of dinosaur art, dinosaur biology, and much more. With sidebars by 33 world-famous paleontologists, museum-quality illustrations, and over 20 never-beforeseen restorations of new dinosaur species, this is a must-have compendium of fact and fandom that dino enthusiasts of all ages will devour with glee!


Stately Fossils
Stephen Brusatte
Stately Fossils: A Comprehensive Look at the State Fossils and Other Official Fossils, by Stephen Brusatte. 234 pages. Publisher: Fossil News (September 2002) The only book in print on the subject of state fossils, Stately Fossils offers an in-depth treatment of the natural and cultural history behind the official fossils of every state... and more! The book contains 80 photos and over 300 references to further information.
Stately Fossils is written clearly and informatively...it's a genuine slice of Americana! -- Allen Debus, Dinosaur World, March 2003.
This book should be on everyone's gift list...it is a handy reference, very well written and researched. -- Trilobite Tales, December 2003.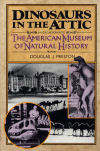 Dinosaurs
in the Attic
Douglas J. Preston
Dinosaurs in the Attic: An Excursion into the American Museum of Natural History, by Douglas J. Preston. 256 pages. Publisher: St. Martin's Griffin (November 15, 1993) Dinosaurs in the Attic is a chronicle of the expeditions, discoveries, and scientists behind the greatest natural history collection every assembled.
Written by former Natural History columnist Douglas Preston, who worked at the American Museum of Natural History for seven years, this is a celebration of the best-known and best-loved museum in the United States.


Fossil
Paul Taylor
Fossil (DK Eyewitness Books), by Dr. Paul D. Taylor. 72 pages. Publisher: DK Publishing, Inc. (August 2, 2004) Reading level: Grades 4-7. Here is an original and exciting new look at fossils - the remains of long-vanished animals and plants. Stunning real-life photographs of the spectacular remains of ancient lives offer a unique "eyewitness" view of what fossils are, how they were formed, and how they lived millions of years ago. See pearls that are 50 million years old, a dinosaur's toe, a troublesome "snake" that was turned to stone, a fossilized human being, and a snail made of precious stones. Learn how fossils are formed, how trilobites have been preserved for 590 million years, where to look for a belemnite, and how fossils helped the pharaohs of ancient Egypt. Discover which are the most precious fossils in the world, where ammonites lived, how big mammoths were, what a devil's toenail looks like, and much, much more.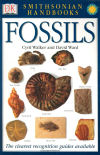 Fossils
Fossils (Smithsonian Handbooks), by Cyril Walker and David Ward. 320 pages. Publisher: DK Publishing, Inc. (May 15, 2002) Authoritative text, crystal-clear photographs, and a systematic approach make DK's Smithsonian Handbook of Fossils the most comprehensive and concise pocket guide to fossils of the world. Packed with more than 1,000 full-color photographs of over 500 fossils, this handbook is designed to cut through the complex process of identification to provide instant species recognitions.


World Encyclopedia of
Fossils & Fossil-Collecting
Steve Parker
World Encyclopedia of Fossils & Fossil-Collecting, by Steve Parker. 256 pages. Publisher: Lorenz Books (December 25, 2007) Fossils can be discovered by anyone, and give us a window onto the amazing history of our planet. Ancient natural forms, from the simplest fungus to giant dinosaurs, can reveal the fascinating development of evolving life.
The main part of the book consists of an extensive directory of fossils, providing a comprehensive visual and factual compendium of more than 375 significant fossil types, ranging from the tiniest algae through mammoths and whales to giant dinosaurs such as Iguanodon - plus the varied types of human. Each and every fossil entry includes a large, full-colour photograph of the fossil itself, accompanied by a detailed factbox and a clear artwork that reconstructs the appearance of the original plant or animal. Additional feature boxes reveal fascinating related stories, such as the fossil discoveries that turned scientific thinking on its head and in-depth studies of specific fossil sites.