Massachusetts State Game Bird
| | | |
| --- | --- | --- |
| Wild Turkey | Meleagris gallopavo | Adopted:1991 |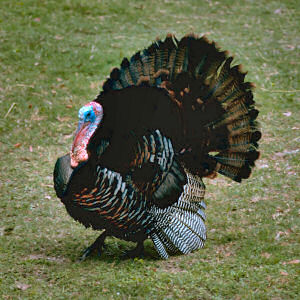 Massachusetts State Game Bird: Wild Turkey
Adoption of the Massachusetts State Game Bird
According to the web site of the Massachusetts Secretery of State:
The Wild Turkey (Meleagris gallopavo), which was eaten at the first Thanksgiving, was designated the state game bird on December 23, 1991.
Other states have adopted the wild turkey as their official game bird:
The General Laws of Massachusetts
The following information is excerpted from The General Laws of Massachusetts, Part 1, Title 1, Chapter 2, Section 36.
PART I. ADMINISTRATION OF THE GOVERNMENT.
TITLE I. JURISDICTION AND EMBLEMS OF THE COMMONWEALTH, THE GENERAL COURT, STATUTES AND PUBLIC DOCUMENTS.
CHAPTER 2. ARMS, GREAT SEAL AND OTHER EMBLEMS OF THE COMMONWEALTH.

Chapter 2: Section 36 Game bird of commonwealth
Section 36. The wild turkey (Meleagris Gallopavo) shall be the game bird and game bird emblem of the commonwealth.
Additional Information
Meleagris gallopavo (Wild Turkey): University of Michigan Museum of Zoology: Animal Diversity Web.
About Wild Turkeys: Massachussetts Executive Office of Energy and Environmental Affairs.
State Bird List: List of all of the state birds.
State Birds & Flowers 1000-pc Puzzle: Created at the request of The National Wildlife Federation this design is a beautiful and informative puzzle featuring every state bird perched on the appropriate state flower.
Bird Feeders and Accessories: Backyard Birding > Bird Feeders & Accessories from Amazon.com.
State Names, Seals, Flags, and Symbols: A Historical Guide, Third Edition - Benjamin F. Shearer and Barbara S. Shearer, Greenwood Press, 2002
---
Source: Massachusetts General Court, May 13, 2005
Source: State Names, Seals, Flags, and Symbols: A Historical Guide, Third Edition - Benjamin F. Shearer and Barbara S. Shearer, Greenwood Press, 2002