HOME
INTRO
SYMBOLS
ALMANAC
ECONOMY
GEOGRAPHY
STATE MAPS
PEOPLE
FORUM
NEWS
COOL SCHOOLS
STATE QUIZ
STATE LINKS
BOOK STORE
MARKETPLACE
NETSTATE.STORE
NETSTATE.MALL
GUESTBOOK
CONTACT US


---
Double click on word for definition.
Hawaii State Gem
Black Coral
Adopted:
April 22, 1987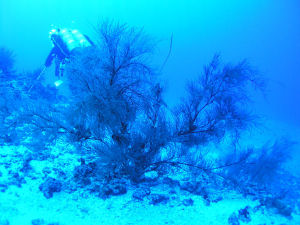 Hawaii State Gem: Black Coral
Black coral at 210 ft in the Au'au Channel, off Maui, Hawaii.
Image courtesy of Anthony Montgomery,
Hawaii Department of Land and Natural Resources,
Division of Aquatic Resources.
When we think of gems or gemstones, we tend to think of stone, precious or semi-precious. And of course, gems are associated with decoration, most commonly in the form of jewelry for personal adornment.
Unlike other official gems or gemstones, Hawaii's official state gem is not stone. It's an animal. It's a unique animal called a polyp.
Hawaii's official state gem is a secretion (calcium carbonate) of living colonies of polyps that form external skeletal structures. The living animals that create the "black coral" come in many bright colors, existing 300 to 3,000 feet below seal level. The material they leave behind is what we might commonly think of as coral. [ Find out more... ]
There are 140 species that specifically create black coral. Fourteen species are found in Hawaii.
Evidently, the measure to designate black coral the state gem of Hawaii was supported by scuba divers, the local jewelry trade and the Department of Land and Natural Resources.
Black coral has been harvested by Hawaiians for generations both for its beauty and for its legendary effects on ones health and good fortune.
Black coral, rather, the polyps that create black coral are on the federal Endangered Species list and strict caps are now placed on amounts that may be harvested. Presumably, we all want to ensure that black coral populations are a healthy part of our global ecosystem.
Hawaii Law
The following information was excerpted from the Hawaii Revised Statutes, Division 1, Title 1, Chapter 5, Section 5-15.
DIVISION 1. GOVERNMENT
TITLE 1. GENERAL PROVISIONS
CHAPTER 5. EMBLEMS AND SYMBOLS
5-15 State gem
[§5-15] State gem. The black coral is established and designated as the official gem of the State. [L 1987, c 9, §1]
---
Sources...
"Section 5-15 State Gem." Hawaii Revised Statutes. State of Hawaii. Web. 6 May 2015.
"Are Corals Animals or Plants?" National Ocean Service. National Oceanic and Atmospheric Administration (NOAA), 6 May 2014. Web. 7 May 2015.
"Hawaii State Gemstone or Gem." eReferenceDesk.com. Web Marketing Services LLC. Web. 7 May 2015.
Shearer, Benjamin F. and Barbara S. State Names, Seals, Flags and Symbols: A Historical Guide Third Edition, Revised and Expanded. Westport, Conn: Greenwood Press, 3 Sub edition, 2001.
---