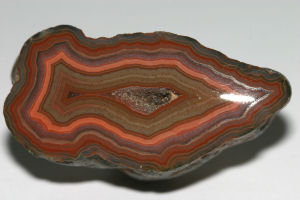 Fairburn agate
Photograph: Jeff Muehl's FairburnSuperAgate.com
Additional Information
Fairburn Agate: Written by: Sarah Chadima, South Dakota Geological Survey, USD, Vermillion, SD 57069-2390. 1995.
Fairburn Agates: Agate hunters Fred and Jennie.
Fairburn Super Agate: Jeff Muehl's website - collecting Fairburn agates for 34 years. The collection here is the culmination of Jeff Muehl's efforts, along with those of his father, Larry Muehl, and aunt and uncle, Loretta and Paul Muehl.
State gemstones: Complete list of official state gemstones from NETSTATE.COM.
More symbols & emblems: Complete list of official South Dakota state symbols from NETSTATE.COM.


Fairburn Agate
Roger Clark
Fairburn Agate: Gem of South Dakota, by Roger Clark. 104 pages. Publisher: Silverwind Agates; 1st edition (2002) Roger Clark's "FAIRBURN AGATE: Gem of South Dakota", is his second publication on the fascinating and beautiful Fairburn Agates (Fairburns) of the Black Hills Region. This book begins where the first book left off, and introduces the reader to a myriad of unique and exquisite Fairburns from many different collections. The color and quality of the photographs is fantastic! Much time seems to have been devoted to having only the very best pictures and specimens to use in the creation of this book.
This book gives much needed information on Fairburns; how they were formed, when they were deposited, and where you can find them. There is a short section on the geology of the Black Hills as well as a great chapter on the different agates of the Black Hills Region from western South Dakota into eastern Wyoming and northern Nebraska.


Agates
Treasures of the Earth
Roger Pabian
Agates: Treasures of the Earth, by Roger Pabian with Brian Jackson, Peter Tandy & John Cromartie. 184 pages. Publisher: Firefly Books (October 9, 2006) The agate is one of the world's most strikingly beautiful semiprecious gems. Collectors worldwide are drawn to the stone's infinite variety of coloration and banding. While these stones are readily available, the rare and higher-quality ones are quite valuable and aggressively collected.
Agates is a comprehensive reference written by one of North America's leading experts in cooperation with the Natural History Museum of London. The book features an easy-to-use identification guide and a worldwide listing of where agates are found. More than 200 color photographs of superb agate specimens were selected from the extensive collection of the Natural History Museum of London and from the private collection of author Roger Pabian.
This book has been very well received as the first popular guide to these brilliantly banded and highly prized gemstones.


Agates: Inside Out
Karen A. Brzys
Agates: Inside Out, by Karen A. Brzys. 256 pages. Publisher: Gitche Gumee Agate and History Museum (June 15, 2010) With its limitless combinations of bright colors and intricate patterns, agate is one of the most intriguing and widely collected of all forms of quartz. In terms of its comprehensive content, readability, organization, and superb color photography, Karen A. Brzys' Agates: Inside Out is among the best books about agates available.
Brzys, who owns and curates the Gitche Gumee Agate and History Museum in Grand Marais, Michigan, begins by defining quartz itself and emphasizing the differences between the macrocrystalline and microcrystalline varieties. She then guides readers through the fascinating world of agates, explaining everything from the inflow and silica-gel theories of agate formation to the origin of agate's complex banding patterns, channel structures, and array of delightful colors.
After describing the 31 major types of agate, from botryoidal, brecciated and cloud to the shadow, tube, and water-level subvarieties, the author includes an informative and helpful chapter on agate hunting that will inspire any reader to plan a field trip. Brzys ends the book with a detailed listing of notable agate-collecting localities in fourteen American states and eight foreign countries.

Crystal & Gem
Crystal & Gem (Eyewitness Books), by R.F. Symes and R.R. Harding. 72 pages. Publisher: DK Dorling Kindersley (June 25, 2007) Reading level: Ages 9-12. Be an eyewitness to the stunning natural beauty of crystals of every size, shape, and color -- and their remarkable uses for everything from surgeons' scalpels to silicon chips. Full-color photos. Learn about the formation and practical uses of crystals, semiprecious stones, and precious metals. "The dazzling full-color photographs on uncluttered pages make this a visual treat."--School Library Journal. Clip-art CD included.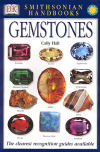 Gemstones
Cally Hall
Gemstones (Smithsonian Handbooks), by Cally Hall. 160 pages. Publisher: DK Dorling Kindersley 2 edition (May 15, 2002) The Smithsonian Handbook of Gemstones is packed with more than 800 vivid full-colour photographs of more than 130 varieties of cut and uncut stones, organic gemstones and precious metals. With authoritative text, clear photography and a systematic approach, this concise guide to identification enables you to recognize each gemstone instantly.

Rock and Gem
Ronald L. Bonewit
Rock and Gem, by Ronald Louis Bonewit. 360 pages. Publisher: Covent Garden Books; 1st edition (2008) From glittering gemstones to fascinating minerals and fossils, Rock and Gem is an incredible celebration of the Earth's buried treasures. Including specially commissioned photographs of more than 450 illustrious specimens and information-rich text, this book illustrates each stone¹s unique characteristics and its relationship to humankind through the ages. About the Author With more than 40 years experience as a geologist, prospector, and gem cutter, Dr. Ronald L. Bonewitz provides a unique perspective on the subject.

Blue Agate
Coasters
Blue Color Agate Slice Coasters (Set of Four), Set of 4 agate coasters. These natural coasters look terrific on your bar, pool-side, or in an elegant table setting. Color and shape may vary from the photo as each agate is a unique piece. These also make a great display stand for crystals or any item you want to show off. These are Brazillian agates. Other colors are available.