HOME
INTRO
SYMBOLS
ALMANAC
ECONOMY
GEOGRAPHY
STATE MAPS
PEOPLE
FORUM
NEWS
COOL SCHOOLS
STATE QUIZ
STATE LINKS
BOOK STORE
MARKETPLACE
NETSTATE.STORE
NETSTATE.MALL
GUESTBOOK
CONTACT US


---
Tennessee State Rock
Limestone
Adopted:
March 13, 1979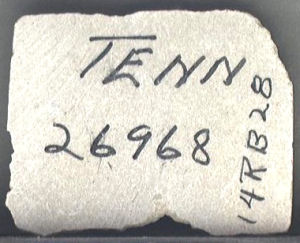 Tennessee State Rock: Limestone
Photograph: National Institute of Standards and Technology
That Davy Crockett was born in Limestone, Tennessee, may be enough to name limestone the official state rock of Tennessee! But, there is more to limestone than a birthplace.
Limestone, found just about everywhere in Tennessee, was declared the official state rock in 1979. Tennessee marble, as the metamorphic version of limestone is known, is widely used in public and private buildings.
Tennessee Department of Education
Limestone is most abundant through middle Tennessee and is found in scattered areas through eastern Tennessee.
Historically, Tennessee limestone was used for building stone. All of the early government buildings, including the state capitol, in Nashville were built of local stone.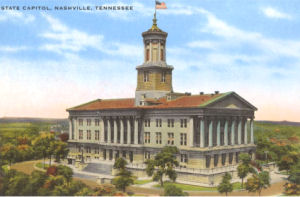 Tennessee State Capitol in Nashville
Prints and photographs
Limestone was also for smelting (extracting) iron from iron ore in the iron mining operations in western Tennessee.
Notable Tennessee artist William Edmondson used limestone for sculpting.
Today, limestone is still mined, but it now mostly seen as crushed rock or used in cement or to neutralize acidic soils in agricultural endeavors.
Some high-quality stone is marketed as "Tennessee marble." You can find Tennessee marble in the Jefferson and Lincoln Memorials as well as the National Gallery of Art in Washington, D.C.
Tennessee Law
The following information was excerpted from the Tennessee Code Annotated, Title 4, Chapter 1, Part 3, Section 4-1-309.
Title 4 State Government
Chapter 1 General Provisions
Part 3 State Symbols
Tenn. Code Ann. § 4-1-309 (2011)
4-1-309. State rock.
The useful and attractive calcium carbonate, commonly known as limestone, is hereby designated as the official state rock.
HISTORY: Acts 1979, ch. 42, § 1; T.C.A., § 4-128.
Additional Information
Tennessee Marble: Marble vs Limestone from Wayne G. Powell, Associate Professor and Chair, Department of Earth and Environmental Sciences, Brooklyn College.
William Edmondson, a down home artist forging beauty from stone: Entry at the African American registry.
The Art of William Edmondson: Desciption of exhibit at the Tennessee Botanical Garden and Museum of Art in Nashville.
State rocks: Complete list of official state rocks from NETSTATE.COM.
More symbols & emblems: Complete list of official Tennessee state symbols from NETSTATE.COM.


Rocks and Minerals
Caroline Bingham
Rocks and Minerals, written and edited by Caroline Bingham. 48 pages. Publisher: DK CHILDREN; 1st edition (January 2004) Reading level: Ages 5-8. Eye Wonder Rocks and Minerals introduces geologic elements to budding scientists - Did you know that the amount of gold in any material is measured in carats and that 24-carat gold is pure gold? Find out facts like this and much more in this fascinating guide to rocks and minerals.


Rocks and Minerals
Dorling Kindersley, Ltd.
Rocks and Minerals (DK Pocket Series), by Dorling Kindersley, Ltd. 160 pages. Publisher: DK Publishing, Inc.; Revised edition (June 2003) Reading level: Ages 10-17. Minerals are solid mixtures of chemicals that each have a unique set of characteristics - just like a fingerprint. Find out how these minerals bind together to form rocks and much, much more.


Collecting Rocks,
Gems & Minerals
Patti Polk
Collecting Rocks, Gems & Minerals: Easy Identification, by Patti Polk. 272 pages. Publisher: Krause Publications (May 13, 2010) Collecting Rocks, Gems and Minerals takes you from having a casual interest in rocks to being a true collector, and it serves as the only book of its kind to have values for these beautiful offerings from nature. The easy-to-use, and durable design of this book makes it the perfect guide to use out in the field, and it:
Covers both lapidary and mineral display materials
Includes organics such as amber, bone, coral, pearl and shell
Lists chemical group, system, hardness, opacity, fracture, specific gravity and more
Provides values and tips for locating, buying and collecting
Contains 650+ full-color photos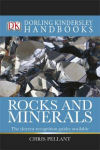 Rocks & Minerals
Chris Pellant
Rocks & Minerals (Smithsonian Handbooks), by Chris Pellant. 256 pages. Publisher: Dorling Kindersley (September 1, 2010) 600 incredible photos, precise annotations and detailed descriptions - from the distinguishing features of rocks to which crystal system a mineral belongs to - will help you identify different rocks and minerals quickly and easily. Covers everything from what rocks or minerals are, how they are classified to how to start a collection.
Perfect for rocks and mineral lovers - a comprehensive guide for collectors.