The Keystone State
State Site: Official Web Site of the State of Pennsylvania
Capital City:

Chester, 1681-1683. Philadelphia, 1683-1799. Lancaster, 1799-1812. Harrisburg, since 1812.

Capitol:
Abbreviations:

Postal: PA
Traditional: Pa. or Penn.

Admission to Union:

December 12, 1787, 2nd State.

Adoption Records: Information About Pennsylvania's Adoption Registry
Ancestry / Genealogy:
Area:
Area Codes: Pennsylvania Area Codes
Biographies: Notable Pennsylvanians
Bird, Game:
Birth Records: Birth Certificates
Border States:
Citizens: Pennsylvania Citizens
Climate: Climatology For Pennsylvania
Constitution: Pennsylvania Constitution, 2nd state to enter the Union.
County Profile: Pennsylvania Counties
Current Events: Pennsylvania News
Death Records: Death Certificates
Department of: State Government Agencies
Driving: Driver Licensing Services
Economy:

Manufacturing: The leading manufactured products in Pennsylvania are chemicals. With leading manufacturers of prescription drugs and aspirin located in the state, pharmaceuticals are the most important. Other chemical products are paint, petrochemicals and synthetic resins. Pennsylvania is a leading processed foods state. In the state, the production of processed foods ranks second in the manufacturing industry where the most important products are beer, bread and cakes, chocolate and cocoa products, cookies and crackers and sausages and prepared meats. Pennsylvania is the leading state in the production of canned mushrooms and a leader in the production of ice-cream, potato chips and pretzels. Manufacture of computer and electronic equipment (semiconductors and other electronic components, scientific instruments, communications equipment)is the state's third most valuable manufacturing activity.
Agriculture: Almost 3/4 of Pennsylvania's agricultural income is generated by livestock and livestock products. Milk is the state's most important livestock product and Pennsylvania is a leading state in the production of milk. Poultry products and beef cattle rank second among the state's products in this sector. Pennsylvania is a leading egg-producing state. Hogs and turkeys are also produced in the state. Mushrooms are Pennsylvania's leading crop and the state is the number one producer of mushrooms in the country. Corn and hay, used mostly to feed livestock, are the state's leading field crops. Oats, soybeans and wheat are also important field crops. The most important vegetable crops grown in Pennsylvania are potatoes, sweet corn and tomatoes. Greenhouse and nursery products, including cut flowers, house plants and ornamental shrubs are a leading source of income in the state. Leading fruit crops are apples and peaches. Other fruits grown by Pennsylvania farmers include cherries, grapes, pears and strawberries. [Find out more]
Mining: Pennsylvania is a leading coal-producing state and is the only state mining anthracite coal. Limestone, used for cement and roadbeds, and natural gas are other important mined products in the state. Pennsylvania also produces some sand and gravel and petroleum.
Services: Community, business and personal service industries rank as the leading services group in Pennsylvania. Important businesses in this group include hotels, professional sports franchises, private health care and engineering and law firms. Major law firms are located in Philadelphia and leading engineering firms are based in Pittsburgh. Ranking as the second most important source of service income in the state, the finance, insurance and real estate group is supported by large banks and holding companies in Philadelphia and Pittsburgh. The first stock exchange to be formed in the United States is based in Philadelphia; the Philadelphia Stock Exchange (PHLX) was formed in 1790. Ranking third in the services industry is the wholesale trade (automobiles, coal, groceries, industrial machinery petroleum) and retail trade (automobile dealerships, department stores, grocery stores, restaurants) group.

Flag:
Fishing:
Flower:
Genealogical Resources:
Geographic Center: Pennsylvania Geography
Governor:
Highest Point: Mount Davis, 3,213 feet above sea level.
Highway Markers: Pennsylvania
History:
Hunting:
Judiciary: Pennsylvania's Unified Judicial System
Largest Cities: 10 Largest Cities
Legislature: Pennsylvania General Assembly
Library: Pennsylvania State Library
License Plates: Pennsylvania
Lottery: Pennsylvania Lottery
Lowest Point: Delaware River, sea level.
Maps: Pennsylvania Maps
Marriage: Pennsylvania Marriage Certificates
Media: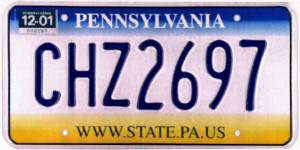 Pennsylvania License Plate
Motor Vehicles: Driver and Vehicle Services
Motto:
Museums: Pennsylvania Museums
National Forests:
National Parks: National Parks in Pennsylvania
Natural Resources: Pennsylvania's wide variety of rich soils, great mineral wealth, good water supplies and plentiful timber round out its array of natural resources. Pennsylvania is the only state in the country that mines anthracite coal. It boasts huge deposits of bituminous coal and its share dolomite, limestone, sandstone and shale. Deposits of petroleum and natural gas are found in western parts of the state.
Newspapers: Pennsylvania
Nickname: for Pennsylvania
Non-transients: Find A Grave
Online Services: e-Government Services
Origin of State's name: Pennsylvania
Political Cartoons: PoliticalCartoons.com
Population:
Representatives:
Road Side America: Pennsylvania
Senior Citizens: Pennsylvania Department of Aging
Song: Pennsylvania
State Parks: Pennsylvania State Parks
State Quarter: Pennsylvania
Symbols: Pennsylvania Symbols
Tax Forms:
Topography: State Topography Image: Pennsylvania
Travel:
Tree:
Unclaimed Funds: Unclaimed Property
Veteran Affairs: Department of Veterans Affairs
Vital Records: Health Statistics and Vital Statistics
Voting: Voter Information
Weather:
Web Cams: Pennsylvania Webcams
Zip Codes:
Zoos: