---
John Quincy Adams (1767 - 1848)
In Article II, Section 1 of the Constitution of the United States of America, the following requirements are stipulated for those wishing to hold the office of the President of the United States.
No person except a natural born Citizen, or a Citizen of the United States, at the time of the Adoption of this Constitution, shall be eligible to the Office of President; neither shall any Person be eligible to that Office who shall not have attained to the Age of thirty-five Years, and been fourteen Years a Resident within the United States.
6th President of the United States (1825-1829)
The first President who was the son of a President, John Quincy Adams in many respects paralleled the career as well as the temperament and viewpoints of his illustrious father. Born in Braintree, Massachusetts, in 1767, he watched the Battle of Bunker Hill from the top of Penn's Hill above the family farm. As secretary to his father in Europe, he became an accomplished linguist and assiduous diarist.
After graduating from Harvard College, he became a lawyer. At age 26 he was appointed Minister to the Netherlands, then promoted to the Berlin Legation. In 1802 he was elected to the United States Senate. Six years later President Madison appointed him Minister to Russia.
John Quincy Adams:

Source:

University of Virginia, Miller Center of Public Affairs, www.millercenter.virginia.edu, March 11, 2008.
6th President of the United States
Born:
July 11, 1767 in Braintree (now Quincy), Massachusetts.
Nickname:
"Old Man Eloquent"
Education:
Harvard College (graduated 1787)
Religion:
Unitarian
Marriage:
July 26, 1797, to Louisa Catherine Johnson (1775-1852)
Children:
George Washington (1801-1829), John (1803-1834), Charles Francis (1807-1886), Louisa Catherine (1811-1812)
Career:
Lawyer, Senator, Diplomat
Political Party:
Federalist, Democratic-Republican, Whig
President:
One terms (4 years) from 1825-1829.
Age at inauguration:
57
Died:
February 23, 1848 in Washington, District of Columbia.
Interred:
First Unitarian Church, Quincy, Massachusetts.
Serving under President Monroe, Adams was one of America's great Secretaries of State, arranging with England for the joint occupation of the Oregon country, obtaining from Spain the cession of the Floridas, and formulating with the President the Monroe Doctrine.
In the political tradition of the early 19th century, Adams as Secretary of State was considered the political heir to the Presidency. But the old ways of choosing a President were giving way in 1824 before the clamor for a popular choice.
Within the one and only party--the Republican--sectionalism and factionalism were developing, and each section put up its own candidate for the Presidency. Adams, the candidate of the North, fell behind Gen. Andrew Jackson in both popular and electoral votes, but received more than William H. Crawford and Henry Clay. Since no candidate had a majority of electoral votes, the election was decided among the top three by the House of Representatives. Clay, who favored a program similar to that of Adams, threw his crucial support in the House to the New Englander.

John Quincy Adams: Library of Congress Photograph
Upon becoming President, Adams appointed Clay as Secretary of State. Jackson and his angry followers charged that a "corrupt bargain" had taken place and immediately began their campaign to wrest the Presidency from Adams in 1828.
Well aware that he would face hostility in Congress, Adams nevertheless proclaimed in his first Annual Message a spectacular national program. He proposed that the Federal Government bring the sections together with a network of highways and canals, and that it develop and conserve the public domain, using funds from the sale of public lands. In 1828, he broke ground for the 185-mile C & 0 Canal.
Adams also urged the United States to take a lead in the development of the arts and sciences through the establishment of a national university, the financing of scientific expeditions, and the erection of an observatory. His critics declared such measures transcended constitutional limitations.
The campaign of 1828, in which his Jacksonian opponents charged him with corruption and public plunder, was an ordeal Adams did not easily bear. After his defeat he returned to Massachusetts, expecting to spend the remainder of his life enjoying his farm and his books.
Unexpectedly, in 1830, the Plymouth district elected him to the House of Representatives, and there for the remainder of his life he served as a powerful leader. Above all, he fought against circumscription of civil liberties.
In 1836 southern Congressmen passed a "gag rule" providing that the House automatically table petitions against slavery. Adams tirelessly fought the rule for eight years until finally he obtained its repeal.
In 1848, he collapsed on the floor of the House from a stroke and was carried to the Speaker's Room, where two days later he died. He was buried--as were his father, mother, and wife--at First Parish Church in Quincy. To the end, "Old Man Eloquent" had fought for what he considered right.
Source: www.WhiteHouse.gov, March 11, 2008.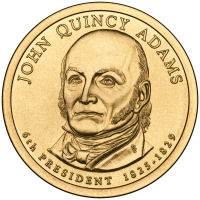 U.S. Mint Image

Presidential Dollars
Collector's Archive
John Quincy Adams was born into politics as the son of second U.S. President John Adams and Abigail Adams. As a child, he watched the American Revolution unfold and accompanied his father on his diplomatic posts to Europe. He followed in his father's footsteps by becoming a diplomat in Europe and, later, the sixth U.S. president.
Adams became president by the slimmest of margins in a controversial election that was ultimately decided in the US House of Representatives by one vote.
As president, Adams proposed a wide system of roads and canals to stimulate the economy and foster trade throughout the Nation. During his administration, the Cumberland road was extended into Ohio, and several major canal systems were begun.
After his unsuccessful bid for re-election, Adams went on to serve nine terms in the US House of Representatives. He and Andrew Johnson, 17th president, are the only two former presidents to later serve in Congress.
Coinage Legislation under President John Quincy Adams
The Coinage Act of May 19, 1828

: This act
directed the location of the United States Mint to remain in Philadelphia indefinitely;
established a standard weight for the Mint's use;
made provisions for payment for the testing of silver bullion brought to the Mint for coinage;
authorized employment of clerks at the Mint; and
authorized the Director of the Mint to assay bullion not intended for coinage and to issue certificates of fineness at the owners' expense.
United States Mint Directors appointed by President John Quincy Adams
President John Quincy Adams did not appoint a Director of the United States Mint.
Source: www.USMint.gov, November 23, 2009.
Presidential state dollars: Information about design of the Presidential $1 Coins.
Presidential $1 Coins: Release information regarding the Official U.S. Mint Presidential $1 Coins.
Additional Information

The Presidents
Collection DVD
United States Presidents: List of all United States Presidents from NETSTATE.COM.
John Quincy Adams America's Story from America's Library, the Library of Congress.
American Presidents: Life Portraits A Site to Complement C-SPAN's 20th Anniversary Television Series, American Presidents: Life Portraits.
John Quincy Adams (1767 - 1848) American President: An Online Reference Resource from the Miller Center of Public Affairs, University of Virginia. In-depth information reviewed by prominent scholars on each President and administration.
John Quincy Adams Companion site for the Public Broadcasting Service's Frontline presentation of John Quincy Adams.
John Quincy Adams: Resource Guid Web guide from the Library of Congress.
Presidential Inaugurations: John Quincy Adams Presidential Inaugurations is presented by the Library of Congress, and other governmental departments, in collaboration with the Avalon Project at the Yale Law School. This presentation includes diaries and letters of presidents and of those who witnessed inaugurations, handwritten drafts of inaugural addresses, broadsides, inaugural tickets and programs, prints, photographs, and sheet music.
The Public Papers of John Quincy Adams from the American Presidency Project, a collaboration between John Woolley and Gerhard Peters at the University of California, Santa Barbara. The project has consolidated and organized messages and public papers of the the presidents of the United States.
Adams National Historical Park Located in Quincy, Massachusetts, Adams National Historical Park tells the story of four generations of the Adams family (from 1720 to 1927). The park has two main sites: the Birthplaces of 2nd U.S. President John Adams and 6th U.S. President John Quincy Adams, and Peacefield including the "Old House," home to four generations of the Adams family, and the Stone Library which contains more than 14,000 historic volumes.

Deluxe Presidential
Dollar Coin
Traveling Archive
Deluxe Presidential Dollar Coin - Traveling Archive , Whitman Publishing (August 7, 2007) Lift off the capsule top, insert the coin, and snap it shut. Now your Presidential dollar is securely stored and attractively displayed - you can even see the coins's edge, which includes the date, mintmark, and inscriptions. Space for both Philadelphia and Denver Mint Coins. Includes Presidential facts printed on the inside flaps. Holds 80 coins - makes a great display and storage unit. (13.375" x 11.5" x 1.0").

Presidential Dollars
Collector's Archive
Presidential Dollars Collector's Archive, Whitman Publishing (August 7, 2007) In December 2005, Congress approved the creation of a new dollar coinage, known as Presidential dollars, and President George W. Bush signed the legislation into law shortly afterward. During each year from 2007 to 2016, four different dollar designs, each bearing the image of a different president, are being released. Living presidents, both current and former, are excluded from the program--thus the roster of presidential honorees currently stands at 37. For these presidents, 38 coins are planned; this is because Grover Cleveland, who to date is the only president to serve multiple nonconsecutive terms, will be represented with two coins. The Presidential dollars are part of the Golden Dollar Program and retain the same golden color as the Sacagawea dollars. The motto IN GOD WE TRUST appears in edge lettering--a first for a U.S. coin, as the motto has never before appeared on the rim. The year of issue is likewise on the rim. Archive Size 11.25" x 10". 40 Openings.

Presidential Folder
Volume I
Presidential Folder 4 Panel - Volume I and Vol II, Whitman Publishing; 1st edition (April 10, 2007) Presidential Folder 4 Panel - Volume I & II Hold P&D Mint Marks. Folder Size 7" x 9,5". Each Volume has 44 Openings - 4 Panels.


John Quincy Adams
Mike Venezia
John Quincy Adams (Getting to Know the US Presidents), by Mike Venezia. 32 pages. Publisher: Children's Press(CT) (September 2004) Reading level: Grades 3-4. Mike Venezia mixes facts with humor to introduce the presidents of the United States to students. This unique introduction highlights the life and times of President John Quincy Adams. Venezia uses funny and serious anecdotes to help students understand and realize that presidents are very real people. On each page is either a painting, an engraving, a map, a portrait, or a comical caricature that enhances the text. Captions are included with each that explains the historical paintings and portraits. For reports or pleasure, students will enjoy.


John Quincy Adams
Paul C. Nagel
John Quincy Adams: A Public Life, a Private Life, by Paul C. Nagel. 466 pages. Publisher: Harvard University Press (April 15, 1999) Winner of the Colonial Dames of America Award for Books of Merit that Bear on American Life.
John Quincy Adams was raised, educated, and groomed to be President, following in the footsteps of his father, John. At fourteen he was secretary to the Minister to Russia and, later, was himself Minister to the Netherlands and Prussia. He was U.S. Senator, Secretary of State, and then President for one ill-fated term. His private life showed a parallel descent. He was a poet, writer, critic, and Professor of Oratory at Harvard. He married a talented and engaging Southerner, but two of his three sons were disappointments. This polymath and troubled man, caught up in both a democratic age not to his understanding and the furies of passion, was an American lion in winter.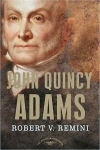 John Quincy Adams
Robert V. Remini
John Quincy Adams (The American Presidents Series), by Robert V. Remini. 192 pages. Publisher: Times Books; 1st edition (August 20, 2002) A vivid portrait of a man whose pre- and post-presidential careers overshadowed his presidency. Chosen by the House of Representatives after an inconclusive election against Andrew Jackson, John Quincy Adams often failed to mesh with the ethos of his era, pushing unsuccessfully for a strong, consolidated national government. Historian Robert V. Remini recounts how in the years before his presidency Adams was a shrewd, influential diplomat, and later, as a dynamic secretary of state under President James Monroe, he solidified many basic aspects of American foreign policy, including the Monroe Doctrine. Undoubtedly his greatest triumph was the negotiation of the Transcontinental Treaty, through which Spain acknowledged Florida to be part of the United States. After his term in office, he earned the nickname "Old Man Eloquent" for his passionate antislavery speeches.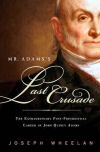 Mr. Adams's
Last Crusade
Joseph Wheelan
Mr. Adams's Last Crusade: John Quincy Adams's Extraordinary Post-Presidential Life in Congress, by Joseph Wheelan. 336 pages. Publisher: PublicAffairs; 1 edition (January 28, 2008) In this engaging biography, historian Joseph Wheelan describes Adams's battles against the House Gag Rule that banished abolition petitions; the removal of Eastern Indian tribes; and the annexation of slave-holding Texas, while recounting his efforts to establish the Smithsonian Institution. As a "man of the whole country," Adams was not bound by political party, yet was reelected to the House eight times before collapsing at his "post of duty" on February 21, 1848, and then dying in the House Speaker's office. His funeral evoked the greatest public outpouring since Benjamin Franklin's death. Mr. Adams's Last Crusade will enlighten and delight anyone interested in American history.