---
James Monroe (1758-1831)
In Article II, Section 1 of the Constitution of the United States of America, the following requirements are stipulated for those wishing to hold the office of the President of the United States.
No person except a natural born Citizen, or a Citizen of the United States, at the time of the Adoption of this Constitution, shall be eligible to the Office of President; neither shall any Person be eligible to that Office who shall not have attained to the Age of thirty-five Years, and been fourteen Years a Resident within the United States.
Fifth President of the United States (1817-1825)
On New Year's Day, 1825, at the last of his annual White House receptions, President James Monroe made a pleasing impression upon a Virginia lady who shook his hand:
"He is tall and well formed. His dress plain and in the old style.... His manner was quiet and dignified. From the frank, honest expression of his eye ... I think he well deserves the encomium passed upon him by the great Jefferson, who said, 'Monroe was so honest that if you turned his soul inside out there would not be a spot on it.' "
James Monroe:
Source: University of Virginia, Miller Center of Public Affairs, www.millercenter.virginia.edu, March 11, 2008.
5th President of the United States
Born:
April 28th, 1758 in Westmoreland County, Virginia.
Nickname:
"The Last Cocked Hat," "Era-of-Good-Feelings President"
Education:
College of William and Mary (graduated 1776)
Religion:
Episcopalian
Marriage:
February 16, 1786, to Elizabeth Kortright (1768-1830)
Children:
Eliza Kortright (1786-1835), James Spence (1799-1800), Maria Hester (1803-1850)
Career:
Lawyer
Political Party:
Democratic-Republican
President:
Two terms (eight years) from 1817-1825.
Age at inauguration:
58
Died:
July 4, 1831 in New York, New York.
Interred:
Hollywood Cemetery, Richmond, Virginia.
Born in Westmoreland County, Virginia, in 1758, Monroe attended the College of William and Mary, fought with distinction in the Continental Army, and practiced law in Fredericksburg, Virginia.
As a youthful politician, he joined the anti-Federalists in the Virginia Convention which ratified the Constitution, and in 1790, an advocate of Jeffersonian policies, was elected United States Senator. As Minister to France in 1794-1796, he displayed strong sympathies for the French cause; later, with Robert R. Livingston, he helped negotiate the Louisiana Purchase.
His ambition and energy, together with the backing of President Madison, made him the Republican choice for the Presidency in 1816. With little Federalist opposition, he easily won re-election in 1820.
Monroe made unusually strong Cabinet choices, naming a Southerner, John C. Calhoun, as Secretary of War, and a northerner, John Quincy Adams, as Secretary of State. Only Henry Clay's refusal kept Monroe from adding an outstanding Westerner.
Early in his administration, Monroe undertook a goodwill tour. At Boston, his visit was hailed as the beginning of an "Era of Good Feelings." Unfortunately these "good feelings" did not endure, although Monroe, his popularity undiminished, followed nationalist policies.
When Jefferson assumed the Presidency, the crisis in France had passed. He slashed Army and Navy expenditures, cut the budget, eliminated the tax on whiskey so unpopular in the West, yet reduced the national debt by a third. He also sent a naval squadron to fight the Barbary pirates, who were harassing American commerce in the Mediterranean. Further, although the Constitution made no provision for the acquisition of new land, Jefferson suppressed his qualms over constitutionality when he had the opportunity to acquire the Louisiana Territory from Napoleon in 1803.
Across the facade of nationalism, ugly sectional cracks appeared. A painful economic depression undoubtedly increased the dismay of the people of the Missouri Territory in 1819 when their application for admission to the Union as a slave state failed. An amended bill for gradually eliminating slavery in Missouri precipitated two years of bitter debate in Congress.
The Missouri Compromise bill resolved the struggle, pairing Missouri as a slave state with Maine, a free state, and barring slavery north and west of Missouri forever.
In foreign affairs Monroe proclaimed the fundamental policy that bears his name, responding to the threat that the more conservative governments in Europe might try to aid Spain in winning back her former Latin American colonies. Monroe did not begin formally to recognize the young sister republics until 1822, after ascertaining that Congress would vote appropriations for diplomatic missions. He and Secretary of State John Quincy Adams wished to avoid trouble with Spain until it had ceded the Floridas, as was done in 1821.
Great Britain, with its powerful navy, also opposed reconquest of Latin America and suggested that the United States join in proclaiming "hands off." Ex-Presidents Jefferson and Madison counseled Monroe to accept the offer, but Secretary Adams advised, "It would be more candid ... to avow our principles explicitly to Russia and France, than to come in as a cock-boat in the wake of the British man-of-war."
Monroe accepted Adams's advice. Not only must Latin America be left alone, he warned, but also Russia must not encroach southward on the Pacific coast. ". . . the American continents," he stated, "by the free and independent condition which they have assumed and maintain, are henceforth not to be considered as subjects for future colonization by any European Power." Some 20 years after Monroe died in 1831, this became known as the Monroe Doctrine.
Source: www.WhiteHouse.gov, March 11, 2008.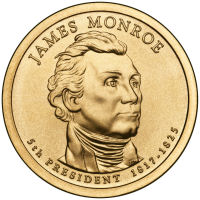 U.S. Mint Image
Virginia native James Monroe was exceptionally qualified to serve as the United States' fifth president. Not only was he a Revolutionary War soldier, he was champion of the Bill of Rights, U.S. diplomat in Europe, governor of Virginia, senator, secretary of state, secretary of war, and negotiator of the Louisiana Purchase, before being overwhelmingly elected president in 1817.
His time in office is known as the "Era of Good Feelings" for the peace and booming economy the country enjoyed.
The Monroe Doctrine, a foundation of American foreign policy introduced in an 1823 message to Congress, warned European powers against expansionism in the Western Hemisphere.
Monroe's presidency was also marked by the Missouri Compromise, which preserved a balance of free states and slave states in the United States and prohibited slavery in western territories above the 36/30' north latitude line.
Coinage Legislation under President James Monroe
Act of January 14, 1818: This Act directs the location of the United States Mint to remain in Philadelphia for another term of five years, beginning March 4, 1818.
Act of March 3, 1819: This Act continues the authorization of certain gold and silver coinage from foreign countries as current and legal tender for the payment of debts within the United States. Specific rates of exchange are enumerated for the coins of Great Britain, Portugal, France, and Spain.
Act of March 3, 1821: This Act continues the provisions of the Act of April 29, 1816, relating to the legal-tender value of French coins.
Act of March 3, 1823: This Act authorizes certain gold coinage from foreign countries as current and legal tender in all payments on account of public lands within the United States. Specific rates of exchange are enumerated for the coins of Great Britain, Portugal, France, and Spain. The Act also calls for an annual assay of such coins, and for a report to the Congress detailing the results.
Act of March 3, 1823: This Act directs the location of the United States Mint to remain in Philadelphia for another term of five years, beginning March 4, 1823.
United States Mint Directors appointed by James Monroe
1824: Samuel Moore, Fifth Director of the United States Mint.
Source: www.USMint.gov, March 11, 2008.
Additional resources:
James Monroe America's Story from America's Library, the Library of Congress.
MONROE, James, (1758 - 1831) Brief political biography from the Biographical Directory of the United States Congress.
American Presidents: Life Portraits A Site to Complement C-SPAN's 20th Anniversary Television Series, American Presidents: Life Portraits.
James Monroe (1817-1825) American President: An Online Reference Resource from the Miller Center of Public Affairs, University of Virginia. In-depth information reviewed by prominent scholars on each President and administration.
James Monroe Companion site for Public Broadcasting's American Experience: The Presidents.
James Monroe James Monroe from Wikipedia, the free encyclopedia.
James Monroe: Fifth President The American Presidency: A Glorious Burden: Objects from the Presidency from the Smithsonian National Museum of American History, Behring Center.
Presidential Inaugurations: James Monroe The Library of Congress: Presidential Inaugurations - James Monroe First Inauguration, March 4, 1817.
The Monroe Doctrine The Library of Congress: Primary Documents in American History - The Monroe Doctrine was declared in a few paragraphs of President James Monroe's seventh annual message to Congress on December 2, 1823.
Papers of James Monroe The Avalon Project at Yale Law School: Documents in Law, History, and Diplomacy.
James Monroe Museum and Memorial Library The James Monroe Museum & Memorial Library, in historic downtown Fredericksburg, Virginia, is the largest repository in the country of artifacts and documents related to the fifth president of the United States.
James Monroe's Highland (Ash Lawn) Highland (Ash Lawn) is the home of James Monroe, fifth president of the United States, and is located in Charlottesville, Virginia. Ash Lawn-Highland is owned and operated by The College of William and Mary, Monroe's alma mater.

The Presidents
Collection DVD
James Monroe: The Quest for National Identity, by Harry Ammon, 706 pages, American Political Biography Press (June 30, 1998) The definitive Monroe biography originally published in 1971. This well-researched and highly-readable biography accords Monroe a far more important place in the history of the early years of the republic than has been given him by earlier writers. Harry Ammon's evidence is voluminous and his treatment judicious; he awards plaudits where they are due but does not hesitate to point out Monroe's shortcomings.
James Monroe, by W.P. Cresson, Leather Bound, Easton Press (1986) Originally published by the University of North Carolina Press in 1946.
James Monroe (The American Presidents), by Gary Hart, 192 pages, Times Books (September 15, 2005). Gary Hart sees Monroe as a president ahead of his time, whose priorities and accomplishments in establishing America's 'national security' have a great deal in common with chief executives of our own time. Unlike his predecessors Jefferson and Madison, Monroe was at his core a military man.
The Presidency of James Monroe, by Noble E. Cunningham, 256 pages, University Press of Kansas; Subsequent edition (January 1996) This book is part of the scholarly American Presidency Series. Monroe was the last U.S. president to fight in the Revolution and the last of the Virginia presidential dynasty. Filled with new insights and fresh interpretations, this is the richest study yet published on the presidency of James Monroe, the last Revolutionary War hero to ascend to that august office.
The Era of Good Feelings, by George Dangerfield, 548 pages, ACLS History E-Book Project (October 12, 2006) Originally published by Harcourt, Brace in 1942, this book won the Pulitzer and Bancroft prizes.
The Market Revolution: Jacksonian America, by Charles Sellers, 512 pages, Oxford University Press, USA (May 19, 1994) In this major work, noted Jacksonian historian Sellers details the impact of capitalism on all aspects of U.S. development in the early 19th century.
More James Monroe Books
from Amazon.com.
---
---
Site designed exclusively for NETSTATE.COM by NSTATE, LLC


NETSTATE.COM is a Trademark of NSTATE, LLC.
Copyright © by NSTATE, LLC. All rights reserved.
No copyright is claimed on non-original or licensed material.
Support NETSTATE