---
Zachary Taylor (1784-1850)
In Article II, Section 1 of the Constitution of the United States of America, the following requirements are stipulated for those wishing to hold the office of the President of the United States.
No person except a natural born Citizen, or a Citizen of the United States, at the time of the Adoption of this Constitution, shall be eligible to the Office of President; neither shall any Person be eligible to that Office who shall not have attained to the Age of thirty-five Years, and been fourteen Years a Resident within the United States.
12th President of the United States (1849-1850)
Northerners and Southerners disputed sharply whether the territories wrested from Mexico should be opened to slavery, and some Southerners even threatened secession. Standing firm, Zachary Taylor was prepared to hold the Union together by armed force rather than by compromise.
Born in Virginia in 1784, he was taken as an infant to Kentucky and raised on a plantation. He was a career officer in the Army, but his talk was most often of cotton raising. His home was in Baton Rouge, Louisiana, and he owned a plantation in Mississippi.
But Taylor did not defend slavery or southern sectionalism; 40 years in the Army made him a strong nationalist.
Zachary Taylor:

Source:

University of Virginia: Miller Center of Public Affairs, Zachary Taylor, 28 November 2009 <www.millercenter.virginia.edu>.
12th President of the United States
Born:
November 24, 1784, near Barboursville, Virginia.
Nickname:
"Old Rough and Ready"
Education:
No college.
Religion:
Episcopalian
Marriage:
June 21, 1810, to Margaret Mackall Smith (1788-1852)
Children:
Ann Mackall (1811-1875), Sarah Knox (1814-1835), Octavia P. (1816-1820), Margaret Smith (1819-1820), Mary Elizabeth (1824-1909), Richard (1826-1879)
Career:
Soldier
Political Party:
Whig
President:
1+ year from 1849-1850.
Age at inauguration:
64
Died:
July 9, 1850, Washington, District of Columbia.
Interred:
Zachary Taylor National Cemetery, St. Mathews, Kentucky.
He spent a quarter of a century policing the frontiers against Indians. In the Mexican War he won major victories at Monterrey and Buena Vista.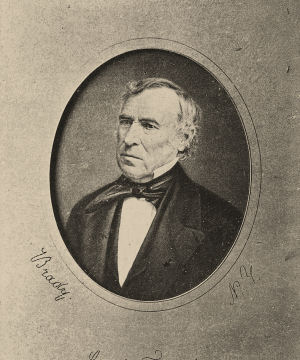 Zachary Taylor [1849]
Library of Congress Prints and Photographs Division
Croped Digital ID: cph 3a10825
President Polk, disturbed by General Taylor's informal habits of command and perhaps his Whiggery as well, kept him in northern Mexico and sent an expedition under Gen. Winfield Scott to capture Mexico City. Taylor, incensed, thought that "the battle of Buena Vista opened the road to the city of Mexico and the halls of Montezuma, that others might revel in them."
"Old Rough and Ready's" homespun ways were political assets. His long military record would appeal to northerners; his ownership of 100 slaves would lure southern votes. He had not committed himself on troublesome issues. The Whigs nominated him to run against the Democratic candidate, Lewis Cass, who favored letting the residents of territories decide for themselves whether they wanted slavery.
In protest against Taylor the slaveholder and Cass the advocate of "squatter sovereignty," northerners who opposed extension of slavery into territories formed a Free Soil Party and nominated Martin Van Buren. In a close election, the Free Soilers pulled enough votes away from Cass to elect Taylor.
Although Taylor had subscribed to Whig principles of legislative leadership, he was not inclined to be a puppet of Whig leaders in Congress. He acted at times as though he were above parties and politics. As disheveled as always, Taylor tried to run his administration in the same rule-of-thumb fashion with which he had fought Indians.
Traditionally, people could decide whether they wanted slavery when they drew up new state constitutions. Therefore, to end the dispute over slavery in new areas, Taylor urged settlers in New Mexico and California to draft constitutions and apply for statehood, bypassing the territorial stage.
Southerners were furious, since neither state constitution was likely to permit slavery; Members of Congress were dismayed, since they felt the President was usurping their policy-making prerogatives. In addition, Taylor's solution ignored several acute side issues: the northern dislike of the slave market operating in the District of Columbia; and the southern demands for a more stringent fugitive slave law.
In February 1850 President Taylor had held a stormy conference with southern leaders who threatened secession. He told them that if necessary to enforce the laws, he personally would lead the Army. Persons "taken in rebellion against the Union, he would hang ... with less reluctance than he had hanged deserters and spies in Mexico." He never wavered.
Then events took an unexpected turn. After participating in ceremonies at the Washington Monument on a blistering July 4, Taylor fell ill; within five days he was dead. After his death, the forces of compromise triumphed, but the war Taylor had been willing to face came 11 years later. In it, his only son Richard served as a general in the Confederate Army.
Source: The White House: Presidents, Zachary Taylor 28 November 2009 <www.WhiteHouse.gov>.

U.S. Mint Image

Presidential Dollars
Collector's Archive
Zachary Taylor, twelfth U.S. President, was born in 1784 in Virginia. His family moved shortly after his birth to a plantation outside Louisville, Kentucky, where he spent his childhood. His long Army career began at the age of 23 and for the next 30 years, he served in many remote outposts that stretched from Louisiana to northern Wisconsin. He led his forces to decisive victories in the Mexican-American War, which earned him the nickname "Old Rough and Ready."
His reputation as a national hero made him an attractive presidential candidate, and he won the general election in a three-candidate race. Although he had little prior political experience, Taylor proved to be independent-minded, to the dismay of his political party, the Whigs. As the debate over slavery in western territories threatened to tear the country apart, he was determined that the Union be preserved at all costs. He warned southern leaders that he would command the Army himself, if necessary, to enforce the law.
Taylor became ill after attending a long ceremony at the Washington Monument on a scorching 4th of July in 1850. He died five days later, having served only 16 months in office. He was the second president to die in office.
Coinage Legislation under President Zachary Taylor
No coinage legislation was enacted during President Taylor's term.
United States Mint Directors appointed by President Zachary Taylor
President Zachary Taylor did not appoint a Director of the United States Mint.
Source: The United States Mint, Zachary Taylor Presidential $1 Coin. 28 November 2009 <www.USMint.gov>
Presidential state dollars: Information about design of the Presidential $1 Coins.
Presidential $1 Coins: Release information regarding the Official U.S. Mint Presidential $1 Coins.
Additional Information

The Presidents
Collection DVD
United States Presidents: List of all United States Presidents from NETSTATE.COM.
American Presidents: Life Portraits A Site to Complement C-SPAN's 20th Anniversary Television Series, American Presidents: Life Portraits.
Zachary Taylor (1784 - 1850) American President: An Online Reference Resource from the Miller Center of Public Affairs, University of Virginia. In-depth information reviewed by prominent scholars on each President and administration.
Presidential Inaugurations: Zachary Taylor Presidential Inaugurations is presented by the Library of Congress, and other governmental departments, in collaboration with the Avalon Project at the Yale Law School. This presentation includes diaries and letters of presidents and of those who witnessed inaugurations, handwritten drafts of inaugural addresses, broadsides, inaugural tickets and programs, prints, photographs, and sheet music.
Zachary Taylor: Biographical information about Zachary Taylor at OhioHistoryCentral.org and the Ohio Historical Society.
Zachary Taylor Home (Springfield): Pictures of Zachary Taylor's boyhood home and scene of his marriage, Louisville, Kentucky, from the National Park Service's National Historic Landmarks program. [ 1975 National Registry of Historic Places Inventory -- Nomination Form

]

Deluxe Presidential
Dollar Coin
Traveling Archive
Deluxe Presidential Dollar Coin - Traveling Archive , Whitman Publishing (August 7, 2007) Lift off the capsule top, insert the coin, and snap it shut. Now your Presidential dollar is securely stored and attractively displayed - you can even see the coins's edge, which includes the date, mintmark, and inscriptions. Space for both Philadelphia and Denver Mint Coins. Includes Presidential facts printed on the inside flaps. Holds 80 coins - makes a great display and storage unit. (13.375" x 11.5" x 1.0").

Presidential Dollars
Collector's Archive
Presidential Dollars Collector's Archive, Whitman Publishing (August 7, 2007) In December 2005, Congress approved the creation of a new dollar coinage, known as Presidential dollars, and President George W. Bush signed the legislation into law shortly afterward. During each year from 2007 to 2016, four different dollar designs, each bearing the image of a different president, are being released. Living presidents, both current and former, are excluded from the program--thus the roster of presidential honorees currently stands at 37. For these presidents, 38 coins are planned; this is because Grover Cleveland, who to date is the only president to serve multiple nonconsecutive terms, will be represented with two coins. The Presidential dollars are part of the Golden Dollar Program and retain the same golden color as the Sacagawea dollars. The motto IN GOD WE TRUST appears in edge lettering--a first for a U.S. coin, as the motto has never before appeared on the rim. The year of issue is likewise on the rim. Archive Size 11.25" x 10". 40 Openings.

Presidential Folder
Volume I
Presidential Folder 4 Panel - Volume I and Vol II, Whitman Publishing; 1st edition (April 10, 2007) Presidential Folder 4 Panel - Volume I & II Hold P&D Mint Marks. Folder Size 7" x 9,5". Each Volume has 44 Openings - 4 Panels.


Zachary Taylor
Mike Venezia
Zachary Taylor (Getting to Know the US Presidents), by Mike Venezia. 32 pages. Publisher: Children's Press(CT) (September 2005) Reading level: Grades 3-4. Mike Venezia mixes facts with humor to introduce the presidents of the United States to students. This unique introduction highlights the life and times of President Zachary Taylor. Venezia uses funny and serious anecdotes to help students understand and realize that presidents are very real people. On each page is either a painting, an engraving, a map, a portrait, or a comical caricature that enhances the text. Captions are included with each that explains the historical paintings and portraits. For reports or pleasure, students will enjoy.


Zachary Taylor
America's 12th President
Deborah Kops
Zachary Taylor: America's 12th President, by Deborah Kops. 112 pages. Publisher: Scholastic Library Publishing (March 2004) Reading level: Grades 6-8. A biography of the twelfth president of the United States, with information on his childhood, family, political career, presidency, and legacy. A brief "Fast Facts" includes: time line, glossary, historic sites, Web sites, and index. Books for further reading. Tables of all the presidents noting dates of office, birth, and death, and birth-place.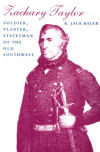 Zachary Taylor
K. Jack Bauer
Zachary Taylor: Soldier, Planter, Statesman of the Old Southwest, by K. Jack Bauer. 384 pages. Publisher: Louisiana State University Press (August 1993) Considering the course his life took, one might wonder how Zachary Taylor ever came to be elected the twelfth president of the United States. According to K. Jack Bauer, Taylor "was and remains an enigma". He was a southerner who espoused many antisouthern causes, an aristocrat with a strong feeling of the common man, an energetic yet cautious and conservative solder. Not an intellectual, Taylor showed little curiosity about the world around him, In this biography - the most comprehensive since Holman Hamilton's two-volume work published more than thirty years ago - Bauer offer a fresh appraisal of Taylor's life and suggests that Taylor may have been neither so simple nor so nonpolitical as many historians have believed.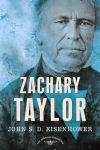 Zachary Taylor
John S. D. Eisenhower
Zachary Taylor, by John S. D. Eisenhower. 192 pages. Publisher: Times Books (May 27, 2008) The rough-hewn general who rose to the nation's highest office, and whose presidency witnessed the first political skirmishes that would lead to the Civil War. Zachary Taylor was a soldier's soldier, a man who lived up to his nickname, "Old Rough and Ready." Having risen through the ranks of the U.S. Army, he achieved his greatest success in the Mexican War, propelling him to the nation's highest office in the election of 1848. He was the first man to have been elected president without having held a lower political office.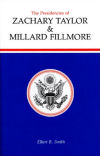 The Presidencies of
Zachary Taylor and
Millard Fillmore
Elbert B. Smith
The Presidencies of Zachary Taylor and Millard Fillmore , by Elbert B. Smith. 302 pages. Publisher: University Press of Kansas; Fourth Printing edition (July 1988) In this book Elbert B. Smith disagrees sharply with traditional interpretations of Taylor and Fillmore, the twelfth and thirteenth presidents (from 1848 to 1853). He argues persuasively that the slaveholding Taylor--and not John C. Calhoun--was the realistic defender of southern slaveholding interests, and that Taylor did nothing to impede the Compromise of 1850. While Taylor opposed the combination of the issues into a single compromise bill that could not be passed without ammendments to suit the extremists, he would have approved the different parts of the Compromise that were ultimately passed as separate measures.