---
The Commonwealth of Virginia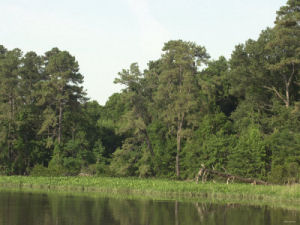 Jamestown Island from Powhaten Creek
Colonial National Historic Park
Virginia is a state steeped in history. Before the arrival of the Europeans, Chief Powhatan ruled over the untamed land. Chief Powhatan fathered one of Virginia's more famous historical figures, Pocahontas. The first permanent English settlement in America, at Jamestown in 1607, set the stage for the taming of the wilderness.
Virginia played a central role during the American Revolution, from Patrick Henry's fiery oration "Give me liberty or give me death", to the eventual surrender of Lord Cornwallis to Washington at Yorktown. And during the Civil War, Virginia saw more battles fought on her soil than any other state. Many of these battlegrounds are now national historic sites, and are visited by thousands of tourists annually.
Virginia also holds the distinction of being the birthplace of eight U.S. presidents. No wonder they say that Virginia's history is America's history!
Virginia was named to honor Queen Elizabeth of England often referred to as the "Virgin Queen."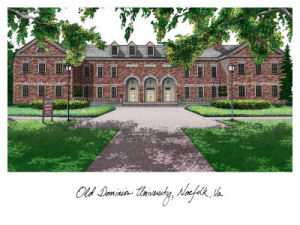 Old Dominion University, Norfolk
The Old Dominion
This nickname for the state of Virginia originated in Colonial days. Dominion refers to complete ownership of a particular piece of land or territory.
Because he considered the Virginians "the best of his distant children," sometime around 1663, King Charles II of England elevated Virginia to the position of dominion along with England, Scotland, Ireland, and France.
The citizens of Virginia were pleased with this elevated status because they considered themselves the most faithful of the King's settlements in America. Since their settlement was the oldest of King Charles' settlements in America, they adopted the name "The Old Dominion." A variation of this name is "The Ancient Dominion."
Mother of Presidents
Sometimes Virginia is called the "Mother of Presidents" because so many of the early presidents of the United States were native Virginians.
Mother of Statesmen
Because of the number of statesmen produced by Virginia, this nickname has been used.
Mother of States
Virginia has been called the "Mother of States" because she was the first of the states to be settled and because of the number of states that were "born" of the Virginia territory. West Virginia, Ohio, Kentucky, Illinois, Indiana, Wisconsin and, even a part of Minnesota were all a part of the original Virginia territory.
The Cavalier State
This nickname is derived from the Cavaliers (supporters of King Charles I during the English Civil War) who left England and came to Virginia during, and shortly after, the reign of King Charles I of England.
Down Where the South Begins
Radio broadcasters referred to Virginia as "Down Where the South Begins" because of its location. Virginia is the most southern of the Middle Atlantic States.
People who live in Virginia or who come from Virginia are called Virginians.
Virginia earned the nickname, "Mother of Presidents" for good reason. Though her contribution wained after 1850, The Old Dominion gave birth to eight men who attained the office of President of the United States:
George Washington: 1st President of the United States, George Washington was born on February 22, 1732, on Pope Creek in Westmoreland County. The nation's military leader during the Revolutionary War, George Washington was a unanimous choice. He served for two terms, from 1789 to 1797. [ More ]
Thomas Jefferson: 3rd President of the United States, Thomas Jefferson was born on April 13, 1743 at Shadwell plantation, Gooch County. Following John Adams of Massachusetts, Thomas Jefferson served two terms from 1801 to 1809. [ More ]
James Madison: 4th President of the United States, James Madison was born on March 16, 1751 in Port Conway. He served two terms from 1809 to 1817. [ More ]
James Monroe: 5th President of the United States, James Monroe was born in Westmoreland County on April 28, 1758. He served two terms from 1817 to 1825. [ More ]
William Henry Harrison: 9th President of the United States, William Henry Harrison was born on February 9, 1773 on Berkeley plantation, Charles City County. His term in office was unfortunately short-lived as William Henry Harrison succumbed to pneumonia on April 4, 1841, only one month after his inauguration. He was the first President to die while in office. [ More ]
John Tyler: 10th President of the United States, Vice President John Tyler set the precedent for presidential succession when he took office after William Henry Harrison's death. He served the remainder of Harrison's term from 1841 to 1845. John Tyler was born on March 20, 1790 in Charles City County. [ More ]
Zachary Taylor: 12th President of the United States, Zachary Taylor was born on November 24, 1784, near Barboursville. He became the second President to die in office when he succumbed to "cholera morbus" on July 9, 1850, only sixteen months after his inauguration. Vice President Millard Fillmore, a native New Yorker became the thirteenth President of the United States after Taylor's death. [ More ]
Thomas Woodrow Wilson: 28th President of the United States, Woodrow Wilsong was born on December 28, 1856, in Staunton. He served two terms from 1913 to 1921.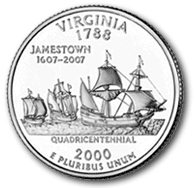 United States Mint Image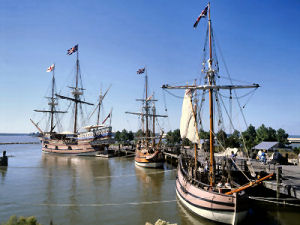 Ship Replicas, Jamestown Settlement
Released on October 16, 2000, this is the 10th coin released in the 50 State® Quarter Program and the fifth released in 2000.
The Virginia quarter honors our nation's oldest colony, Jamestown, Virginia. The three ships on the coin--Susan Constant, Godspeed, and Discovery--brought the first English colonists here in the spring of 1607.
Loaded with cargo and 104 boys and men, the ships set sail from London on December 20, 1606. Nearly five months later, they landed on a small island along the James River. The crew formed the first permanent colony in the New World, 13 years before Plymouth, Massachusetts, was settled. They named it Jamestown in honor of King James I, who had chartered their voyage.
For more about the state commemorative quarters, visit this page.
This 50 State Quarter Map is a great way to collect and display all 50 State Quarters.
---
Sources...
Virginia State Quarter The United States Mint 20 June 2000
Carpenter, Allan & Provorse, Carl. The World Almanac® of the U.S.A.. Mahwah, N.J.: World Almanac Books (An Imprint of K-III Reference Corporation, A K-III Communications Company), 1996.
Shankle, George Earlie. State Names, Flags, Seals, Songs, Birds, Flowers, and Other Symbols. Irvine, Calif.: Reprint Services Corp, Revised edition, 1971.
Shearer, Benjamin F. and Barbara S. State Names, Seals, Flags and Symbols: A Historical Guide Third Edition, Revised and Expanded. Westport, Conn: Greenwood Press, 3 Sub edition, 2001.
---
Additional Information


Virginia
Barbara A. Somervill
Virginia (From Sea to Shining Sea), by Barbara A. Somervill. 80 pages. Publisher: Scholastic Library Publishing (February 2003) Reading level: Grades 3-5. Presents information about Virginia's people, geography, history, landmarks, natural resources, government, state capitol, towns and cities, and more.


Virginia
Pamela Pollack
Virginia (World Almanac Library of the States), by Pamela Pollack. 48 pages. Gareth Stevens Publishing (December 2001) Reading level: Grades 4-6. Filled with the most up-to-date information, including the latest Census results. Full-color photos bring to life the story of Virginia. In addition to an in-depth factual profile of Virginia in the form of a state Almanac, this book offers fascinating and lively discussions of the state's history, people, geography, government, economy, culture, and lifestyles. A section on Notable People, a calendar of events, and enough primary source documents, time lines, maps, and other tools to make this unquestionably the best young adult reference material on the USA available anywhere.

The Hornbook of
Virginia History
The Hornbook of Virginia History: A Ready-Reference Guide to the Old Dominion's People, Places, and Past, edited by Emily J. Salmon and Edward D.C. Campell, Jr. . 324 pages. Publisher: Library of Virginia; 4th Rev edition (October 1, 1994) Since 1949, The Hornbook of Virginia History has been the definitive, handy reference guide to Virginia's past. Historians, genealogists, librarians, students, editors, government officials, and citizens seeking to answer questions about the past regularly rely on its comprehensive and authoritative information.
The fourth edition contains the latest statistical data for Virginia's cities, counties, and population. All chapters have been updated and several have been expanded to include a wider variety of significant historic sites. The concise historical essay and bibliography have been thoroughly revised to reflect new scholarship. This edition also features several new sections added in response to readers' queries and suggestions.