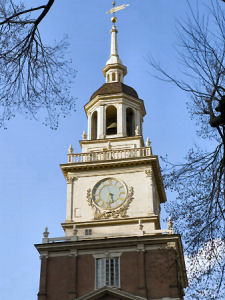 Independence Hall, Philadelphia
The Keystone State
A keystone is a central wedge in an arch that locks all other pieces of an arch in place. It is the part of an arch that all other parts depend upon.
Pennsylvania's popular nickname, "The Keystone State," refers to this necessary element. Like most nicknames, it is not known, for certain, where this name originated, but there are a few interesting thoughts about how this nickname came to be. They are all based on the theme of the necessity of a keystone in a supporting structure.
In the vote for independence, nine delegates to the Continental Congress were from the Commonwealth of Pennsylvania. It's said that the Pennsylvania delegation was split; four for independence and four against. The deciding vote fell to John Morton.... who voted for independence. Pennsylvania's vote for independence was noted as the keystone vote; the supporting vote for a new government.
When the government was moved to Washington, D.C., a bridge was built over Rock Creek to Georgetown. This bridge was the Pennsylvania Avenue Bridge. Pennsylvania's initials were carved into the "keystone" of the arch supporting the bridge.
Another explanation has it that Pennsylvania's geographic location, among the original thirteen colonies, was the basis for this nickname.
Though the nickname's origin is unknown, it's certain that it was in use around, or shortly after, 1800. It's reported that Pennsylvania was toasted as "...the keystone of the federal union" at a Republican presidential victory rally for Thomas Jefferson in 1802. Regardless of its origin, the nickname has come to represent Pennsylvania's geographic, economic, social and political impact on development of the United States.
The Quaker State
Pennsylvania is sometimes called "The Quaker State" in reference to the religion of William Penn and the Quakers who settled in the state.
The Oil State
This nickname represented one of Pennsylvania's three greatest industries. Today, Quaker State oil is a well-known brand.
The Coal State
Coal mining, one of Pennsylvania's greatest industries, was the reason for this nickname.
The Steel State
Another Pennsylvania industry, steel, is represented by this nickname.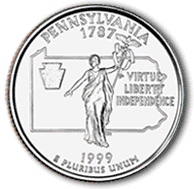 United States Mint Image
The second state quarter minted in 1999, under the United States Mint's 50 State Quarters® Program, was that of Pennsylvania, the "Keystone State".
The Pennsylvania quarter shows the state's keystone, Commonwealth statue, and state motto "Virtue, Liberty, Independence" atop an outline of the state. The Commonwealth statue has been on top of the state's capitol dome since May 25, 1905. Her right arm is extended in mercy; her left arm holds a ribbon mace to symbolize justice.
For more about the state commemorative quarters, visit this page.
This 50 State Quarter Map is a great way to collect and display all 50 State Quarters.