---
The State of Wyoming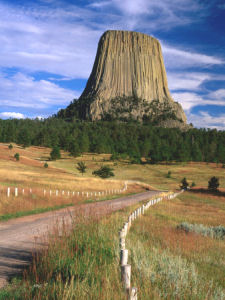 Wyoming posters, prints, and photographs
Majestic mountains, wide-open grasslands, pristine lakes, and extraordinary wildlife, from Grand Teton to Yellowstone National Park, from the Shoshone National Forest to the Eastern Great Plains, Wyoming is beautiful and breathtaking.
Natural wonders that have inspired everyone -- Native Americans, gold-rush bound 49'ers, and even occasional extra-terrestrials.
Wyoming's Devil's Tower is that awesome backdrop for the landing in the 1977 science fiction film Close Encounters of the Third Kind.
Welcome to America in all its breathtaking natural majesty. Welcome to Wyoming!
Legh Freeman, publisher of The Frontier Index in Kearny, Nebraska, claimed that it was he who first suggested Wyoming as the name for this portion of the Dakota Territory. Wyoming comes from the Dakota "mscheweamiing" meaning "at the big flats" or "large plains."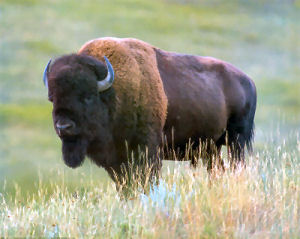 American Bison: Wyoming's Official State Mammal
The Equality State
Wyoming was the first state to grant women the right to vote in 1869. This action lead to the nickname "The Suffrage State" and later to "The Equality State." "Equality" is also the state motto.
The Suffrage State
This was the precursor to "The Equality State" nickname. It came about when Wyoming granted the right to vote to women in 1869.
The Sagebrush State
This term was given to Wyoming because of the wild sage that is prevelent in some sections of the state.
The Cowboy State
Wyoming has officially adopted a cowboy on a bucking horse as a symbol of the state. This has lead some to refer to Wyoming as "The Cowboy State."
Big Wyoming
This name references the size of the state of Wyoming; 10th largest state in total area.
Big Wyoming
This promotional commentary pays homage to the rugged natural beauty of Wyoming, a state where the Great Plains meets the Rocky Mountains.
People who live in Wyoming or who come from Wyoming are called Wyomingites.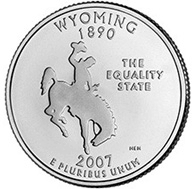 United States Mint Image
The fourth commemorative quarter-dollar coin released in 2007 honors Wyoming, and is the 44th coin in the United States Mint's 50 State Quarters® Program. Wyoming, nicknamed the "Equality State," was admitted into the Union on July 10, 1890, becoming our Nation's 44th state. The reverse of Wyoming's quarter features a bucking horse and rider with the inscriptions "The Equality State," "Wyoming" and "1890."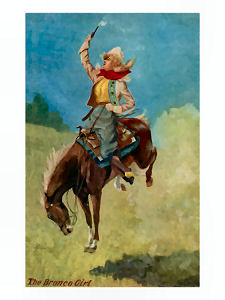 Bucking horse prints, posters, and photographs
The bucking horse and rider symbolize Wyoming's Wild West heritage. "Buffalo Bill" Cody personified this in his traveling Wild West show. First settled by fur trappers, Fort Laramie, Wyoming, later became a popular destination for pioneers traveling the Oregon Trail.
Wyoming was nicknamed the "Equality State" because of its historical role in establishing equal voting rights for women. Wyoming was the first territory to grant "female suffrage" and became the first state in the Nation to allow women to vote, serve on juries and hold public office. In 1924, Nellie Tayloe Ross became the first woman elected Governor of Wyoming. In 1933, Ross became the first woman appointed as the Director of the United States Mint.
In 2004, Governor Dave Freudenthal formed the Wyoming Coinage Advisory Committee, which includes 13 Wyoming historians and other experts. The State invited citizens to submit narratives, and approximately 3,200 were accepted over a three-month period. Governor Freudenthal then recommended five concepts that were developed into design candidates by the United States Mint sculptor-engravers and artists in the United States Mint's Artistic Infusion Program. On May 12, 2006, Governor Freudenthal announced his recommendation of the bucking horse and rider design.
The Department of the Treasury approved the design on June 22, 2006. Four other designs were considered, including "Bucking Horse and Rider with State Outline;" "Bucking Horse and Rider with Teton Range;" "Bucking Horse and Rider in typical Wyoming scene," depicting a horse and rider on a ranch; and "Yellowstone National Park -- Old Faithful Geyser," featuring the famous geyser located in Yellowstone National Park.
For more about the state commemorative quarters, visit this page.
This 50 State Quarter Map is a great way to collect and display all 50 State Quarters.
---
Sources...
Carpenter, Allan & Provorse, Carl. The World Almanac® of the U.S.A.. Mahwah, N.J.: World Almanac Books (An Imprint of K-III Reference Corporation, A K-III Communications Company), 1996.
Shankle, George Earlie. State Names, Flags, Seals, Songs, Birds, Flowers, and Other Symbols. Irvine, Calif.: Reprint Services Corp, Revised edition, 1971.
Shearer, Benjamin F. and Barbara S. State Names, Seals, Flags and Symbols: A Historical Guide Third Edition, Revised and Expanded. Westport, Conn: Greenwood Press, 3 Sub edition, 2001.
---
Additional Information


Wyoming
Alexandra Hanson-Harding
Wyoming (From Sea to Shining Sea), by Alexandra Hanson-Harding. 80 pages. Publisher: Children's Press(CT) (September 2003) Reading level: Grades 3-5. Presents information about Wyoming's people, geography, history, landmarks, natural resources, government, state capitol, towns and cities, and more.

Wyoming
Justine & Ron Fontes
Wyoming (World Almanac Library of the States), by Justine Fontes and Ron Fontes. 48 pages. Gareth Stevens Publishing (February 2003) Reading level: Grades 4-6. Filled with the most up-to-date information, including the latest Census results. Full-color photos bring to life the story of Wyoming. In addition to an in-depth factual profile of Wyoming in the form of a state Almanac, this book offers fascinating and lively discussions of the state's history, people, geography, government, economy, culture, and lifestyles. A section on Notable People, a calendar of events, and enough primary source documents, time lines, maps, and other tools to make this unquestionably the best young adult reference material on the USA available anywhere.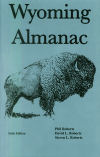 Wyoming Almanac
Wyoming Almanac 5th Edition, Phil Roberts, David L. Roberts, and Steven L. Roberts. 462 pages. Publisher: Skyline Press; Fifth Edition-revised edition (2001) A succinct and amusing guidebook to places, people, and events in the great state of Wyoming : with information on wildlife, sports, weather and more.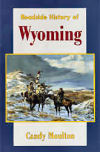 Roadside
History of Wyoming
Candy Moulton
Roadside History of Wyoming, by Candy Moulton. 440 pages. Publisher: Mountain Press Publishing Company; 1st edition (September 1, 1995) In Roadside History of Wyoming readers will learn about Native Americans who struggled to adapt to many sudden changes, mountain men who braved the wilderness, emigrants who suffered untold hardships, cattle and sheep drovers who took advantage of the open range, miners who sought wealth below the ground, and many others whose deeds help define the state's rich history.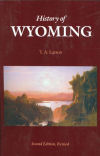 History of Wyoming
T.A. Larson
History of Wyoming, by T.A. Larson. 695 pages. Publisher: University of Nebraska Press; 2 edition (August 1, 1990) Reviewers hailed the original edition of T.A. Larson's History of Wyoming (Winner of an Award of Merit of the American Association for State and Local History) as "a refreshing new look at the most western of the Western States," "an excellent model of what a state history should be." In that first comprehensive, critical history of Wyoming, the author was not concerned to recapitulate the familiar tales of fast guns and renegades associated with the pre-territorial years; his focus was on the men, women, and events which have shaped the state's history since 18965, when the name Wyoming was first applied to the area.
Although dramatic incidents and changes occurred in Wyoming from time to time during its territorial and statehood years into the 1960's, the state remained preeminently a cattlemen's domain and tourist mecca. Then the world energy crisis greatly enhanced the value of these state's vast reserves of oil, gas, uranium, and coal. Unprecedented growth resulted (the state was losing population in 1965, when the first edition of this book was published), bringing expanded payrolls and wealth on the one hand and serious problems on the other as developers and environmentalists competed for control of Wyoming's future.
Visit the NETSTATE Wyoming State Book Store for additional Wyoming related books, including Wyoming Reference Books, History, Biographies and Cookbooks.