HOME
INTRO
SYMBOLS
ALMANAC
ECONOMY
GEOGRAPHY
STATE MAPS
PEOPLE
FORUM
NEWS
COOL SCHOOLS
STATE QUIZ
STATE LINKS
BOOK STORE
MARKETPLACE
GUESTBOOK
CONTACT US


---
Double click on word for definition.
Connecticut State Animal
Sperm Whale
Physeter macrocephalus
Adopted:
May 27, 1975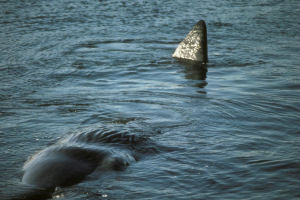 Connecticut State Animal: Sperm Whale
Photograph: Stephen Tuttle, U.S. Fish and Wildlife Service
In June of 1970, the sperm whale (Physeter catodon, also known as Physeter macrocephalus) was listed as an endangered species by the United States.
Increased whaling by Japan, the now-defunct Soviet Union, Norway, and other countries were depleting this species at an alarming rate.
Whale preservation groups across the country rallied to bring public attention to the problems faced by the 60-ton mammoths of the sea. Fearing sperm whale extinction, they worked to pressure politicians and governments to protect the magnificent sea mammals.
Groups in Connecticut, including the Connecticut Cetacean Society and the Connecticut Wildlife Federation, backed a legislative measure that they thought would bring attention to the sperm whale's dilemma. A bill was drafted to name the sperm whale the official animal of the State of Connecticut.
It was not smooth sailing for the sperm whale however.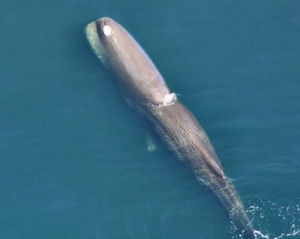 Connecticut State Animal: Sperm Whale
Photograph: NOAA Marine Fisheries
Two other animals were proposed for the role: the white-tailed deer and the grey squirrel.
The white-tailed deer was endorsed by Sen. George Guidera (Weston). He characterized the white-tailed deer as "as sleek and beautiful and not 'fat or blubbery like that mammal, or fish, or whatever it is'." [ 1 ]
Rep. Michael J. Morano (Greenwich) said it was an animal seen frequently around the state and was favored by school children he talked to. [ 2 ]
On the other hand, it was mentioned that other states had already chosen the white-tailed deer.
The grey squirrel was another contender for the state animal title. The squirrel was praised as representative of Yankee thrift and even for sometimes nesting in the official state tree, the white oak.
The squirrel was rejected as a disease carrying rodent, common all over the world except in Madagascar, Australia and parts of South America: harsh words. The people of Kentucky and North Carolina seem to hold more respect for the grey squirrel.
Perhaps the worst idea was a Senate amendment that proposed ?man? as the state animal.
"They voted 21-13 to legally make man ?in the generic sense ?the stale animal." [ 1 ]
("Naugatuck Daily News" 1)
Some people thought this was funny, but not all.
When word got out regarding the Senate vote, Beverly Simkus, then-chairman of the New Haven Sierra Club, was not amused.
I protest the air of frivolity that seemed to reign as though the original drive on behalf of the sperm whale was a mere joke. [ 3 ]
("Naugatuck Daily News" 3)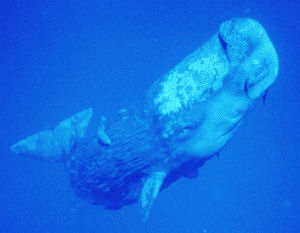 Connecticut State Animal: Sperm Whale
Photograph: NOAA Southwest Fisheries Science Center
Needless to say, the white-tailed deer, the grey squirrel, and "man-in the generic sense" were all eventually eliminated as viable ideas.
The sperm whale won the day, chosen because of its history with the State of Connecticut and because of its current status as an endangered species.
During the nineteenth century (1800s), Connecticut had been a major player in the whaling industry. The sperm whale was the most important catch for whaling ships sailing from New London, Mystic, and other Connecticut ports. It ranked second only to Massachusetts in the American whaling industry.
It could help raise awareness of its endangered status and, perhaps, encourage broader actions to protect its future.
The sperm whale became the state animal of Connecticut when Governor Ella Grasso signed the legislation on May 27, 1975.
Connecticut Law
The following information was excerpted from the General Statutes of Connecticut, Title 3, Chapter 33, Section 3-109a.
TITLE 3 STATE ELECTIVE OFFICERS
CHAPTER 33 SECRETARY
SECTION 3-109a
Sec. 3-109a. State animal. The sperm whale, Physeter macrocephalus, shall be the state animal.
(P.A. 75-165; P.A. 86-403, S. 6, 132.)
History: P.A. 86-403 made technical change re scientific name of sperm whale.
---
Sources...
[ 1 ] Tamayo, Juan. "They Didn?t Really mean it?." Naugatuck Daily News [Naugatuck] 17 Apr 1975, 1. Print.
[ 2 ] Tamayo, Juan. "Assembly Finally Picks Whale As State Animal" Naugatuck Daily News [Naugatuck] 07 May 1975, 3. Print.
[ 3 ] "Sperm Whale's Defeat Not Funny, Woman Asserts." Naugatuck Daily News [Naugatuck] 21 Apr 1975, 3. Print.
The State of Connecticut. Secretary of the State. Sites, Seals & Symbols. Hartford: The State of Connecticut, 2012. Web.
General Statutes of Connecticut. Connecticut General Assembly. 2009. 3 April 2009
Shankle, George Earlie. State Names, Flags, Seals, Songs, Birds, Flowers, and Other Symbols. Irvine, Calif.: Reprint Services Corp, Revised edition, 1971.
Shearer, Benjamin F. and Barbara S. State Names, Seals, Flags and Symbols: A Historical Guide Third Edition, Revised and Expanded. Westport, Conn: Greenwood Press, 3 Sub edition, 2001.
---
Additional Information
The State Animal: State of Connecticut Connecticut State Register & Manual.
Sperm Whale (Physeter macrocephalus): American Cetacean Society fact sheet.
Sperm Whale (Physeter macrocephalus): Sperm whale profile, facts, information, photos, pictures, sounds, habitats, reports, news, and more from National Geographic.
Sperm Whale (Physeter macrocephalus): Description, Distribution, Population trends, conservation efforts and threats - NOAA National Marine Fisheries Service: Office of Protected Species.
Sperm Whales: The Real Moby Dick: National Public Broadcasting NATURE series.
Physeter macrocephalus (Sperm Whale): Information about sperm whales from the Smithsonian National Museum of Natural History.
Physeter macrocephalus Sperm Whale: The Encyclopedia of Life.
Physeter catodon (Sperm Whale) Information and pictures from the University of Michigan Museum of Zoology's Animal Diversity Web.
Physeter macrocephalus Linnaeus, 1758: Integrated Taxonomic Information System (ITIS) Here you will find authoritative taxonomic information on plants, animals, fungi, and microbes of North America and the world.
State Animals: Complete list of official state animals from NETSTATE.COM.
More symbols & emblems: Complete list of official Connecticut state symbols from NETSTATE.COM.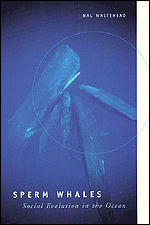 Sperm Whales
by Hal Whitehead
Sperm Whales: Social Evolution in the Ocean, by Hal Whitehead. 464 Pages. University Of Chicago Press; 1 edition (August 15, 2003) Famed in story as "the great leviathans," sperm whales are truly creatures of extremes. Giants among all whales, they also have the largest brains of any creature on Earth. Males can reach a length of sixty-two feet and can weigh upwards of fifty tons. With this book, Hal Whitehead gives us a clearer picture of the ecology and social life of sperm whales than we have ever had before. Based on almost two decades of field research, Whitehead describes their biology, behavior, and habitat; how they organize their societies; and how their complex lifestyles may have evolved in this unique environment.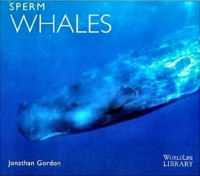 Sperm Whales
by Jonathan Gordon
Sperm Whales, by Jonathan Gordon. 72 pages. Voyageur Press (December 5, 1998) The sperm whale is one of the world's most magnificent animals. It is among the most widely distributed of mammalian species and is found in deep waters in all the world's oceans. Sperm Whales is a general introduction to these fascinating animals, explaining their evolution, physical characteristics, distribution, migration, behavior, and social structure. Sperm Whales is a reliable guide to this animal that will appeal to a wide audience of nature lovers--from young adults on up.
Whales & Dolphins, by Mark Carwardine. 256 pages. DK ADULT (May 15, 2002) A beautifully illustrated guide to every species of whale, dolphin and porpoise. Covers their identification, evolution, biology, behaviour, reproduction and social lives. Includes tips on how and where to watch whales, dolphins and porpoises, and information on their conservation.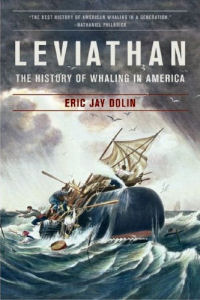 Leviathan, by Eric Dolin
Leviathan: The History of Whaling in America, by Eric Dolin. 512 pages. W.W. Norton & Co.; Reprint edition (July 17, 2008) In this engrossing account, Dolin (Political Waters) chronicles the epic history of the American whaling industry, which peaked in the mid-18th century as "American whale oil lit the world." Temporarily dealt a blow by the Revolutionary War, whaling grew tremendously in the first half of the 19th century, and then diminished after the 1870s, in part because of the rise of petroleum.
The Loss of the Ship Essex, Sunk by a Whale, by Owen Chase. 256 pages. Penguin Classics (May 1, 2000) In 1820, the Nantucket whaleship Essex, thousands of miles from home in the South Pacific, was rammed by an angry sperm whale. The Essex sank, leaving twenty crew members floating in three small boats for ninety days. The incident was the Titanic story of its day, and provided the inspiration for Melville's Moby-Dick.
The Whale Warriors: The Battle at the Bottom of the World to Save the Planet's Largest Mammals, by Peter Heller. 320 pages. Free Press; Reprint edition (October 14, 2008) In The Whale Warriors, veteran adventure writer Peter Heller takes us on a hair-raising journey with a vigilante crew on their mission to stop illegal Japanese whaling in the stormy, remote seas off the forbidding shores of Antarctica. The Farley is the flagship of the Sea Shepherd Conservation Society and captained by its founder, the radical environmental enforcer Paul Watson. The Japanese, who are hunting endangered whales in the Southern Ocean Whale Sanctuary, in violation of several international laws, know he means business: Watson has sunk eight whaling ships to the bottom of the sea.