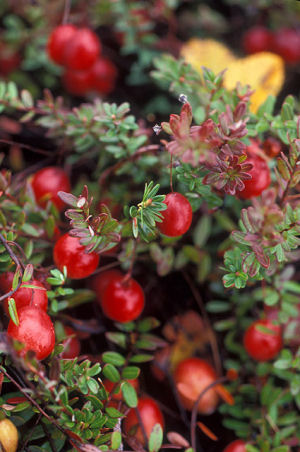 Massachusetts State Berry: Cranberry
Photograph: ARS Photo (by Keith Weller)
Massachusetts Law
The following information was excerpted from the General Laws of Massachusetts, Title 2, Chapter 10.
PART I. ADMINISTRATION OF THE GOVERNMENT.
TITLE I. JURISDICTION AND EMBLEMS OF THE COMMONWEALTH, THE GENERAL COURT, STATUTES AND PUBLIC DOCUMENTS.
CHAPTER 2. ARMS, GREAT SEAL AND OTHER EMBLEMS OF THE COMMONWEALTH.
Section 39.
Chapter 2: Section 39. Berry of commonwealth
Section 39. The cranberry (Vaccinium macrocarpon) shall be the official berry of the commonwealth.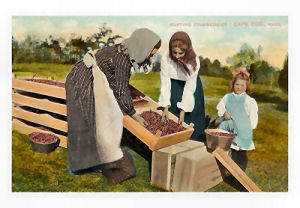 Sorting Cranberries, Cape Cod, Mass.
Photograhs, prints and posters
Additional Information
Cranberry Production Guide:A Guide for Massachusetts [PDF]
Cranberry Ericaceae Vaccinium macrocarpon Aiton: Virginia Tech, College of Natural Resources: Department of Forestry.
Vaccinium macrocarpon (Cranberry): USDA, NRCS. 2004. The PLANTS Database, Version 3.5 (http://plants.usda.gov). National Plant Data Center, Baton Rouge, LA 70874-4490 USA.
Vaccinium macrocarpon Ait.: Integrated Taxonomic Information System (ITIS) Here you will find authoritative taxonomic information on plants, animals, fungi, and microbes of North America and the world.
Vaccinium macrocarpon (Cranberry): CalPhoto photographs. The Biodiversity Sciences Technology group (BSCIT), a part of the Berkeley Natural History Museums at the University of California, Berkeley.
State Fruit: Complete list of official state fruits.
More symbols & emblems: Complete list of official Massachusetts state symbols.
Produce Tips: Cranberries: Commonwealth of Massachusetts Department of Agriculture.
History of Cranberries: Cape Cod Cranberry Growers' Association.
Cranberry: National Institutes of Health: National Center for Complementary and Alternative Medicine.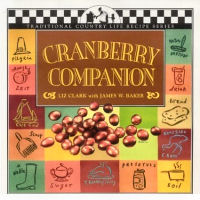 Cranberry Companion
by Liz Clark with James W. Baker
Cranberry Companion, by Liz Clark with James W. Baker. 110 pages. Brick Tower Books; illustrated edition edition (September 25, 2004) James Baker contributes a detailed and well organized story about cranberries from the pre-colonial period to the present day. Liz Clark's marvelous and mouthwatering recipes will alert everyone to the nutritional and culinary value of the cranberry. Cranberries are more American than apple pie. It wouldn't be Thanksgiving without cranberry sauce, and Christmas dinner in America would be incomplete without the traditional cranberry condiment.
Cranberry Cooking for All Seasons, by Nancy Cappelloni. 148 pages. Spinner Publications (December 1, 2002) Background and nutritional information: historical facts and tidbits, beautiful harvest photos, and the latest studies on the cranberry's many health benefits. Endorsed by the Cape Cod Cranberry Growers' Association, Cranberry Cooking For All Seasons is sure to be a hit with cooks across the country.
Very Cranberry, by Jennifer Trainer Thompson. 112 pages. Celestial Arts (November 2003) Mention cranberries and most people think of holiday feasts and the glistening, garnet-colored sauce served (often jiggling) among the many traditional culinary trimmings. But cranberries are such a delectable, versatile ingredient; they shouldn't be relegated to the fall harvest.
Cranberries: 40 Recipes for Fine Dining at Home, by Elaine Elliot. 64 pages. Formac (January 1, 1999) In this book you'll find an array of intriguing recipes for the tart, delicious cranberry, created by master chefs and adapted for your home kitchen.
The Omnivore's Dilemma: A Natural History of Four Meals, by Michael Pollan. 464 pages. Penguin Press HC, The (April 11, 2006) The bestselling author of The Botany of Desire explores the ecology of eating to unveil why we consume what we consume in the twenty-first century
In Defense of Food: An Eater's Manifesto, by Michael Pollan. 256 pages. Penguin Press HC, The (2008) In looking toward traditional diets the world over, as well as the foods our families-and regions-historically enjoyed, we can recover a more balanced, reasonable, and pleasurable approach to food. Michael Pollan's bracing and eloquent manifesto shows us how we might start making thoughtful food choices that will enrich our lives and enlarge our sense of what it means to be healthy.
Garden tools
from Amazon.com!
Custom Search