The Pennsylvania State Laurel Festival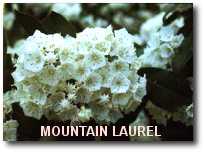 The Pennsylvania State Laurel Festival is held annually on the second weekend through the third weekend in June to promote the community of Wellsboro, one of Pennsylvania's natural wonders, the Pennsylvania Grand Canyon, and the state flower, the Mountain Laurel.
Events include a pet parade, craft fair, concerts, bicycle race, 10k race and the Laurel Parade. The festival highlight is the crowning of the Laurel Queen.
Organized by the Wellsboro Lions Club, the first Laurel Festival was in 1938 and was the brainchild of Larry Woodin, a Wellsboro businessman who was so impressed with the Pine Creek Gorge, located 10 miles southwest of Wellsboro, that he persuaded the Chamber of Commerce to publicize it as a natural wonder of Tioga County. Through Mr. Woodin's efforts, visitors came to see the breathtaking 50-mile gorge, now known as the "Grand Canyon of the East" or the "Pennsylvania Grand Canyon."
Source:Pa State Laurel Festival, http://laurelfestival.tripod.com/index.html, June 26, 2007.
Additional information
Pennsylvania State Laurel Festival: Web site about the Pennsylvania State Laurel Festival held in June, in Wellsboro, Pennsylvania.