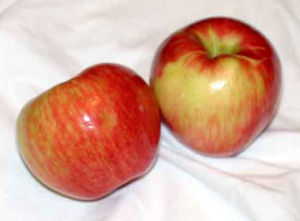 Minnesota State Fruit: Honeycrisp™ Apple
Photograph: Licensed under the Creative Commons
Attribution ShareAlike 2.5 License.
Minnesota Law
The following information was excerpted from the 2008 Minnesota Statutes, Jurisdiction/Civil Divisions, Chapter 1, Section 1.1475.
JURISDICTION, CIVIL DIVISIONS.
Chapter 1. SOVEREIGNTY, JURISDICTION, EMERGENCY OPERATION, GENERAL POLICIES
1.1475 STATE FRUIT.
1.1475 STATE FRUIT.
The Honeycrisp™ apple is the official fruit of the state of Minnesota.
History: 2006 c 229 s 1
Additional Information
State Fruit: Office of the Minnesota Secretary of State
Honeycrisp™ Apple: University of Minnesota Extension - Honeycrisp™ Apple, by James J. Luby and David S. Bedford, Department of Horticultural Science University of Minnesota.
Honeycrisp: Description of Honeycrisp™ from the Minnesota Harvest Apple Orchard.
Website: Honeycrisp.org is dedicated to the growing, marketing and promotion of high quality Honeycrisp™ Apples.
New Kid on the Block: by P.L. Elliot - Wood Orchard Market.
Malus domestica Mill.: USDA, NRCS. 2004. The PLANTS Database, Version 3.5 (http://plants.usda.gov). National Plant Data Center, Baton Rouge, LA 70874-4490 USA.
Malus domestica Mill.: Integrated Taxonomic Information System (ITIS) Here you will find authoritative taxonomic information on plants, animals, fungi, and microbes of North America and the world.
State Fruit: Complete list of official state fruit.
More symbols & emblems: Complete list of official Minnesota state symbols.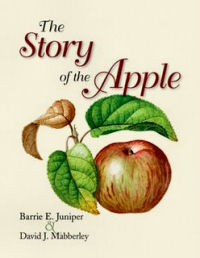 The Story of the Apple
Barrie E. Juniper & David J. Mabberley
The Story of the Apple, by Barrie E. Juniper and David J. Mabberley. 240 pages. Timber Press, Incorporated (August 1, 2006) Where did the apple come from and why is the large, sweet, cultivated apple so different-in both size and taste-from all other wild apple species? The Story of the Apple will fascinate gardeners who wish to know more about the origin and natural history of the plants that they grow in their yards or orchards, researchers and students, and anyone with an interest in diet, well-being, and the benevolent effects of plants on the emergence of humankind.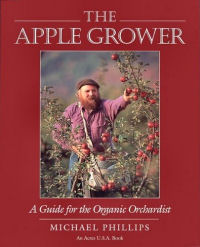 The Apple Grower
by Michael Phillips
The Apple Grower: Guide for the Organic Orchardist , by Michael Phillips. 320 pages. Chelsea Green; 2nd edition (November 30, 2005) The definitive guide to growing apples wisely, naturally, and with gentle impact on the earth. For decades fruit growers have sprayed their trees with toxic chemicals in an attempt to control a range of insect and fungal pests. Yet it is possible to grow apples responsibly, by applying the intuitive knowledge of our great-grandparents with the fruits of modern scientific research and innovation.
The Backyard Orchardist: A Complete Guide to Growing Fruit Trees in the Home Garden, by Stella Otto. 250 pages. Ottographics; Rev Sub edition (January 1, 1995) For every gardener desiring to add apples, pears, cherries, and other tree fruit to their landscape here are hints and solid information from a professional horticulturist and experienced fruit grower. The Backyard Orchardist includes help on selecting the best fruit trees and information about each stage of growth and development, along with tips on harvest and storage of the fruit. Those with limited space will learn about growing dwarf fruit trees in containers.
Growing Fruit (RHS Encyclopedia of Practical Gardening), by Harry Baker, The Royal Horticultural Society. 192 pages. Mitchell Beazley; 3rd edition (March 1, 1999) Produced in association with the Royal Horticultural Society, the titles in this series, which have sold over a million copies worldwide, have become standard works of practical gardening reference. Each book is illustrated with easy-to-follow, step-by-step illustrations that clearly guide the reader through all the essential techniques of successful gardening.
The Omnivore's Dilemma: A Natural History of Four Meals, by Michael Pollan. 464 pages. Penguin Press HC, The (April 11, 2006) The bestselling author of The Botany of Desire explores the ecology of eating to unveil why we consume what we consume in the twenty-first century
In Defense of Food: An Eater's Manifesto, by Michael Pollan. 256 pages. Penguin Press HC, The (2008) In looking toward traditional diets the world over, as well as the foods our families-and regions-historically enjoyed, we can recover a more balanced, reasonable, and pleasurable approach to food. Michael Pollan's bracing and eloquent manifesto shows us how we might start making thoughtful food choices that will enrich our lives and enlarge our sense of what it means to be healthy.
Garden tools from Amazon.com!
Custom Search